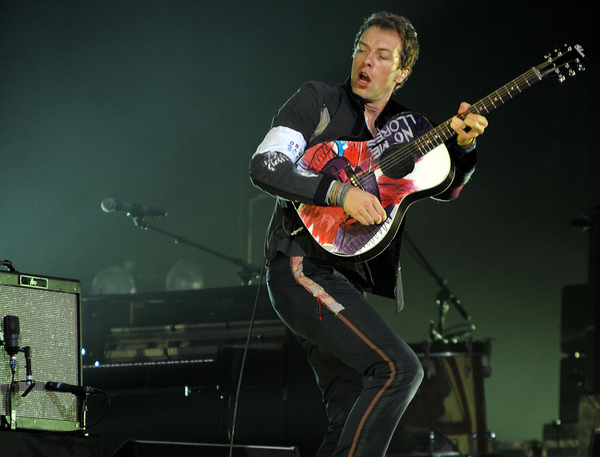 On Friday Bono gave an interview to BBC1 radio in Britain, where he called Chris Martin of Coldplay a 'wanker', 'cretin' and a 'dysfunctional character'. He tried to play it off in the interview as a joke, saying he liked Coldplay (doesn't mean he likes Chris Martin though).
Chris Martin is touring Australia with Coldplay this week and addressed the comments.
"I think it's great that we're arch enemies," Martin said. "That's a joke too."

Martin has long used U2 as the benchmark for Coldplay, with U2 saying Martin's band also keep them on their toes.

The mutual lovefest continues: Coldplay are now playing U2's new single Magnificent just before they come on stage "as a mark of respect."

"We respect any musician," Martin said, "particularly ones who've kept going and not changed line up and have always been good.

"The difficulty of the whole U2 thing is we're only on our fourth record. We're competing with people on their fifth records. We're just coming up to where people were making (the Beatles') Revolver or (U2's) The Joshua Tree. We're at a very different stage."
Chris' joke fell about as flat as Bono's, and he then went on to talk about how even just in Melbourne there are probably a hundred better musicians than any one member of Coldplay, but the band had a special chemistry that can't be recreated.
Lily Allen and Katy Perry take note, Coldplay have taken the gentleman's way out of this. Rather than sniping back at Bono in order to get another bit of press, Chris Martin took the high road. No one called anyone fat, made threats or showed off their superfluous nipple. Of course, it might be much more civil but less fun and probably doesn't get you as much press.
A wanker and cretin Chris Martin may be, but he's using his powers for good and appearing March 14 at a bushfire benefit gig in Sydney before rushing off to play their actual show later that evening. This year Coldplay will release a free live album because "tickets are expensive, especially in a recession. We're playing huge places, we thought it'd be cool to do something like that".
Coldplay are shown performing on 12/14/08 in London. Credit: PRPhotos.