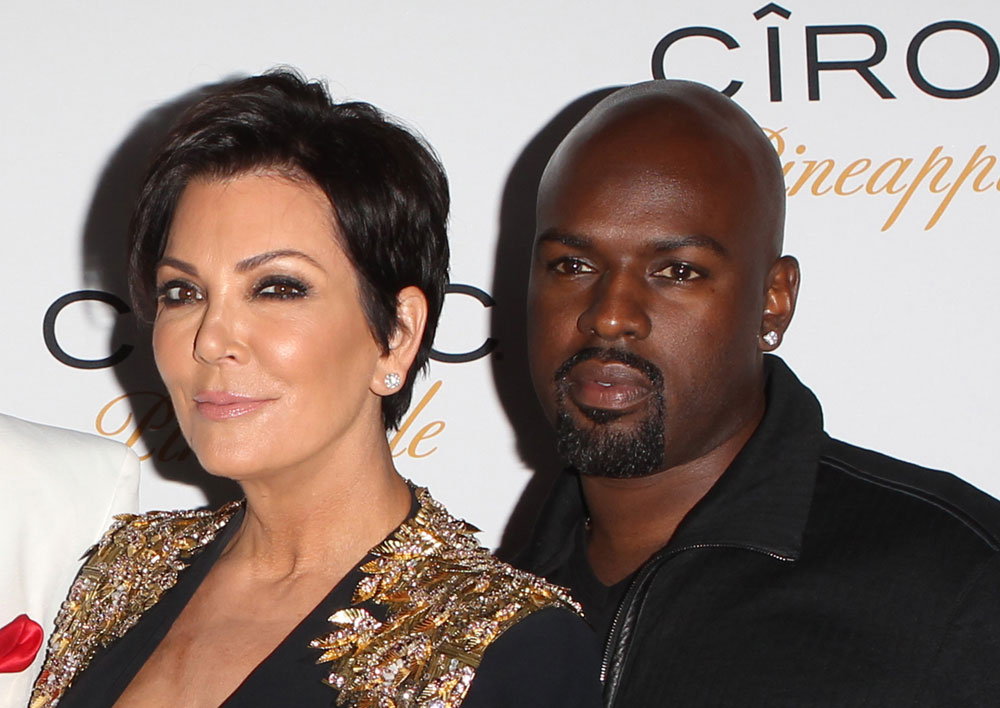 Here are some photos of Kris Jenner, 59, posing with her new boyfriend, Corey Gamble, reportedly 33, at French Montana's birthday party in LA on Sunday. This was the second event the new couple had attended together in just a few days. On Friday they celebrated Kris' birthday at 1Oak in Vegas. Kim, Khloe and Kourtey were no-shows at their mom's birthday party. E! makes it sound like Kim and Khloe had another promotional event to do. Kim and Khloe did show up to French's party. I would include photos of Khloe here but she wore a dress that was completely see through and she didn't bother to wear a bra.
Here's a photo of Kris and Corey at her birthday party.
Both E! and US Magazine are claiming that Corey is 33 years old, but Star Magazine reported last week that he's 40. He looks closer to 40 to me. Star also claims that this romance is "revenge" for her ex, Bruce Jenner, dating Kris' former best friend, Ronda Kamihira. Star reports that "despite her new boytoy, sources say that Kris is still reeling from Bruce's courtship of Ronda, and has even been leaving him nasty voice males… she has also shown up at Bruce's Malibu home in the middle of the night to yell at [him] and she's been blabbing to buddies about how disgusted she is with him, period." I can see Kris being pissed off at Bruce for daring to date her friend after their divorce.
I half suspect that the alleged boytoy and the "Bruce dating her best friend" stories are plotlines for their reality show, but that doesn't mean this isn't true-ish. Corey looks really into Kris. Why is she claiming that he's 33 though when he's around 40? Is it just so she can advance a cougar storyline? US Magazine got a brief interview with Kris on the red carpet at her birthday party and she didn't comment on Corey but just made the general statement that "It's just a big family thing right now. Everything is wonderful." I do think she's dating this guy, but I doubt it will last.