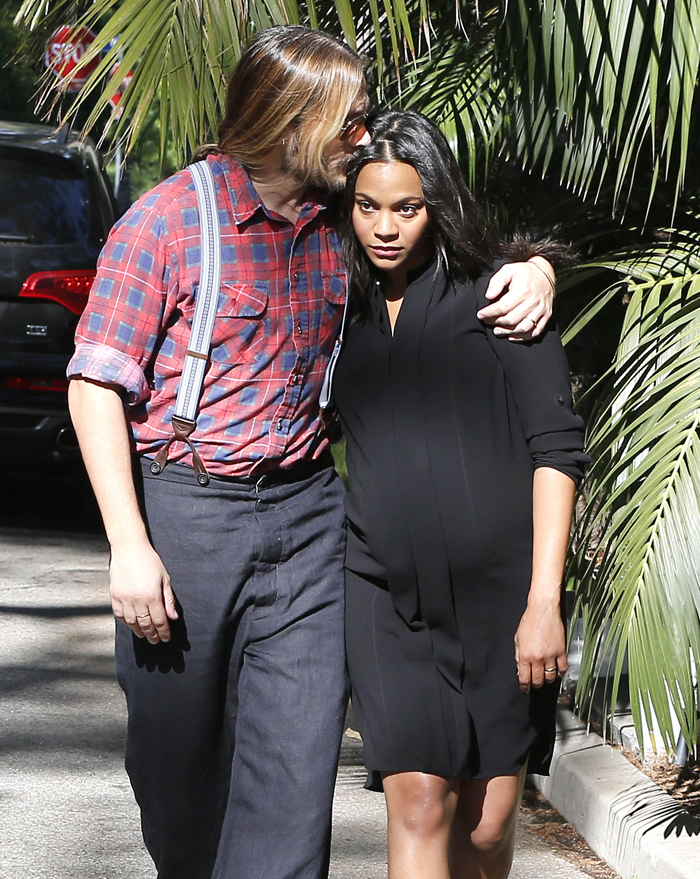 I saw these photos of Zoe Saldana out and about on Sunday and Monday, so I figured it was worth checking in with her. She's looking super pregnant, and it's easy to assume she's close to her due date. But with twins, who knows. A Zoe source (she still needs to plug those holes) recently revealed that she is expecting two boys. These are nice photos of Zoe and Marco. He seems very protective of her in view of the paps. I forgot to mention thislast time I talked about Zoe: Marco's put on a little sympathy weight. Not much, just a tiny bit, for solidarity's sake. He looks good.
There's a new-to-me interview that Zoe did with Queen Latifah. It's not the freshest discussion, but I found it interesting. Zoe talks about how she always had trouble making female friends as she grew up. Mostly because of bullying:
On growing up without girlfriends: "It was really hard. Because I love women. There was for a long time in my life when I was younger, I sort of gave up on trying to find female friends. Because girls can some times be a little too mean with each other. And I don't know where it comes from, as opposed to us uniting, we tend to pick each other apart. It was very, very difficult. I remember my mom always stood by us."

Zoe's mom helped her: "She would talk it through. She never uplifted us by putting some one else down. See, she would try to make us understand, look there is probably something going on in their lives, or you need to understand, as a person, nobody bullies when they're happy."

Zoe's thoughts on bullies: "So the bully is the unhappiest person around you at that moment. They're so unhappy he has to come and other somebody else. Once you know all these things, and you know he is the one that feels most scared, the bully is the one that has very little regard for himself, very poor self-esteem. Once you understand that reality about a bully, you have won already. And you stick to the people that make you feel really good about yourself. But the one person that has to feel good about yourself is you. It takes practice. It's not easy. You wake up and, and now, are you kidding me? Nothing fits. I look in the mirror … What are you going to do? You put something on. You practice the 'I'm beautiful. This is me. This is as good as it is going to get and it is great."
[From The Queen Latifah Show]
That's rough. I know Zoe can come off as a little rude, but it makes more sense to know that she had a hard time growing up. Honestly, who can't identify with being bullied at least a little bit in school? Junior high was just a nightmare for me. Things loosened up a lot in high school. Junior high kids are some of the worst people in the world. Yeah, bullying is a topic that we hear about a lot from celebrities, but Zoe's words on the subject soften her up in my eyes.
Anyway, I can't wait for Zoe to give birth because you know she's going to give these twin boys some pretentious names.
Photos courtesy of Fame/Flynet