This is a photo of Anjelica Huston and Jack Nicholson in 1976. They dated for 17 years! It was an on-again, off-again thing, but still. That's a long time to put up with one of Hollywood's most notorious ladies' men. Anjelica Huston is promoting a new memoir, Watch Me, which came out on Tuesday. People scored a bunch of exclusive quotes from the book. Most of them are about Anjelica's horrible relationship with Jack. I assume it was mostly horrible because they kept breaking up, and the final split ended with Anjelica admittedly beating the crap out of Jack. She says he bought her a Mercedes-Benz, and she crashed it the first day. Oh, and he mocked the very idea of marrying her:
Jack shot down her proposal: "I [said], 'If you had any balls, you'd marry me.' And he said, 'Marry you? Are you kidding?'" The 63-year-old actress goes on to say that she "sobbed for three days after that."

Jack was "scary" to both Huston and Goop: Huston recalls meeting a young Gwyneth Paltrow at a fundraiser for a senator. The then 12-year-old Paltrow took one look at Nicholson and told Huston, "That man scares me." "He scares me, too," Huston answered.

Jack was possessive, but she liked it: After watching Nicholson flirt with a model at a restaurant, Huston tried to leave the table only to have the actor pull her back into her seat. "Don't ever stand up like that to leave," he reportedly said to her. "I enjoyed his brief flash of possessiveness," she writes.

The final blowout: "I don't think I kicked him, but I beat him savagely about the head and shoulders. He was ducking and bending, and I was going at him like a prizefighter, raining a vast array of direct punches." But he was impressed with her display of passion. "Goddamn, Toots, you sure landed some blows on me. I'm bruised all over my body," he reportedly told her on the phone days after the final confrontation. Huston replied, "You're welcome, Jack, you deserved it."

She wanted to have Jack's baby: After actress Rebecca Broussard became pregnant with Nicholson's baby, Huston felt "inadequate and bitter," she writes. "I had endometriosis, and had probably had it since my teens. I had undergone a laparoscopy, followed by a hysteroscopy, but a child was not to be."
[From People]
See, Anjelica was pretty naive to stay with Jack that long and think it would ever go anywhere. Why would she ever want to marry him or have kids with her when he flirted with other women? He did it in front of her, so you know he must have done worse when she wasn't watching. Jack was married once for six years to Susan Knight. Once was more than enough for him. How do you feel about Anjelica's admission of punching Jack "like a prizefighter"?
This photo of Jack at the 2013 Golden Globes always kills me. Leonardo DiCaprio, this is your future.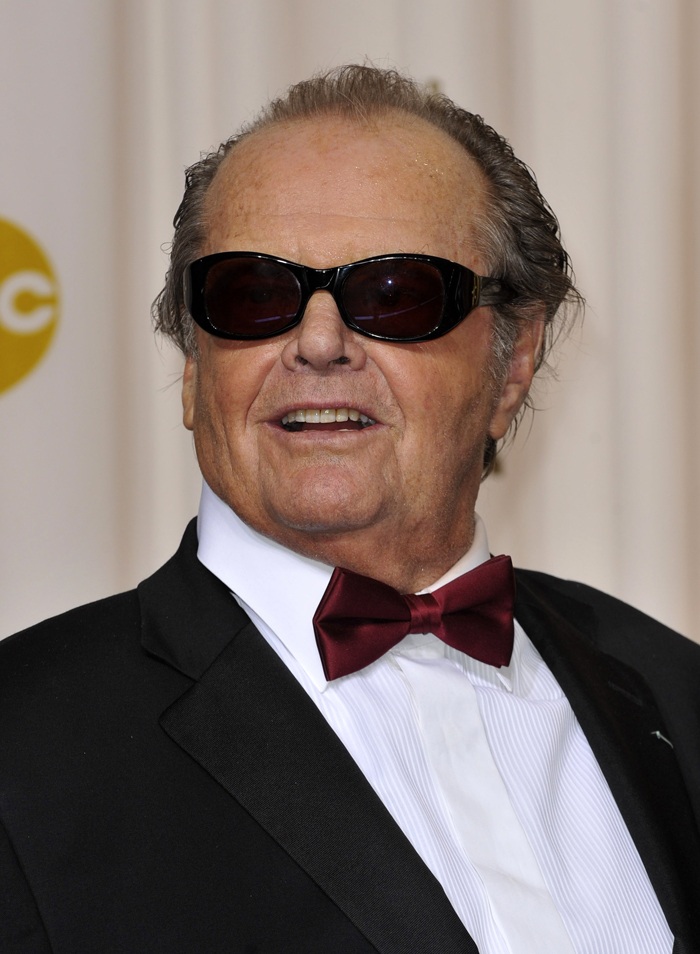 Photos courtesy of WENN