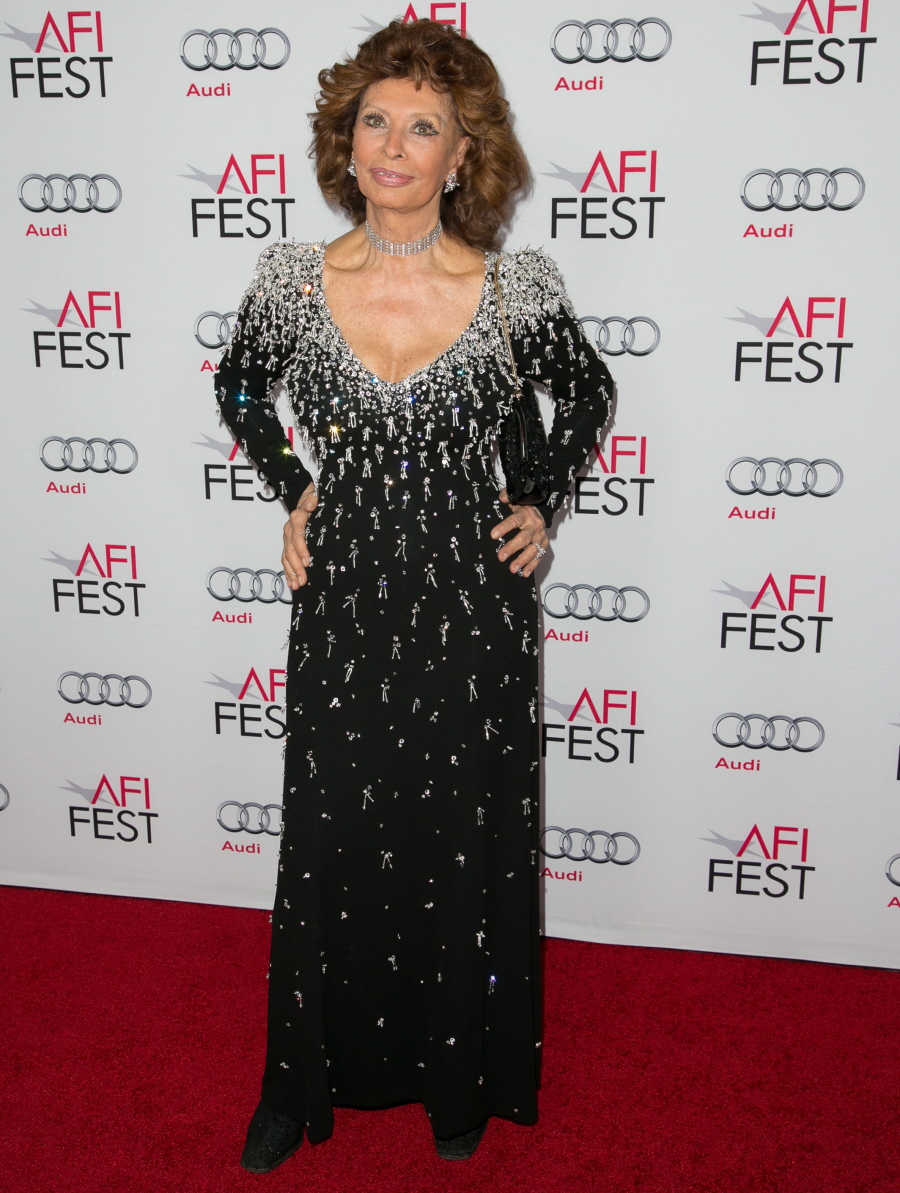 Sophia Loren was honored at the AFI Film Festival last night. She got a special tribute and she did a Q&A session and her sons were there and lots of celebrities (including Sofia Vergara) were there. It seemed like a really nice night and it seems like there's still a tremendous amount of love for Sophia Loren. As there should be. But in case you're wondering why Sophia – who has always been a little bit reticent about sharing all – is suddenly so talkative, it's because she's written a memoir (Yesterday, Today and Tomorrow: My Life) and she's currently promoting the hell out of it. Not only did we get her take on the infamous Jayne Mansfield side-eye, but she's also been talking about famous costars, her husband Carlo Ponti (whom she met when she was 15 years old) and more. Some assorted quotes:
Why she learned English: Carlo Ponti told her "you have to learn English, because movies are in English."

Her friend Cary Grant: " He was special person, a great actor, absolutely incredible as a person, as a man."

Peter Sellers: "very melancholic person. He would light up only when the director said action."

Clark Gable: "did his job, I liked him a lot. But he had a watch and it rang every evening at 5. When it rang, he would leave without saying goodbye."

A story about Marlon Brando & Charlie Chaplin: When asked about Marlon Brando, she said, "Eh" with an expressive shrug …she admitted that initially the two didn't get along. She recalled an incident when Charlie Chaplin and she were kept waiting by Brando on the set of "A Countess in Hong Kong." She said Chaplin took Brando to task for the delay. "Marlon Brando didn't have a very good voice, very small," she said, and after being berated by Chaplin, "it went away." Loren herself was famous for being on set early, Marshall said, but the actress said since it irritated people she's modulated her arrival.

Marcello Mastrioanni: "Marcello was great, he was a funny actor, dramatic actor. Twenty years we did films together. He was a simple man. He loved to eat. All morning he talked about lunch and then the rest of the day about dinner."

Being told to get a nose job in her early days: "I always tried not to listen to these people. They were saying that my nose was too long and my mouth was too big. It didn't hurt me at all because when I believe in something, it's like war. It's a battle. But even Carlo said, "You know the cameramen, they say that your nose is too long. Maybe you have to touch it a little bit." And I said, "Listen, I don't want to touch nothing on my face because I like my face. If I have to change my nose, I am going back to Pozzuoli." At that time, they used to do noses like a French nose with a little tip at the end — they liked that. Can you imagine me with a nose like that?

She struggled with fertility for a long time: "But then at the end, it happened … for a woman to be a mother, it's the most beautiful thing in the world."

Why she didn't marry Cary Grant (he proposed to her when she was 19): Loren had a relationship with co-star and Hollywood heartthrob Cary Grant, who asked her to marry him. She chose Ponti, who was more than 20 years her senior, and remained married to him until his death in 2007. Because Loren had grown up poor and without a father, Ponti represented security, she said. "We trusted each other immensely, and we loved each other. And also … I never had a father. And for me, Carlo was also my father. So he was everything for me."
I'll admit it, I enjoyed writing this story immensely. I love some vintage scandal, and while none of this is very scandalous, I love hearing old stories about what some of the great Golden Age of Hollywood actors were really like. Who knew that Sophia was compulsively early? Who knew that Clark Gable was "done" at 5 pm every day? I knew the stuff about Cary Grant though. Grant was 20 years older than Sophia when he proposed and he was reportedly crazy in love with her. Can you imagine saying NO to Cary Grant and yes to Carlo Ponti? Damn, girl.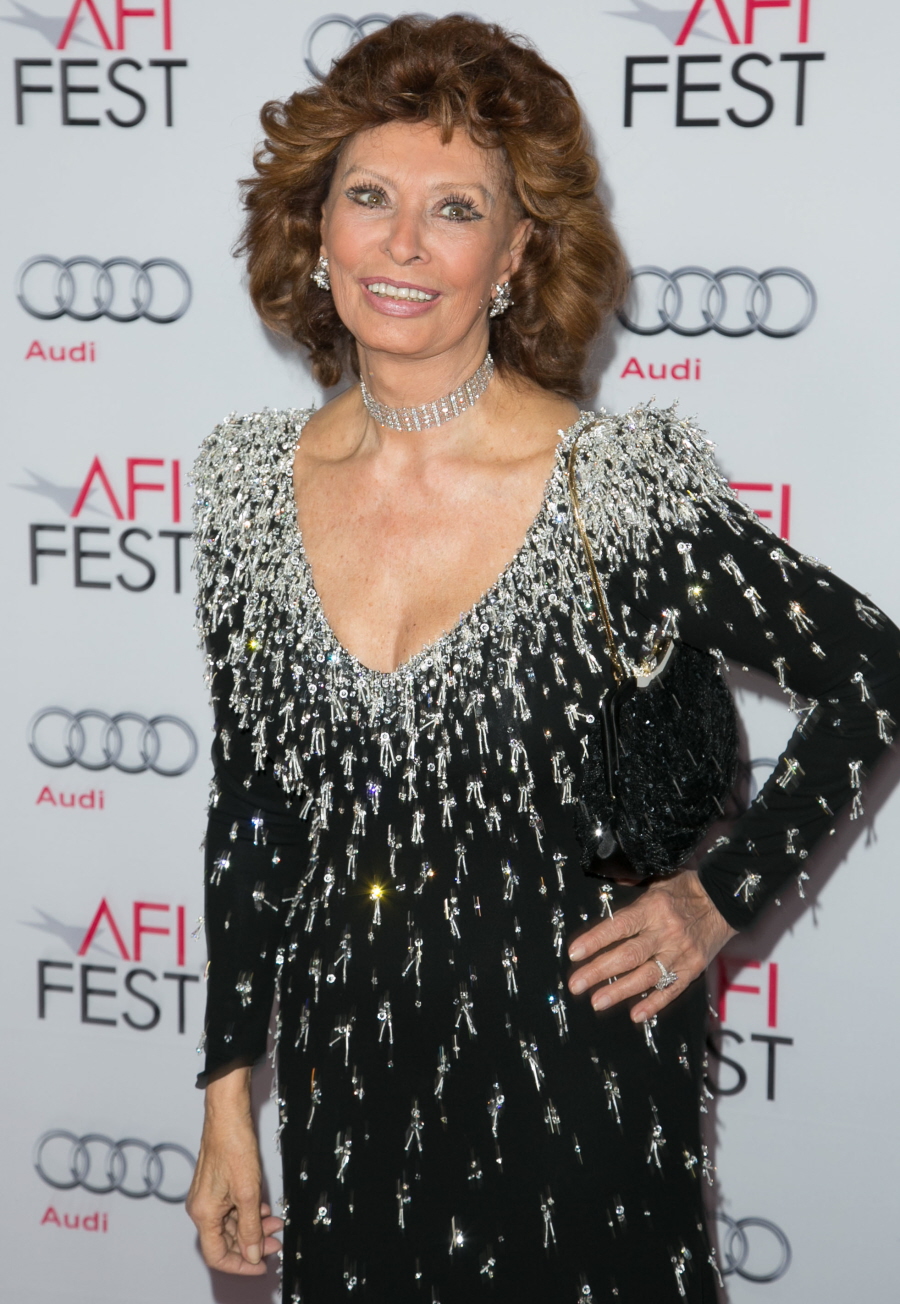 Photos courtesy of WENN.