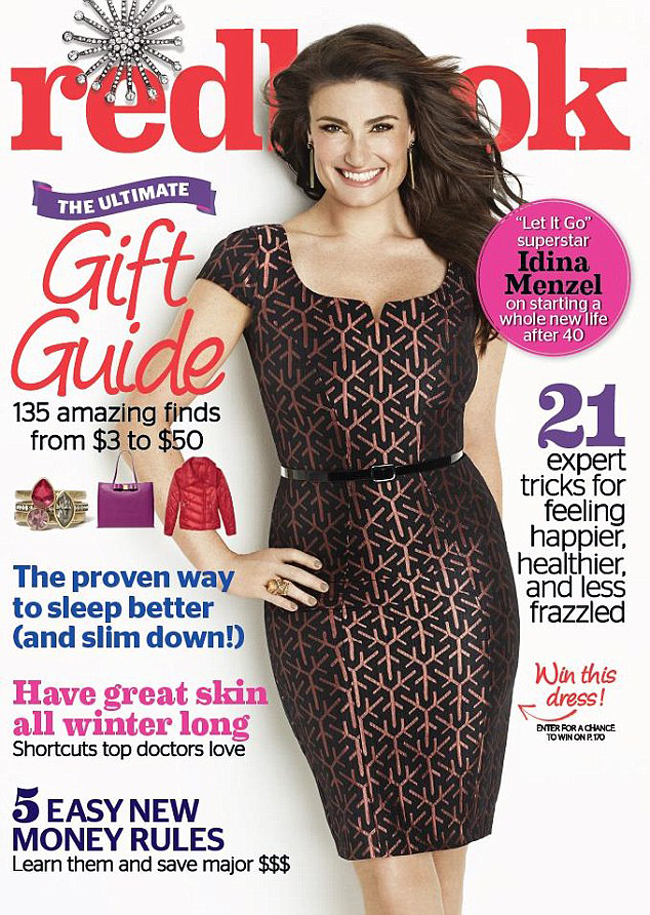 Idina Menzel covers the December issue of Redbook to promote her Christmas album, Holiday Wishes. She's had a huge year, professionally. The Frozen song is still stuck in everyone's heads (it is now — you're welcome), and she's starring in If/Then on Broadway. Things have been a little rougher in Idina's personal life. She separated from Taye Diggs in late 2013 after he acted very single for months. They were married for 10 years. My theory on the divorce is a little unorthodox. Idina must have been mortified after her husband started to follow everyone on Twitter. Yeah, that must be it.
In this interview Idina talks about her split from Taye, which is fitting. He already talked to Redbook about Idina earlier this year. Taye said he believed people would "trip out" when they heard about the divorce. Did they? Idina sounds a lot less self-obsessed than her ex:
On dating after divorce: "I'm open to it. I just don't have a lot of time. They'd have to meet me at, like, midnight after the show, and that's kind of slutty, isn't it?"

Her little free time is spent with son Walker: "The guilt is the thing that we as women all feel, whether we stay at home or we work. There are a lot of double standards with the way the men in our lives see how we make those choices. I think there's an accounting for how much time I spend with my son, and men don't have to account for how much time they spend with their child. It hurts to feel that's a judgment being made. Because we're already judging ourselves."

On John Travolta's "Adele Dazeem" flub: "It's the best mistake that's ever happened to me. Just having the kind of success where people might know my name — my real name! It took me a long time to stop chasing it and just embrace it."

Her new holiday album: "To be honest, my love for Christmas came when I started dating Taye. One of my fondest memories of our relationship was how we celebrated Christmas. He has a big family, so we would reserve Christmas Eve for ourselves. I wanted to be the good shiksa girlfriend."
[From Redbook]
It sounds like Idina forgave John Travolta for flubbing her name. That was awful and only eclipsed by Gwen Stefani saying "The Colbort Report."
On a more somber note, Idina is absolutely correct on her parenting discussion. The time women spend parenting is scrutinized much more heavily than the same for men. Some things never change; and yeah, women already scrutinize themselves too much already. Society weighing in on the subject only adds more pressure. Idina was totally kidding about the "slutty" aspect of only having dating time after midnight. She's funny.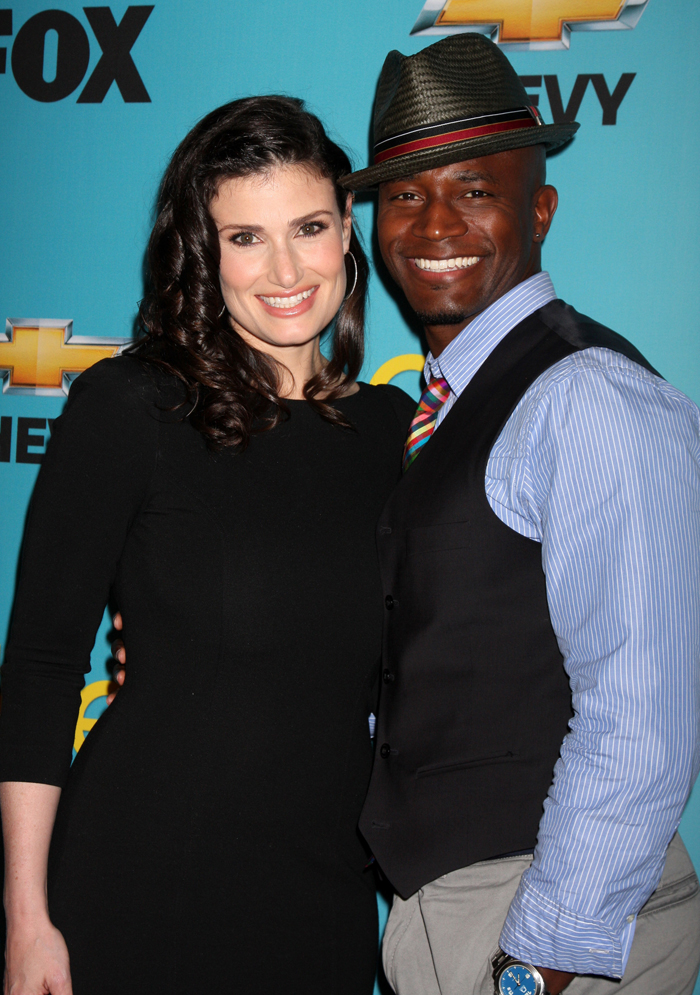 Photos courtesy of Redbook, Fame/Flynet & WENN