Ben Affleck accepted the top prize at last night's Hollywood Film Awards, The Hollywood Film Award. (That is not a typo.) It went to Gone Girl, and since director David Fincher wasn't there, Affleck accepted the award. Affleck thanked a few people and then gave an anecdote about Fincher tricking him into doing full frontal during a shower scene. (I've seen it, you barely catch a side glimpse.) Then he said that it was cold at the time, which sounded like a humblebrag to me because everyone has been talking about how well endowed Affleck is. Overall Ben's speech was pretty humorous and he made a few good jokes. He's really getting the hang of this. Here's some of what he said and the video is above.
I would like to thank David for the way he treated me. In particular we had a shower scene in the movie and David assured me, because trust is essential with directors and actors 'listen, if we tilt down we'll never go far enough to see anything.' So thank you, David, and I'd like to thank you for keeping the set cool, because if you're gonna have one chance for America to see your junk, you want it to be cold. It's a real gift.

Hope you don't think it presumptuous that I wrote something. When they told me there were no other nominees I felt cautiously optimistic.

David would not do this for sure, but I want to thank the studio. By the way, David couldn't be here tonight because he's still shooting the movie… 'one or two more takes, we're going to have it'…

David's a gruff guy and he's a little bit cranky and serious but by the end of the 120 days of shooting I got David to promise me that if Brad Pitt's not available, I can read for his next movie.
That was funny, you could tell that he practiced and was in his stride. I'm surprised that Gone Girl took home the best picture. From what I've read it's still iffy whether it will even be nominated in the best picture category for the Academy Awards. The HFAs have never been televised before now, though, and it's just the start of the awards season. There is plenty more to come.
Gone Girl also won the Hollywood Screenwriter Award, which went to Gillian Flynn. I didn't realize that Flynn also wrote the screenplay but she did and she thanked Fincher for having the faith in her to let her write the screenplay. When she first got onstage Flynn made a joke about trying to walk in high heels. "Do not put a writer in high heels and set her up on some stairs after an open bar." Here's a link to her speech. I liked her strapless dress with the sheer skirt, she looked elegant but comfortable.
Here are some more photos of the Gone Girl cast at the HFAs including Kim Dickens in Lorena Sarbu, Missi Pyle in a cheap looking shift dress, and Emily Ratajkowski in a Diane von Furstenberg jumpsuit vamping it up as usual.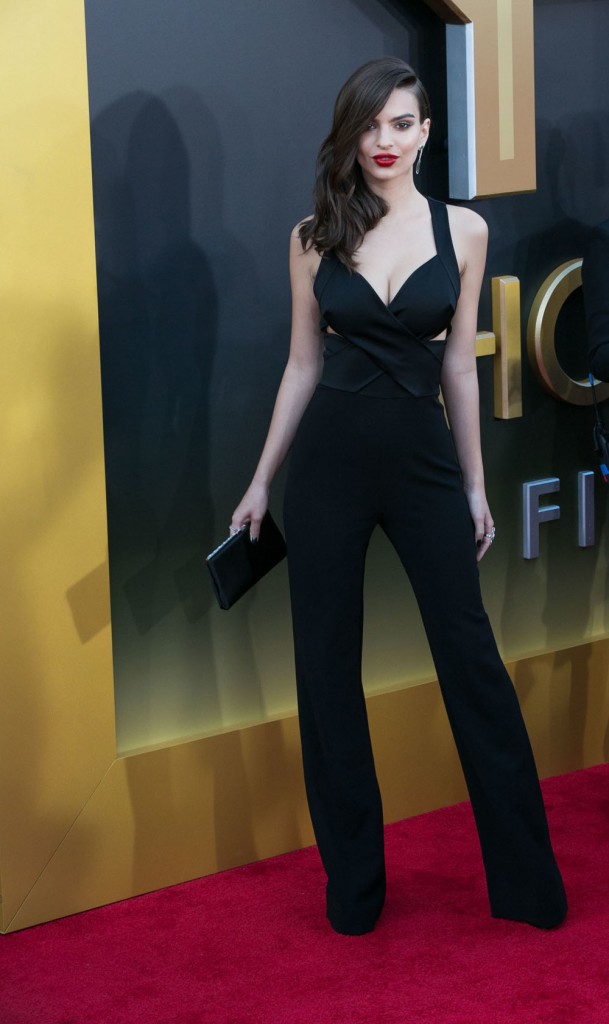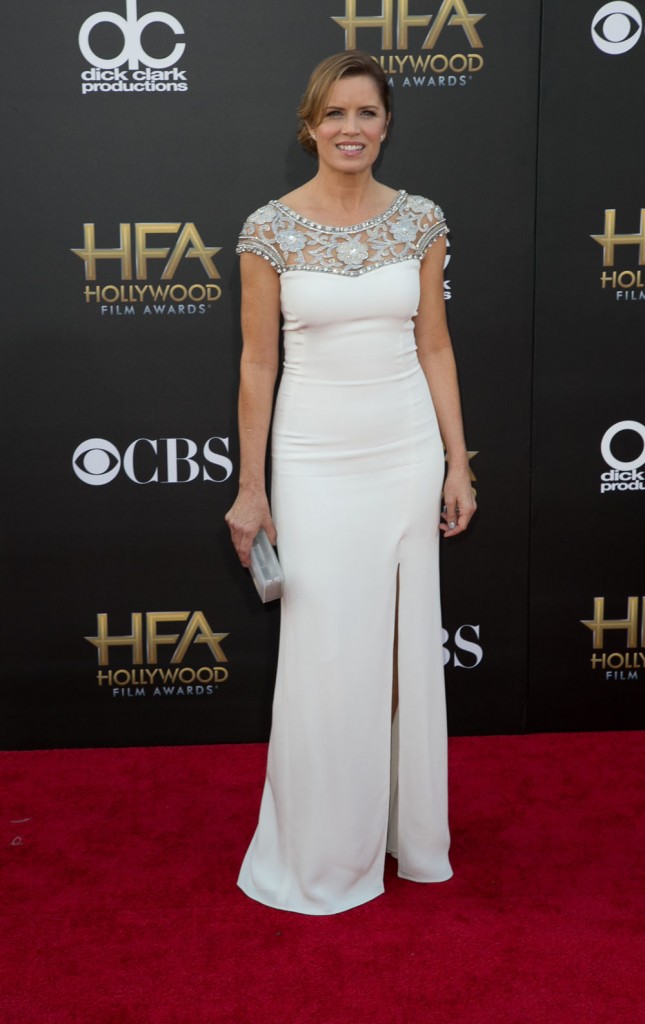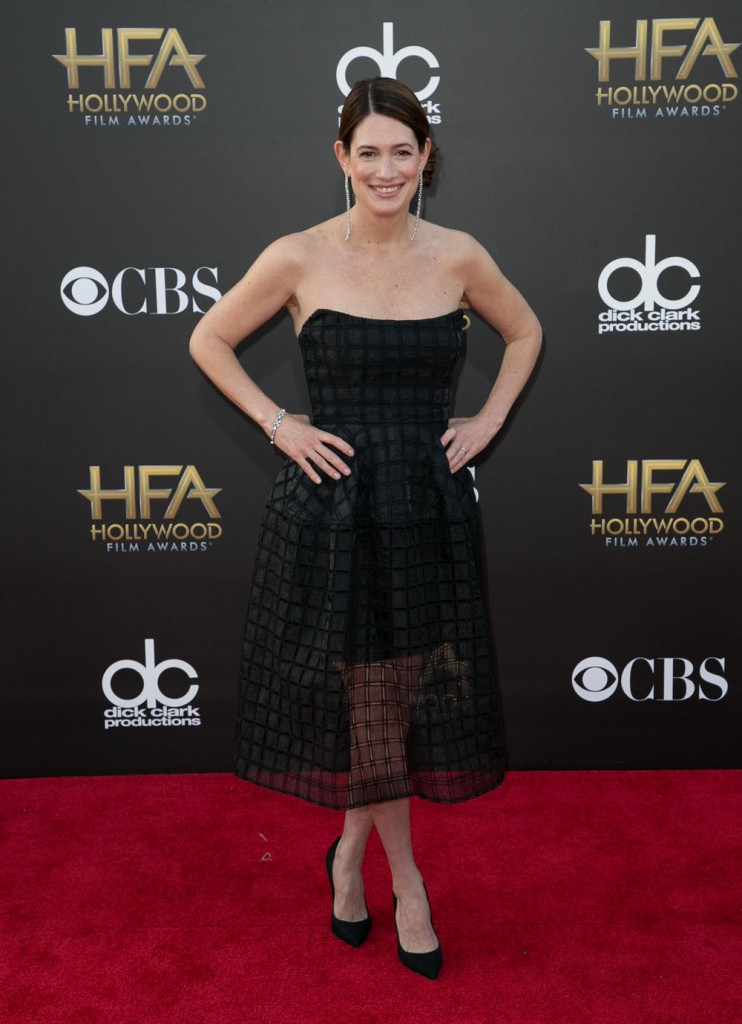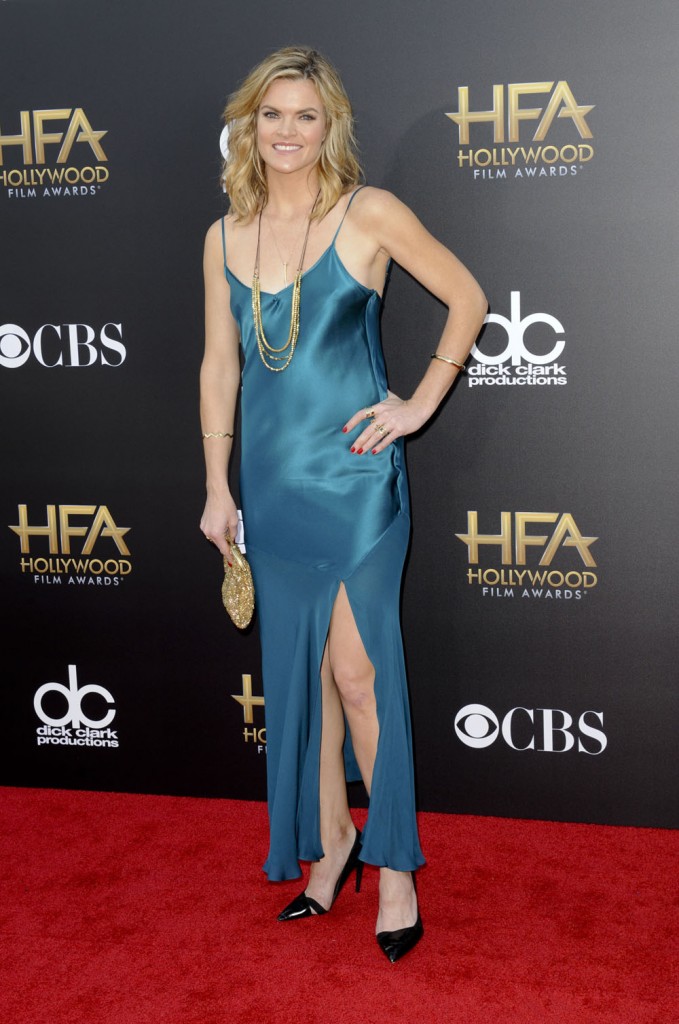 photo credit: WENN.com