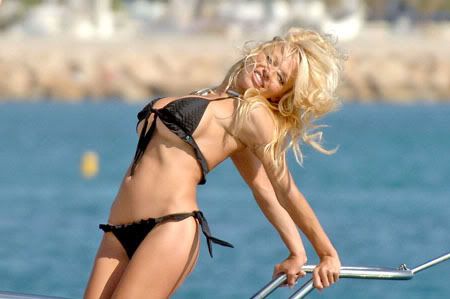 Pamela Anderson gave a new interview to Britain's Sun in which she revealed that one of her proudest accomplishments is raising her two boys, Brandon, who turns 11 next month, and Dylan, 9.
She said that she had to tell them about the famous hardcore sex tape she made with their father, Tommy Lee, when the topic came up in the movie Borat. They begged her to see the film, in which she pretends to be stalked by the Kazakh reporter. Before she sat down and watched it with them, she told them she had to explain a few things first:
What do your kids think of your public image? They must be aware of it?

They're not really. They've never seen Baywatch.

They really wanted to see Borat and I finally had a breakdown and let them because all their friends had and I said: 'There are a few things we have to talk about before you see Borat.'

And they go: 'We know about the magazines.' So that was one gone!

We had to discuss that and I can't imagine kids their age are all watching that film but then again I live in a town where everyone's in the movie industry and their kids watch a lot more.

My kids don't but I did sit down with them and watch Borat.

What did you do while it was on?

I kind of went 'la la la la la la la' over the parts I didn't want them to hear!

Which were?

The sex tape.

Actually I did tell them, I said: 'You know, when your dad and I were first together we used to video tape everything.

'Everybody's naked, hugging, kissing, all that good stuff and someone stole the tape.'

And I remember when we were watching the film and Dylan goes: 'You mean everybody has seen this?'

And I said: 'Yes.'
It sounds like she dealt with it pretty well. That's got to be a hard thing to realize your kids are going to see one day.
Anderson said her sons don't see her as a sex symbol, because she's more of a mom to them. She does safety patrol duty at their school, she explained, wearing a neon vest and showing people where to park.
When asked if her boobs get bigger and smaller because they seem to be different sizes all the time, she says they must expand on TV due to lighting. She said she often doesn't recognize herself as the big-breasted woman on screen.
She sure still has it at 40, and posed happily in Cannes in a barely-there bikini. Pamela said she keeps in shape by playing sports with her kids, and that she doesn't go to the gym or diet. She does eat vegetarian though, which is usually low-calorie as long as you watch the carbs.
Thanks to Hollywood Tuna for the header image. They have a lot more photos of Anderson in that fabric-looking bikini if you're interested.