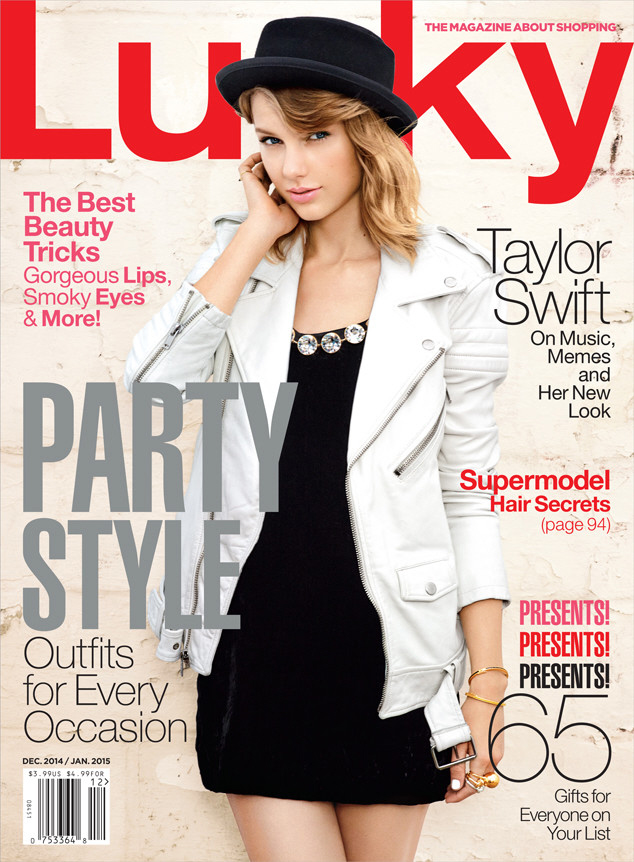 I barely recognized Taylor Swift without her signature red lips. Even when she doesn't do fire-engine red lipstick, she usually goes for darker, bolder lips, so she really does look different in this Lucky Magazine photoshoot. Washed out… but not bad. Anyway, Taylor is still promoting her new album and that apparently involves A) hats and B) incessant talk about how happy she is to be single. I believe she's happy (-ish) to be single right now, but I think this is just a phase where she talks about boys by talking about the lack of boys in her life. Some highlights from the Lucky piece:
No more fairytale romances: "Wow, I really used to think that happily ever after was a thing. Not in those simple terms…I think that no matter what you find in terms of happiness and compatibility, there's always going to be a struggle attached to it. I used to believe that you find the one and that's it: Nothing's difficult after that. But then again, I know nothing now. I know legitimately nothing about lasting relationship experiences because I don't have them."

She's obsessed with coffee: "Coffee's a big part of my life. Skinny caramel lattes are a daily thing that I get excited about and I never stop being excited about. So if I could just find one person who I felt that way about—the way I feel about coffee—then I think I'd be in a content relationship."

Her girlfriends: "A lot of my life has to be protected, just because of the circumstances I'm under. But with my friends there's absolutely nothing held back. Every detail of every story is told. There's no editing."

Fame and privacy: "I wanted to make music. I didn't know that came with this expectation that your whole life is owned by the general public and everything you do is dissected, scrutinized and questioned. Because [people with] a sunny outlook are a lot easier to deal with, be around, befriend and handle than people who are bitter about it. People who are, like, complaining about the life of being a celebrity. It's a little irritating."

The mystery surrounding her belly button: "I don't like showing my belly button. When you start showing your belly button then you're really committing to the midriff thing. I only partially commit to the midriff thing—you're only seeing lower rib cage. I don't want people to know if I have one or not. I want that to be a mystery. As far as anyone knows based on my public appearances, they haven't seen evidence of a belly button. It could be pierced. They have no idea. If I'm going to get some sort of massive tattoo, it's going to be right next to my belly button because no one's ever going to see that."
On the face of it, I see nothing wrong with anything she's saying now. Swifty is in-process at the moment. She's still figuring out her life, maturing into womanhood and the whole process is amplified because she's such a celebrity and because she's largely working out her life drama in public, in interviews. I'll kind of admit it – I find this part of Swifty charming. I'm reminded of her youth and how she's reached that weird moment in her 20s when she realizes that she was full of sh-t and didn't know anything just five years previous.
Also – Swifty is going to perform "Blank Space" tonight at the AMAs. She's also receiving The Dick Clark Award for Excellence. Diana Ross will present the award to her!!! That's crazy to me. But I'm looking forward to seeing what Swifty wears.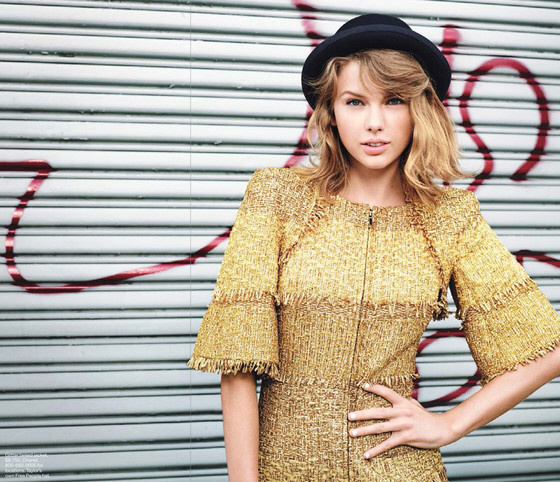 Photos courtesy of Lucky.