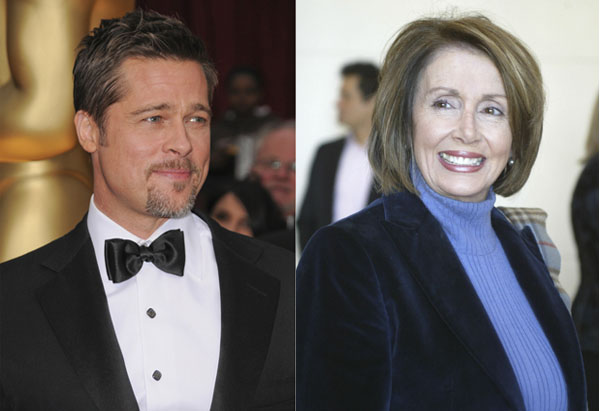 Mr. Pitt is going to Washington! Actually, the entire Brangelina brood will be making their way to Washington as Angelina will be filming scenes for Salt in the district. While his family works and plays, Brad Pitt has organized a meeting with Speaker of the House Nancy Pelosi. They will be discussing Brad's organization Make It Right Nola, and the private, federal, state and local efforts to rebuild New Orleans after 2005's Hurricane Katrina. People has more:
Count Brad Pitt as one of the Hill's power politicos.

The actor, 45, will be in Washington, D.C. – where partner Angelina Jolie, 33, is filming her upcoming movie Salt – on Thursday and will meet with Speaker of the House Nancy Pelosi.

"They will be discussing Make It Right Nola, a project launched in 2007 to construct affordable and environmentally-sustainable housing for low-income residents of the Lower Ninth Ward in New Orleans who lost their homes as a result of Hurricane Katrina," said a statement released Wednesday afternoon by Speaker Pelosi's office.

Pitt and Pelosi, 68, are slated to kick off their meeting at 3:30 p.m., after posing for photos for the press in the Capitol Building.
From People Magazine
That's sweet. I bet Nancy Pelosi was the one who wanted to pose for pictures with Brad Pitt. Who could resist the temptation?
Nancy Pelosi became the first female Speaker of the House in January 2007. The congressional district she represents encompasses a large part of San Francisco. She's often the target of Republican attacks for having "San Francisco values", which I suppose is code for liking gay people, the environment and animal rights.
It's a pretty high-powered meeting for Brad, considering a meager five years ago, his biggest political affiliation was "Legalize Pot Now". Brad has given several interviews where he said that by the end of this year, Make It Right NOLA hoped to have 100 homes up. He and Speaker Pelosi will have a lot to discuss.