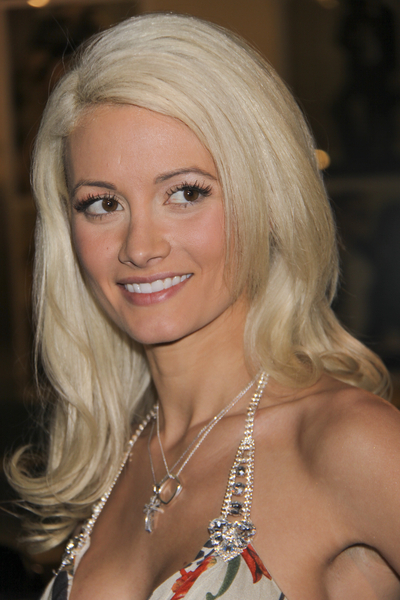 Jewel, who was supposed to be on Dancing with the Stars this season along with her husband, cowboy Ty Murray, hurt her knee badly two weeks ago during strenuous practices. Although she has said that she is still going to perform this season and to not "count her out," her tendinitis might force her to drop out. Replacing her would be another blonde (albeit bustier) beauty, Holly Madison, formerly of The Girls Next Door. Bridget Marquardt, Holly's costar on the Playboy show, says that Holly has wanted to do the show for a couple of seasons now but Hef wouldn't let her. Now that she's moved out of the mansion (and subsequently broken up with Criss Angel), she's ready to take to the stage. Us claims that a "DWTS" source has confirmed the replacement, but Jewel's rep says that she will be there for the premiere.
"I'm so excited for her," Marquardt — who next stars in a Travel Channel show called Bridget's Sexiest Beaches — told FOX's Strategy Room Wednesday.

"She's wanted to do it for so long," Marquardt added. "It just never worked with her schedule and Hef was always like 'I don't want you to do that,' and now it's her time, so I'm really happy for her."

There is speculation Madison could be replacing Jewel, who has been struggling with knee problems, and blogged last week that tendinitis could force her to drop out.

"Unless there is a miracle healing, Holly is confirmed to be a part of the premiere," a DWTS source tells Us.

Jewel released a statement last week saying she'd suffered a "minor setback," and added: "Don't count me out, as I am in this for the long run."

A source close to Jewel tells Us she'll still be on the show Monday.

An ABC rep would not comment to Us.
[from Us]
Although this is sad news for Jewel, Holly would be a really good addition to the cast of the show. She's pretty, charming, and charismatic. And those short, low-cut outfits would surely look great on her. Considering that Bridget accidentally let this slip on live TV, I would tend to believe that the suits have told Holly she'll be performing but haven't broken the news to Jewel yet. It's probably for the best – tendinitis is not something to play around with. It's disappointing, but if she performed and practiced like the other contestants, her knee would only get worse. Maybe she can take a rain check for next season.
Holly Madison is shown on 12/20/08 at the launch of the Girls Next Door book. Credit: PRPhotos