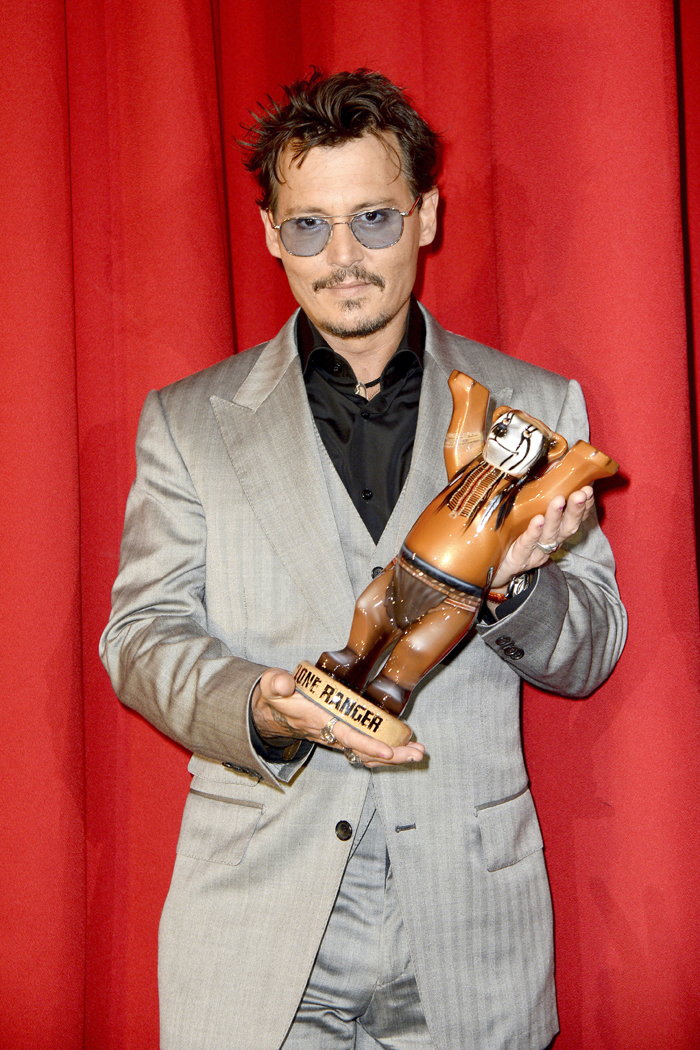 Johnny Depp covers the December issue of Details to promote Mortdecai. The magazine hasn't released the cover yet, but the interview has already gone online. The scarf monster whips out his bitch in this discussion. This interview happened weeks before Johnny's drunk variety show at the HFAs (and also before Amber Heard was reportedly "mortified"). Speaking of Amber, her dad said that she and Johnny would marry this fall. It hasn't happened yet. Will it ever happen?
Anyway. Johnny's very defensive over his box-office record. More specifically, he claims not to care about his three consecutive box-office bombs. He doesn't care about critics either. F*** the critics. Perhaps Johnny anticipates the failure of Mortdecai. I watched the trailer again last week, and everyone in the theater was groaning. Not in a good way. But Johnny doesn't care! He doesn't need your input or your loyalty. F*** that mess:
The "ephemeral" nature of life: "As Marlon once so beautifully f***ing said to me, life is a birdsong. That's stuck with me. For everybody, the clock's ticking. The main thing is whether you sit there and stare at the clock in fear of your ultimate demise–which is pointless–or you just live. Marlon said, 'Be careful, we only have so many faces in our pockets. I understood what he meant–and he's right. But I'm not running out, you know?"

Johnny don't care no more: "What is really satisfying is, like Marlon, getting to that place where he just didn't give a f***. First, I reached a point where I cared so much and was so diligent in terms of approaching the work. Then you get to where you care so f***ing much that it gets goddamn beleaguering, you know? But then a great thing happens. Suddenly you care enough to not give a f***, because not giving a f***, that's the total liberation. Being game to try anything."

On Into the Woods: "I delight in the approach we took with the Big Bad Wolf. There's a wonderful dark humor throughout."

On Whitey Bulger: "No one who is in fact deemed 'evil' ever believes they're evil. Bulger was incredible in terms of going zero to 90 in a f***ing millisecond. And not just to coldc*ck a guy–bang-bang, forever. Yeah, that old hillbilly rage came in handy. It's not all that far from the surface."

Johnny's fame is so crippling: "I'm f***in' shy, man," Depp says. "I'm living, in a sense, like a fugitive. I don't like to be in social situations–it's fine for me in a weird way, having to run and hide. Less and less, I have the opportunity to observe, because I'm the one being observed."

On pressure for success: "It's like being a dog at the track. They expect you to live up to some race you happened to be in and won accidentally. From that first second, you're nothing more than a commodity. They have expectations of another Pirates. It's great if something works. Boy, that's killer. But God, to have that as your design … it's ugly, I think."

Johnny's tired of playing the game: "The process I love. The other stuff … I can deal with being a fugitive for a bit, but I don't know how much longer a human being really wants to be that. Actors essentially have to peddle their ass to sell the movie. All the by-products or occupational hazards of the thing … At a certain point, one has to dig deep and go, 'Man, it is a birdsong.'"
[From Details]
I just don't get Johnny anymore. He talks big here and tries to make us believe that he cared so much … that he had to stop caring. Worring about his work was "beleaguering," so he stopped caring. That's worrisome considering how much money Johnny makes. If he doesn't care about acting, then he should step aside and let someone else worry or care about those jobs.
Johnny will eventually run out of chances to score a non-Pirates of the Caribbean hit. He has enough friends in the biz to insulate him from fallout, but it can't last forever. Don't get me started on how Johnny doesn't want successful films. Daddy's got a private island that doesn't maintain itself.
Here's a behind-the-scenes video from Details. Johnny plays guitar because he's so cool.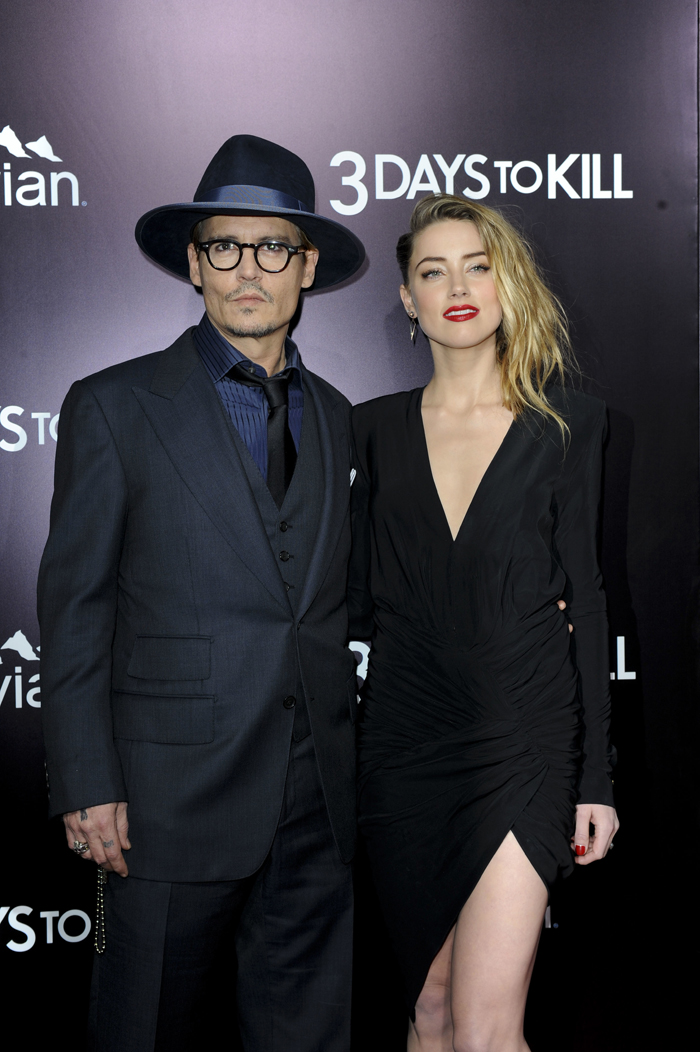 Photos courtesy of Getty & WENN