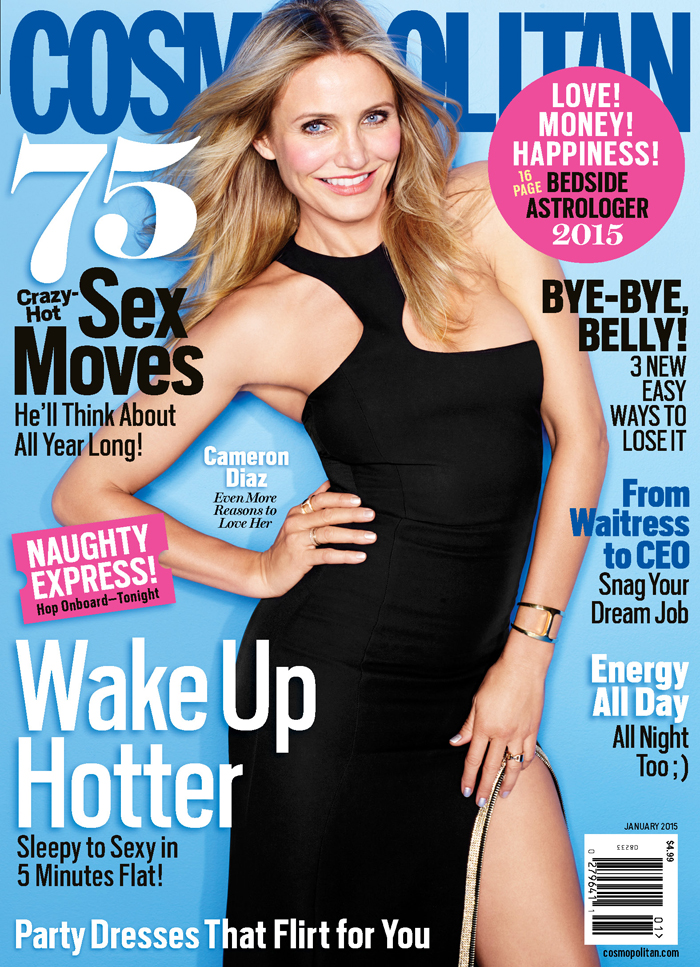 Cameron Diaz covers the January issue of Cosmo to promote her role as Miss Hannigan in the Annie remake. I find that a little bit funny (demographic wise), but Cameron has been on Cosmo's cover more times than I can count. This is a regular pit stop for her. The shoot is typical Cameron. The interview is … different. Thanks to nice guy Benji Madden, we can witness a kinder, gentler Cam. That's not very good for gossip, is it? Her answers come from a place that says, "Finally, I can relax in a relationship without worrying about the guy screwing me over." On the other hand, she's totally a relationship expert now:
On making a romance work: "You have to find someone in the same place as you are. Timing is everything. If you get into a relationship where you want something the guy doesn't want, it's never gonna work. You're never going to get him to be in that place. No matter how old you are, finding the guy who's in the same place as you are and wants to show up is the only way a relationship works, period."

Lessons from past relationships: "Here's the thing. You make the same mistake over and over again until you learn your lesson. We girls sometimes do the thing where we pick the same person over and over again — they look and seem different, but deep down, they're the same. And that's on us."

Her singing in Annie: "It was the most terrifying thing I've ever done in a movie. I cried a lot. [Miss Hannigan is] bitter because her chance at fame was stolen, and all she can taste is that taste, which is very much in line with this day and age. People determine your value by how many friends you have on Facebook or if you're Instagram famous."
[From Cosmopolitan]
Yeah, Cameron is completely happy with Benji. It shows. She's looking back at her romantic past with a new perspective. Girlfriend realizes that she wasted too many years on a bunch of tools (Timberlake, Leto, A-Rod, and P. Diddy). Earlier this year, Cam ranted about how everyone cheats in relationships, and women should examine why they are being cheated on. Now she's more at peace, as if she realizes Benji wouldn't do that to her. It's kind of awesome. I mean, Cameron is still a rude pill in other ways, but I'm happy she and Benji found each other.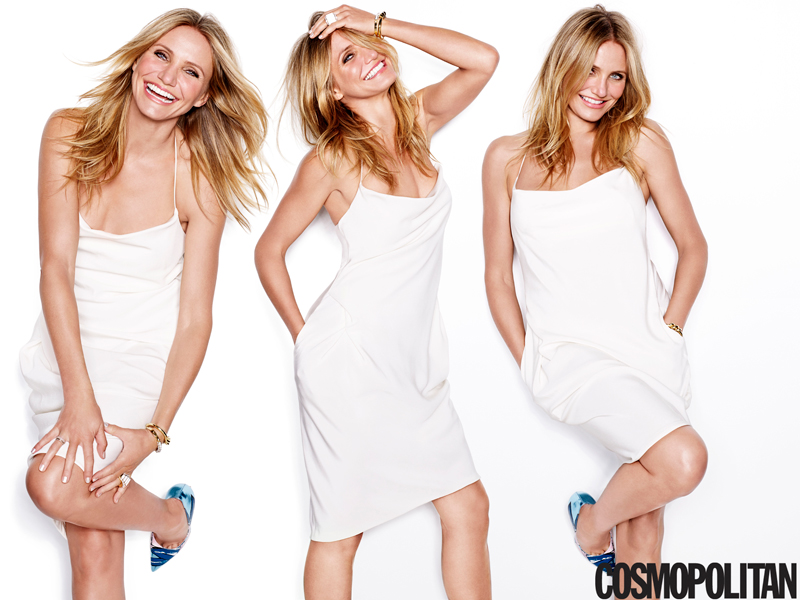 Photos courtesy of Matthias Vriens-McGrath/Cosmopolitan & WENN