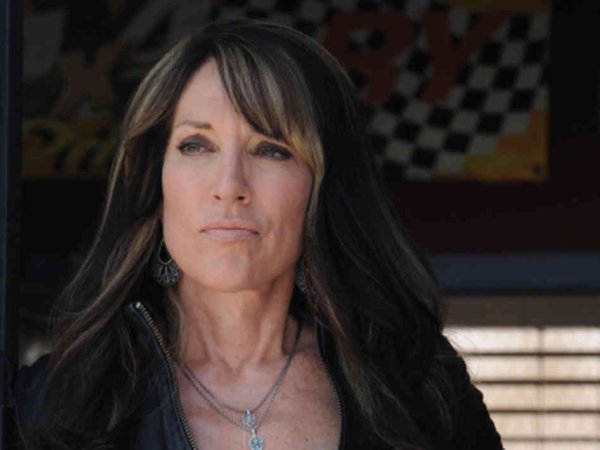 Spoilers for last night's Sons of Anarchy
First off, I have to admit that I haven't been keeping up with Sons of Anarchy. I've watched the entire series up until the first episode this final season. At that point, I started to get annoyed by all the senseless violence and plotting, particularly by Gemma (Katey Sagal) and of course by Jax (Charlie Hunnam). It seemed like so many people were dying so those two could cover up their lies, but that's the whole point of the show and I should be used to it by now. I plan to catch up over the holidays. I'm not one to let spoilers keep me from enjoying a series, but if you are and you're waiting to watch it, please stop reading now, ok?
In this last, second to final episode, Gemma was killed, execution style, in her father's garden by her own son, Jax. Jax also killed Unser, who was with Jemma at the time. The murder was revenge for the fact that Gemma killed Jax's wife, Tara, and lied about it. Juice was murdered in jail, too, for his role in covering up the crime. At least that's what I gathered from reading several recaps. You can read a recap on E! Online and Entertainment Weekly has a more thorough recap if you're interested.
Both People and EW have new interviews with Sagal in the wake of her character's death. I'm quoting some of her People interview here and there's more at the source:
Was the plan always to have Jax kill Gemma execution-style?
There were lots of conversations about what happens to her before it was finally decided how she would die. For a character like Gemma, even to live is like, what's worse? At the point you see her in the episode, death is a relief. It all caught up to her. By forming that, then there were conversations about what would be the most fitting, most horrible way for her to die.

What was it like that day, shooting that scene?
Charlie [Hunnam] and I cried a lot. It's how Sons of Anarchy has always been. Everybody goes there. I remember right before I walk out of that living room and toward the rose garden, Charlie and I just hugged each other, really hugged each other, because it was also goodbye for Katey and Charlie after seven years. It was very emotional in a beautiful way. It wasn't torturous. It was kind of a relief. We'll all been building to this moment for this last season, and have all been in our own forms of denial by not really dealing with it ending. But on that day, there was no turning back. It was extremely emotional.

Why did she tell Jax that she loved Tara? Was that really the truth?
She adored Tara. That was not a premeditated killing that happened, though Gemma is not beyond premeditation. It was really an act of rage. It was out of a perfect storm moment where she thought that her was son was being taken down, the club was being taken down, her boyfriend broke up with her and she was super high. I think that in her right frame of mind, she wouldn't have killed Tara. When she finally came to out of that, she was shocked just as anyone else when she found out that Tara didn't turn anybody in. I think she absolutely adored Tara and continued to. That's why she was talking to her [ghost] this season, making sure she knew the kids were okay. It was kind of a crazy Gemma thing, but she also felt very bonded to Tara.

So Gemma got over the idea that Tara had more control over Jax than she did?
I think that was always sort of their struggle. As you saw through the years, it would come and go, but overriding it all, I imagine if she'd been able to get that info first … that Tara never actually turned the club in … she would have made peace with Tara.

Why did Gemma say to Jax, 'You have to do this, it's who we are, sweetheart'?
I think she had been resigned about it ever since she headed to her father's, ever since episode 11 when Nero [Jimmy Smits] found out that she killed Tara. She has certain calm about her, as you see in that last shot in episode 11 when she is driving out of town. She's been carrying this secret for so long, the jig's up! She doesn't really know what's going to go down. But she is on the journey of closure. She knows what's going to happen. When she says, 'This is who we are,' she's helping her son one more time. It's kind of endearing. She's sort of saying to him, you have to do this because this is the only way this will get done. We are outlaws. This is how we go out. You notice over seven years, nobody has ever gotten sick! Everybody goes out in a violent outlaw sort of way. That's who they are.
From what I've seen of the show, Jemma deserved to die. (Within the context of the show, etc.) Jax has been heading toward that end too, though, and the advance buzz for the next, final episode is that Jax is going to meet Mr. Mayhem. Incidentally, Sons of Anarchy is thought to be roughly based on Hamlet and while there aren't exact parallels the show has a definite Shakespearean quality to it. Hamlet of course dies in the end.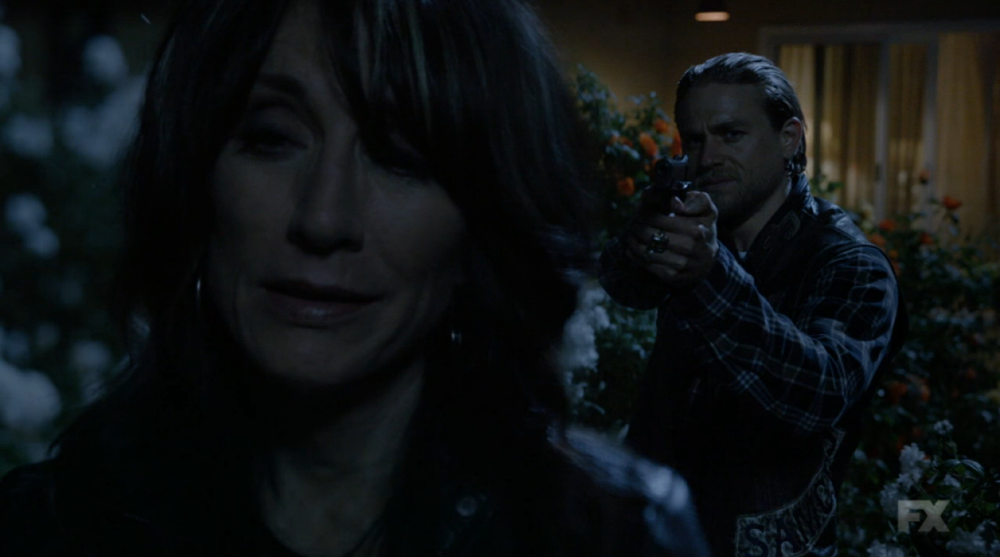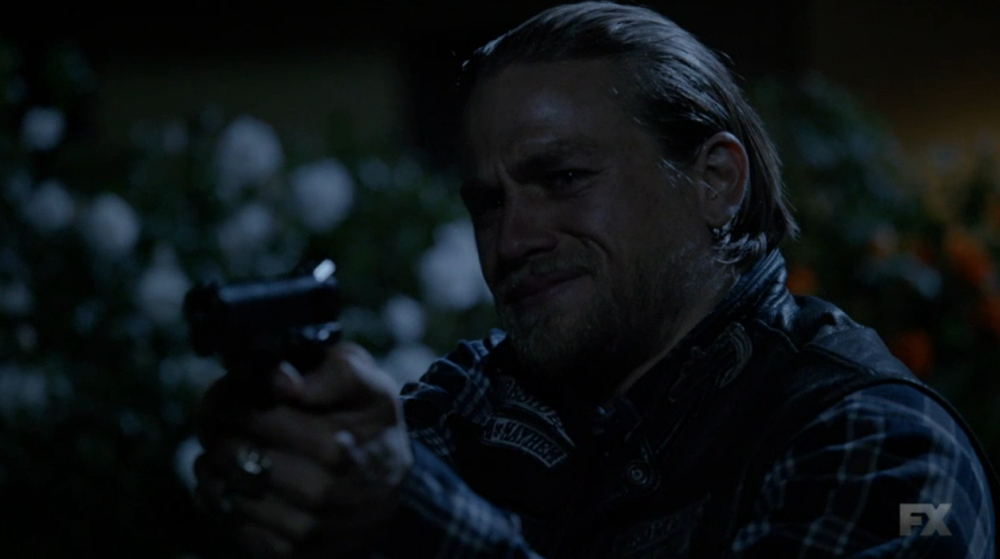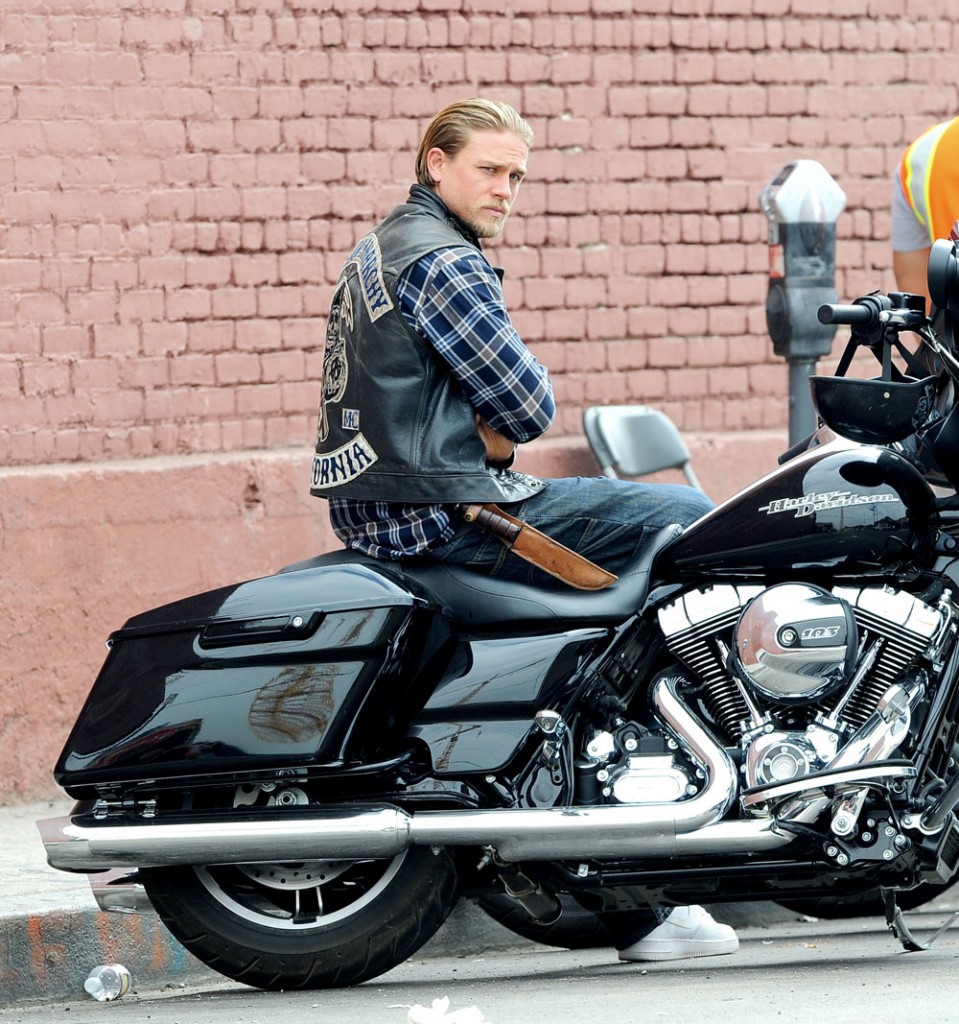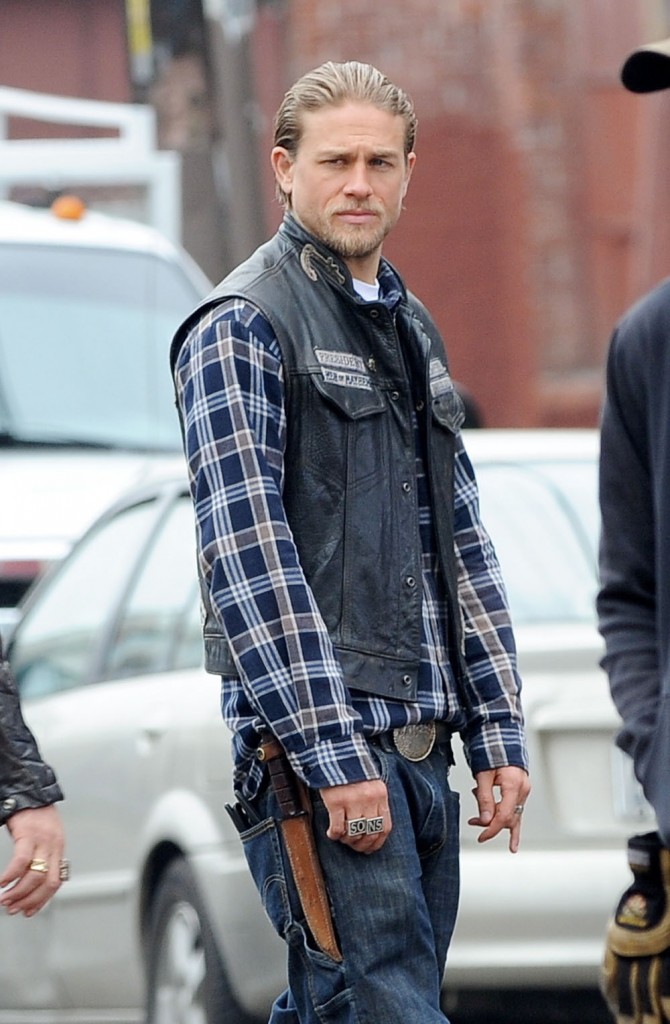 some photos are screenshots from FX and also courtesy FX Networks. On set photos of Charlie Hunnam credit: WENN.com