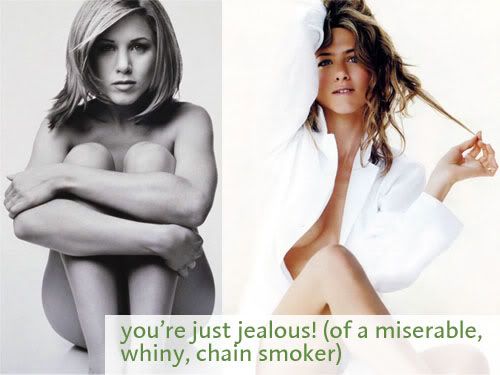 Actress Nancy Balbirer, who was Aniston's roommate in NY in the late 80s, told stories about Aniston at a reading in a pub, using the name "Jane," which fooled no one:
"Nancy said Jane, who was then working at a burger joint, was obsessed with her looks, and would give herself bikini waxes while lying upside-down on the couch. The pair went on auditions, on diets, and to aerobics classes together. Jane advised Nancy to try and be 'more f—able' on auditions, and to buy chicken cutlets at the Food Emporium to stuff her bra. Jane iced her nipples before auditions, and lamented her big butt and her nose, which she said 'came from her Greek half.'
"Jane moved to Los Angeles, got liposuction, a nose job and a hairline adjustment, and lost a lot of weight after going on Nutri­Slim. Nancy recounted a trip to L.A. where she asked to stay with her old friend, but instead Jane named some hotels, telling Nancy not to be so desperate, because it's unattractive, especially in a town like L.A."
Of course Aniston has had her nose done. It's not perfect now, but it doesn't look obvious, either.
It's cold to turn away your old roommate for a few nights stay while she's in town, but maybe she was thinking longer-term and Aniston was sick of her at that point. What's worse, Balbirer claims that she had a job lined up on "Friends," but that Aniston had her fired!
"After Jane landed a sitcom about friends who live together in the Village, Nancy independently met with the show's producers for a recurring role, which she landed on the spot. A few hours later, she was inexplicably fired, yet paid in full, plus an extra week's pay, despite never filming a scene. Later a producer friend told Nancy that Jane had her fired and the two old friends never spoke again."
Maybe Balbirer is a bitch and the two simply didn't get along. I have never heard of anyone stuffing their bra with chicken cutlets, though, that's priceless!