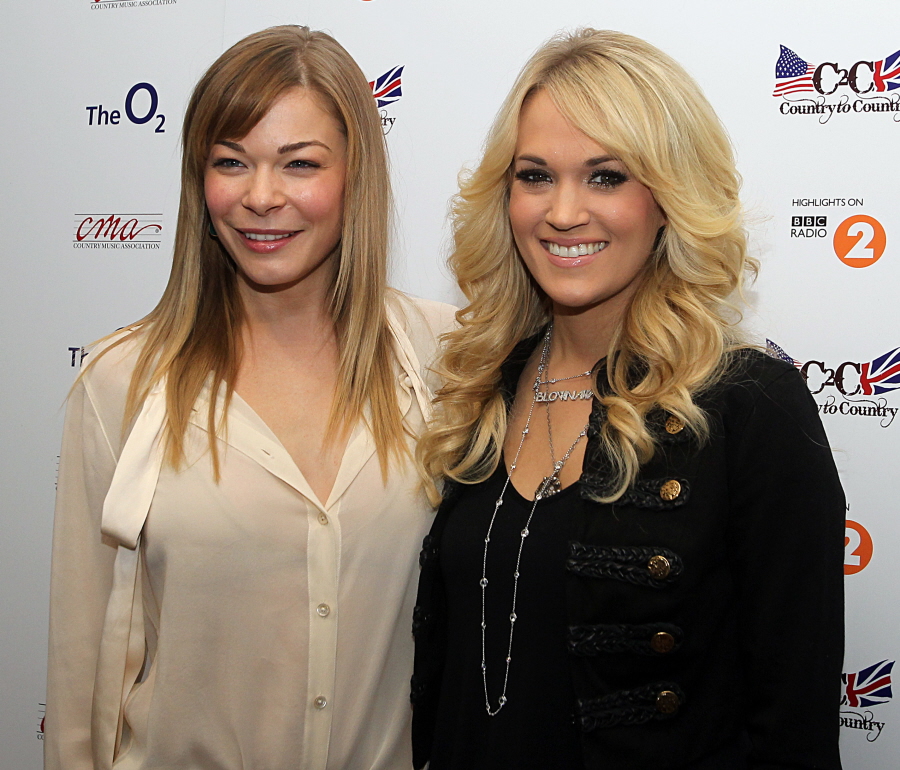 Whenever I say that Carrie Underwood seems like an unpleasant person, Carrie's fans yell at me and tell me that she's all lightness and wonder and Christian values and misunderstood sass. Perhaps. Or perhaps she's just as judgy, catty and Mean Girl-y as any one of us. Maybe we should make our Celebitchy Patron Saint? Anyway, Star Magazine claims that Carrie has been holding a massive grudge against LeAnn Rimes for EIGHT YEARS. Apparently, LeAnn said something mildly bitchy about Carrie in 2006 and ever since then, Carrie has gone out of her way to talk trash about LeAnn and avoid her whenever possible.
She's considered one of the sweetest stars in country music, but Carrie Underwood isn't just a pretty little thang! She's tough, she's opinionated and she secretly despises fellow country singer LeAnn Rimes.

Carrie's long-held hostility toward LeAnn emerged prior to shooting a live performance at the CMA Country Christmas Special on Nov. 7 (which aired Dec. 1). A set insider reveals that the Oklahoma native made an angry demand when she found out that LeAnn's dressing room was right next to hers.

"She immediately had her people call the organizers to get her room switched," the insider says. "Carrie can't stand LeAnn. When they see each other, she puts on a friendly front, but she thinks LeAnn is desperate, unoriginal and a has-been. And LeAnn has no idea how Carrie really feels."

The distaste Carrie has for LeAnn goes back to 2006, soon after the American Idol winner beat out Faith Hill for Female Vocalist of the Year at the CMAs. LeAnn, who was already an established recording artist after years in the business, was asked about Carrie at the time and quipped, "To see someone come in and win female vocalist that has been here for a very short time is a little disheartening."

That statement stung Carrie, and she's never forgotten it. "LeAnn's remarks were a huge slap in the face," a source close to Carrie tells Star. "Carrie saw it as a shallow and shameful welcome into the industry and showed LeAnn's true colors. She's waited eight years for an apology and has never gotten one. Carrie holds grudges. When they see each other out and at events, LeAnn acts like nothing ever happened, but Carrie will never forget."

Perhaps what instigated the original comment was jealousy: At least that's what a source close to Carrie speculates, saying, "For so long, LeAnn was the only one who could belt out those high notes, and that was quickly taken from her as soon as Carrie entered the world of country music."

Either way, Carrie believes her poor opinion of her country colleague was confirmed when LeAnn was caught cheating on her first husband with current husband Eddie Cibrian, who was also cheating on his wife, in 2009. "Carrie was disgusted and couldn't believe she'd destroy a marriage," the source says. "She is very religious and thinks that LeAnn's appalling homewrecking confirmed everything she'd suspected in the first place."
Considering the detail that went into this story, I tend to think it's mostly true. I think Carrie can hold a grudge and she never forgot that LeAnn talked smack about her award win, and I'll also buy that Carrie was probably disgusted by LeAnn's behavior with the whole Eddie Cibrian situation. That being said… they performed at the same British country music festival last year. I've included the photos of them standing next to each other in this post. So maybe this is all just normal tabloid BS pitting two women against each other? Perhaps. But I still think there are probably LOTS of people in country music who are no longer friendly with LeAnn after her behavior the past five years.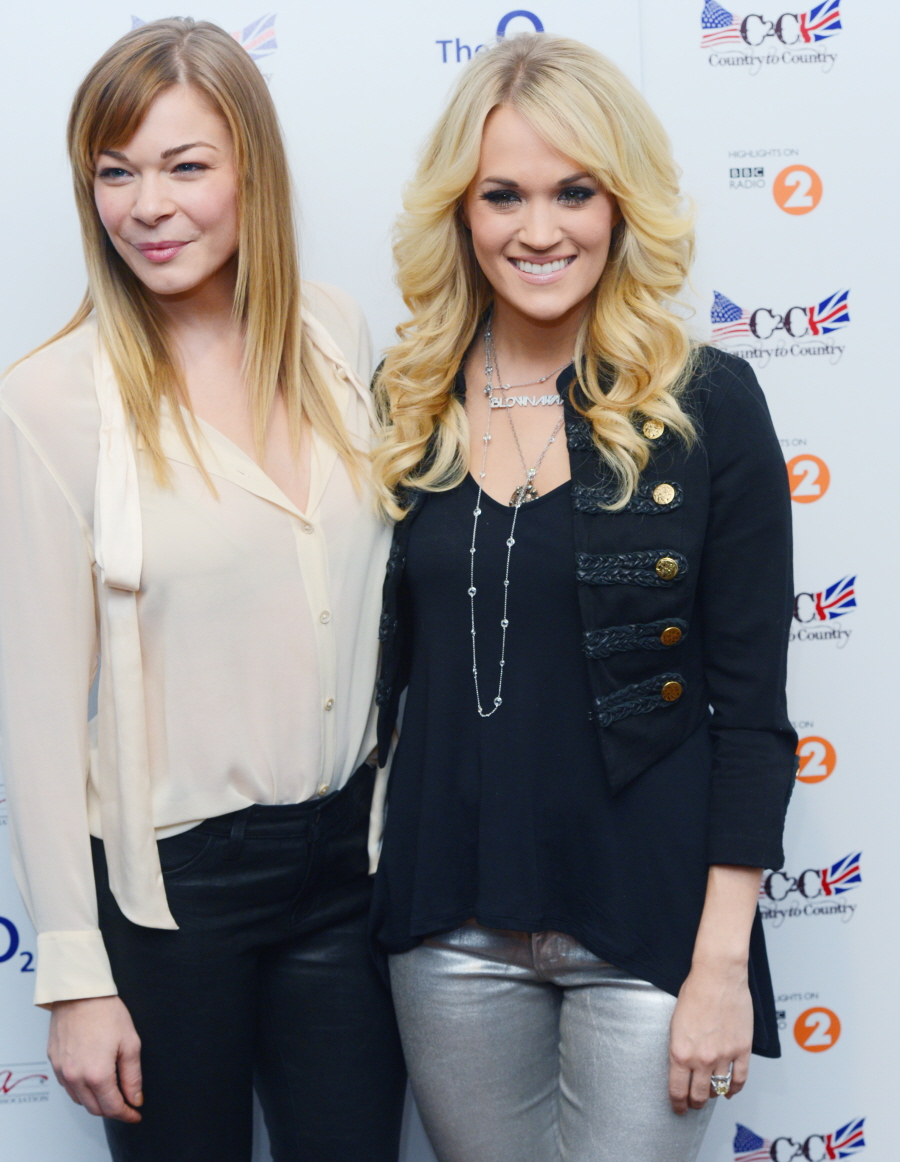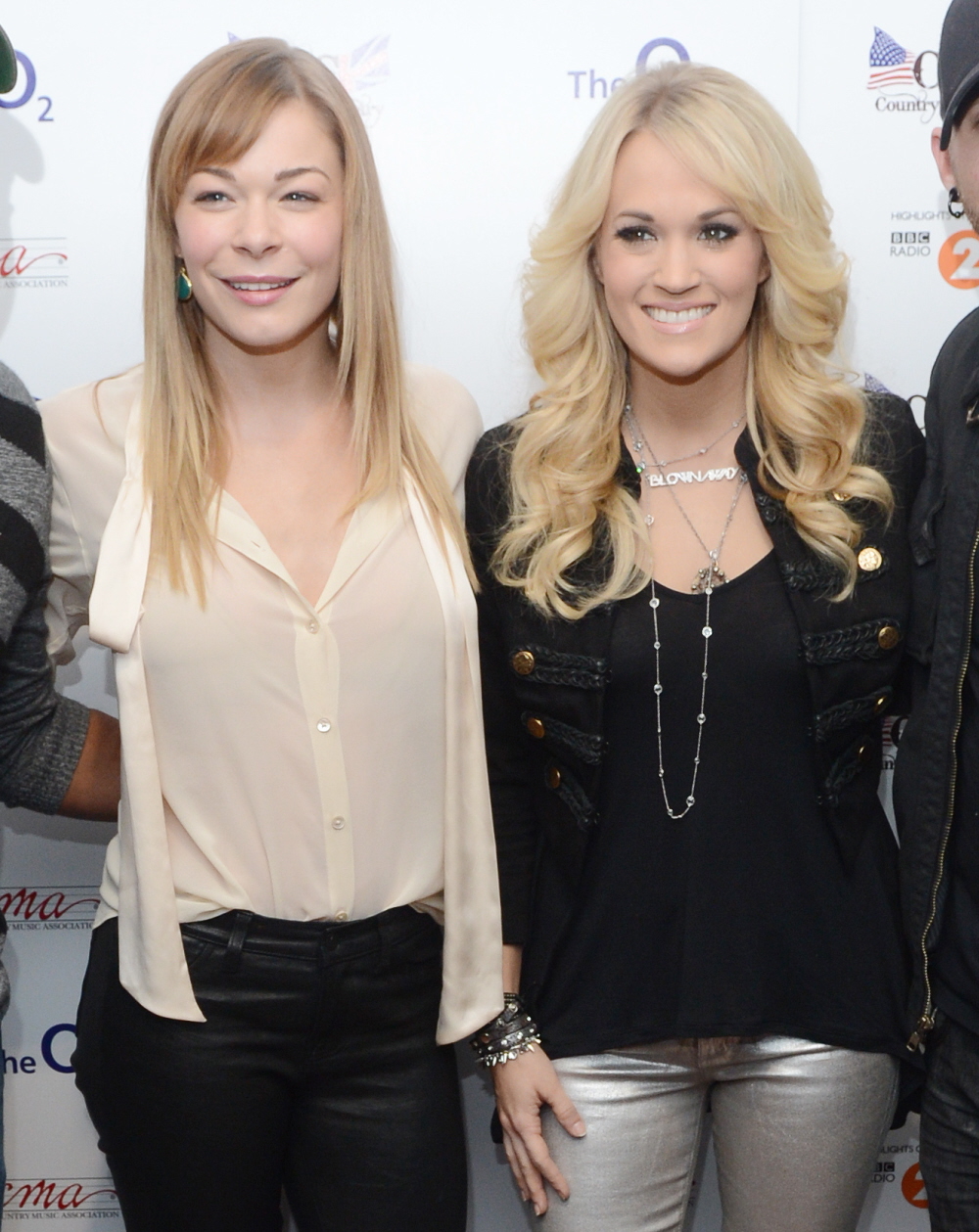 Photos courtesy of WENN.