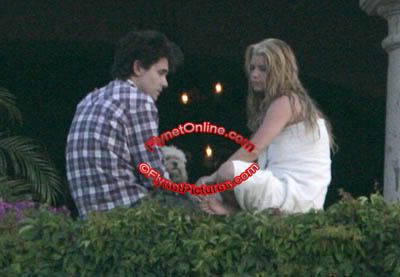 Jessica Simpson and John Mayer were seen arguing on their balcony at an exclusive resort in Cabo San Lucas. How convenient that they were outside and a paparrazo was on hand to capture the moment for the glossies.
Jessica Simpson and John Mayer try to re-kindle their romance on a getaway to Cabo San Lucas, Mexico but things did not go according to plan. These EXCLUSIVE photos show John and Jess having a fight on the balcony of their $2,400 dollar-a-night ocean-front Villa. John holds Jess's dog Daisy while the couple has an obviously emotional talk. Afterwards Jess holds her head in her hands in tears. Looks like this may spell the end for Johnica…
[From Flynet Online]
While I remain skeptical of these pictures, Jessica does seem to be visibly upset. Maybe she's heartbroken that her fake romance has ended, or she could have just had a genuine argument with John that was caught by an enterprising photographer.
The National Enquirer runs a story this week that says it was Jessica who dumped John, not the other way around, because she was sick of him telling her what to do. John wanted to keep their relationship private, they claim, while Jessica was annoyed and thought he didn't want to be seen with her. He also told her to keep a low profile and asked that she not be seen out partying while he was out having a great time with his friends. Jessica couldn't stand being told what to do all the time and she's the one who ended it, according to the Enquirer.
Star runs a story this week titled: "Jessica and John they're sooo on" with the same details you've already heard about how John was out at Jessica's hotel post-breakup. No wonder Jessica and John decided to end it for good in semi-public.