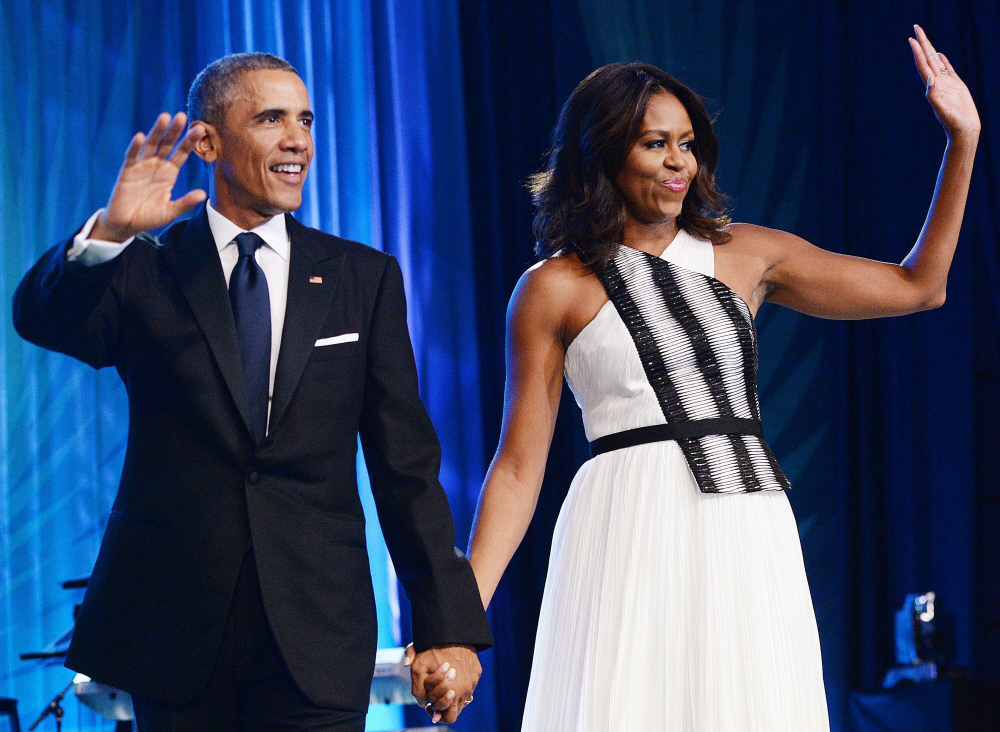 Every year, People Magazine sits down with the President and First Lady around Christmas. It's an annual thing, and every POTUS & FLOTUS does it. Sometimes the interviews get political, but for the most part, it's just a reflection on the year, some cultural stuff, and a chance for the president and first lady to remind everyone that they're human beings and they're a family. This year's interview with Barack and Michelle Obama made some news because President Obama (I'll refer to him as BO from here on out) answered some questions about the "I Can't Breathe" protests, the Ferguson protests, and being black in America. BO and MO also talked about some cultural stuff, and I can't help but think this is the news we should be focused on! Apparently, MO preferred Gone Girl the book to the movie. And BO likes Boyhood.
BO on LeBron James wearing an "I Can't Breathe" t-shirt: "I think LeBron did the right thing. We forget the role that Muhammad Ali, Arthur Ashe and Bill Russell played in raising consciousness. I'd like to see more athletes do that – not just around the issue, but around a range of issues."

BO's favorite movie: "Boyhood was a great movie. That, I think, was my favorite movie this year."

MO's favorite book: "I've read others, but since I read Gone Girl a couple summers ago, which is one of my favorites. The book is much better than the movie."

MO on Frozen: "I really miss the fact that I used to use my kids as an excuse to see all the Disney movies and now I beg them and they won't go."

BO on his girls: "Nowadays the three of them are in their Beyonce world."
[From People Magazine, print edition]
I wonder if it stings Ben Affleck and David Fincher when MO says the book was better than the film? It should. The book was much more Amy-focused and then Fincher made the movie so Nick-focused. But I do think it's cool that MO liked the book! And yes, MO and her daughters are obsessed with all things Beysus. Absolutely! Here's more of the serious side of the People interview:
The Obamas open up about raising their daughters, the impact of stereotypes, and what's on the POTUS dance party playlist. The protective bubble that comes with the presidency – the armored limo, the Secret Service detail, the White House – shields Barack and Michelle Obama from a lot of unpleasantness. But their encounters with racial prejudice aren't as far in the past as one might expect. And they obviously still sting.

"I think people forget that we've lived in the White House for six years," the first lady told PEOPLE, laughing wryly, along with her husband, at the assumption that the first family has been largely insulated from coming face-to-face with racism.

"Before that, Barack Obama was a black man that lived on the South Side of Chicago, who had his share of troubles catching cabs," Mrs. Obama said in the Dec. 10 interview appearing in the new issue of PEOPLE. "I tell this story – I mean, even as the first lady – during that wonderfully publicized trip I took to Target, not highly disguised, the only person who came up to me in the store was a woman who asked me to help her take something off a shelf. Because she didn't see me as the first lady, she saw me as someone who could help her. Those kinds of things happen in life. So it isn't anything new."

In a 30-minute conversation, the president and Mrs. Obama candidly added their stories to the national discussion of race and racial profiling that was sparked by the deaths of Michael Brown in Ferguson, Missouri, and Eric Garner in Staten Island, New York.

"There's no black male my age, who's a professional, who hasn't come out of a restaurant and is waiting for their car and somebody didn't hand them their car keys," said the president, adding that, yes, it had happened to him. Mrs. Obama recalled another incident: "He was wearing a tuxedo at a black-tie dinner, and somebody asked him to get coffee."

Things have gotten better, both Obamas agreed, but there's still more progress to be made.

"The small irritations or indignities that we experience are nothing compared to what a previous generation experienced," President Obama said. "It's one thing for me to be mistaken for a waiter at a gala. It's another thing for my son to be mistaken for a robber and to be handcuffed, or worse, if he happens to be walking down the street and is dressed the way teenagers dress."
I would ask MO's help to reach something on a high self, not because she's black but because she's so TALL. Sometimes it's not a racial thing. Sometimes it's "let me find a tall person to reach this top shelf." As for the rest of it… yep. I'm not going to get into some in-depth discussion about race, but I like that BO isn't shying away from having those conversations. We still need to talk about it. Our society is not post-racial.
Photos courtesy of People Magazine, Instagram, WENN.