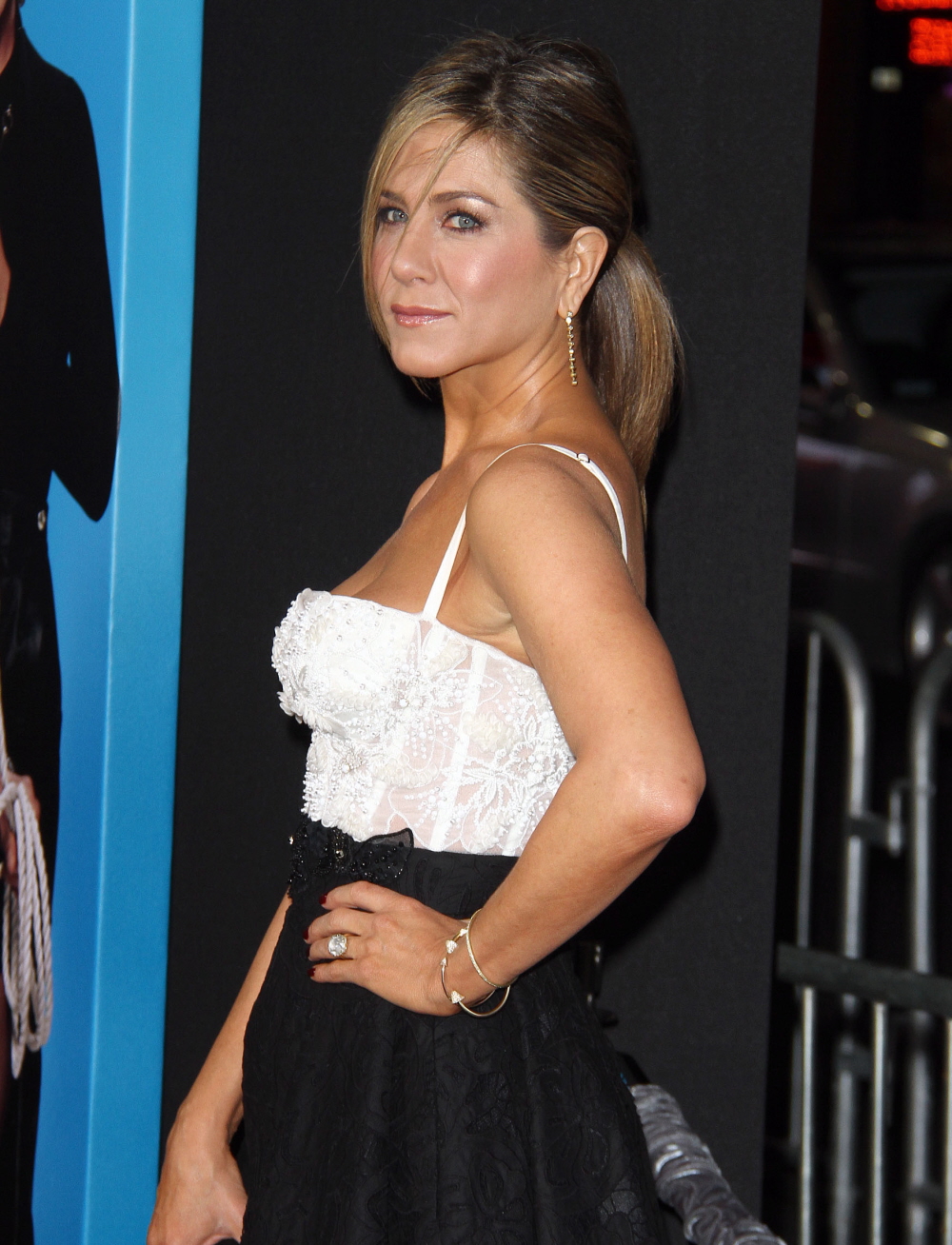 First of all, we need to discuss the fact that Jennifer Aniston has hired an Oscar strategist. I heard this rumor a few weeks ago, but the Gold Derby says it's for real. The Oscar strategist is named Lisa Taback, and Taback has previously worked on the Oscar campaigns for The King's Speech and The Artist. I wonder how long Aniston has been working with Taback? My guess is for the last month, and I would guess that Aniston has contracted Taback until mid-January at least (when the Oscar nominations come out), with an option for another month if Aniston does get nominated for an Oscar. Which… it's increasingly looking like that's going to happen. The Gold Derby has Aniston's chances at an Oscar nom from a long-shot to "very likely."
The reason I think Aniston has been working with an Oscar-campaigning professional for a month or more is because Aniston managed to kick-start her campaign into high gear almost instantly once Cinelou pulled together a distribution arm JUST FOR CAKE. That happened in late October. Jennifer then spent all of November making all of the Oscar-campaign moves, giving interviews to trade papers, being extra friendly with the press, hosting screenings and Q&A sessions and a lot more. So, was it worth it? It depends on how much Jennifer is willing to spend to get an Oscar nomination (a number probably in the high six-figures).
Meanwhile, I guess the Oscar strategist had an idea to put Jennifer on another national syndicated show other than The Ellen Show. So Jennifer appeared on… The Dr. Oz Show. You can see the videos here. She managed to get through the interview without talking about poop!! Shocking.
Even one of Hollywood's sweethearts can't stay upbeat all the time. Jennifer Aniston recently revealed during The Dr. Oz Show that she became quite grumpy when she stopped exercising in order to get into character for the upcoming Golden Globe-nominated drama Cake.

"It's interesting when you stop exercising. It really was interesting how my serotonin levels went down. My stamina was shot. I was cranky. I was irritable," Aniston, 45, said on a pre-taped episode. "I'm usually really not any of those things. I found myself short. I was hungry like crazy."

As previously reported, the Friends alum often went without makeup and stopped working out for two months to play Claire Simmons, a woman who suffers chronic pain after a car accident. But for Aniston, not looking like her red carpet self wasn't the downfall of not hitting the gym.

"You realize exercise is just so important to our soul," she explained to Dr. Oz. "Not just being able to fit into skinny jeans, to your state of mind, your soul, all of that. I surrendered into it. I actually didn't fight it. I didn't think oh this is horrible. It was such a part of what I enjoyed about mining this character."

One thing that has become awful (off set!) is her lack of sleep. Aniston came prepared to The Dr. Oz Show with a list of questions about her night habits, even asking if she was "going to die young" because of it.

"I have so many questions for you by the way. I have a hard time sleeping. Sleep is a tough one for me. My brain, the committee in my head, if I wake up at three in the morning I just start having conversations and they won't shut up and then I can't get back to sleep," Justin Theroux's fiancee said. "I do have three animals and a human being in the bed, so there are all these distractions. I got an app on my phone that allows you to sort of track your sleep rhythms. I don't really quite ever get into the deep, deep, deep sleep."
I didn't realize she had sleep problems – that might explain A LOT. Aniston drinks (from what we've seen), and the booze might be contributing to her sleep problems, or her sleep problems may explain why she drinks. It's a chicken-and-egg thing. What came first, the sleep problems or the alcohol and pot? I used to like a stiff drink at night because I thought it would help me sleep. And it did, for a time, except you can't keep doing that night after night. And I had a rough adjustment when I stopped, and yes, there were some bad nights when my sleep pattern got all messed up. But your body adjusts. Nowadays, I don't drink alcohol and I try not to have any caffeine after 5 pm and I've never slept so well. Aniston should try it.
Oh, and I don't really have any shade for what Aniston says about working out. I've noticed something similar when my workouts have been sidelined by injury or illness too – my energy level is so different, I was anxious and sad. It turns out that I've gotten addicted to those exercise endorphins.
PS… Jennifer won "Best Actress" at the People Magazine Awards last night. She didn't walk the red carpet, but she posed a lot inside. I'm assuming the People Awards are a lot like the People's Choice.
Photos courtesy of Getty, Fame/Flynet.