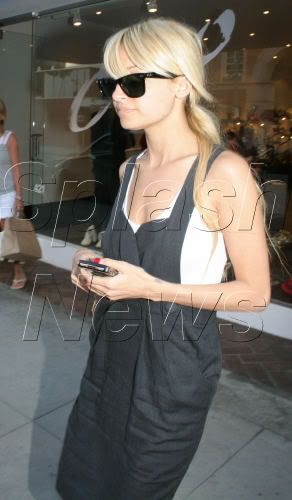 Nicole Richie was trying to be sarchastic and funny in a recent e-mail inviting people over for a Memorial Day party she threw with Mischa Barton. Instead, she inadvertently revealed her body image and eating issues, and the struggle she faces trying to fit in:
From: Nicole Richie < xxxxxxxx@xxxxxxx.xxxxxxxx.xxx > To: XXXXXXXXXXXXXXXX Subject: Masha and Nicole's Memorial Day Party Date: Thu 24 Ma 2007 04:29:29 +0000
My fellow Americans its that time of year To celebrate our country by drinking massive amounts of beer Let's stand together as one, live the American dream Take shots, pass out, & wake up with our pants ripped open at the seems Let's glorify this day in your sluttiest tops and your tightest pair of tsubi jeans Even though we have no f&**ing clue what Memorial Day really means!!

Mashas House
Sunday May 28th, at 2pm
XXXXX Crest Court
Beverly Hills, Ca 90210

There will be a scale at the front door. No girls over 100 pounds allowed in. Start starving yourself now. See you all then!!!

Please make sure to RSVP as this is a large party and we need to keep track of who's coming. Thanks
[From In Touch Weekly]
The article goes on to quote analysis by Dr. Joyce Brothers, who says Nicole is "thumbing her nose at the people in rehab." They also quote a witness who says "Nicole didn't eat anything," at the party which isn't that much of a stretch.
Nicole Richie is having nightmares about prison, they say, and is terrified that she faces the same fate as her frenemy Paris. Nicole faces 5 days if convicted of her latest DUI, when she was busted driving the wrong way on the freeway last November, and admitted to cops to smoking pot and taking Vicodin.
Nicole was said to have collapsed at that party, but I only read that from one source and it doesn't seem to be confirmed yet. Yesterday I was calling her maybe-pregnant for what everyone schooled me was an "ana belly" which happens when people are malnurished and can no longer digest food properly.
I have little doubt this is an actual e-mail from Nicole Richie, because she used the same "split open your pants" wording in her nasty e-mail to Lauren Hastings after Lindsay robbed Hastings' stuff.
Richie's rep said "This invitation was sent via email to her friends who understand that she was responding in a joking manner to the constant untruths printed about her in the media. Her reference to Memorial Day was in no way meant to offend anyone but was simply an expression of her distaste for the current situation."
The thing is, it sounds to me like she's trying to joke but is failing miserably. By joking that women over 100 pounds shouldn't get into the party, she seems to be revealing her own trouble with fitting in, and how she sees starving herself as the answer to her feelings of inadequacy. Or maybe she's just bitchy like this.
Meanwhile Richie got in a little fender bender after the party, backing into another driver's bumper at a gas station. She hugged the female driver of the other car and nothing much seems to have come of it.