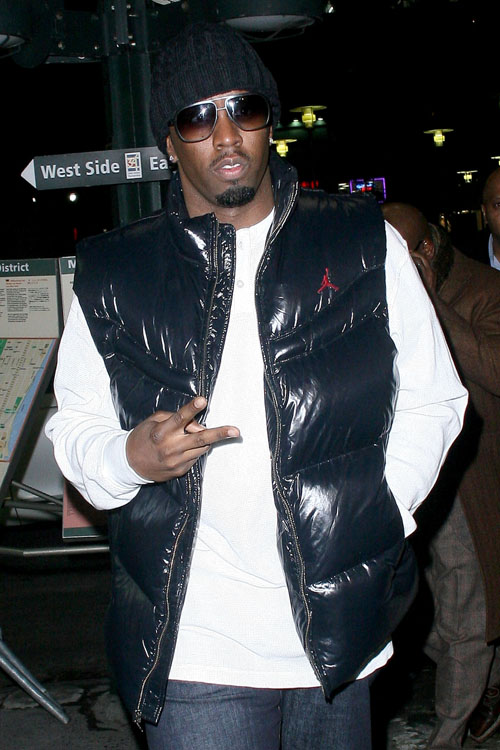 Music producer Diddy has been taking some heat in the press for his part in the recent Rihanna/Chris Brown reconciliation. Many people think it was irresponsible of him to get involved by offering Brown a place to stage his move to win back Rihanna after he beat her black and blue. New sources are reporting that Diddy had no idea what Chris Brown was up to when he called his mentor and asked him for a place to crash in Miami. Insiders close to Diddy claim the rap mogul feels "set up" by Brown and is not happy about being dragged into this situation.
SEAN "Diddy" Combs had no idea Chris Brown was going to use his home on Star Island to stage his reconciliation with Rihanna for the paparazzi. A music industry insider tells us, "Chris called and said he needed to crash at Diddy's house while he was recording. He said it would just be him and his mom." In fact, Brown, who just got charged with two felonies for allegedly beating up Rihanna the night of the Grammys, brought her down and called the photographers. "Chris is a dog," another spy said. "He's always been so critical and nasty to Rihanna, making fun of her accent."
Page Six seems to have some inside information on this story. They came out with the assertion earlier this week that Brown himself was the one who tipped off the paparazzi about the reunion, saying that one of his PR reps personally contacted staff at Page Six to let them know where the couple was staying. I have a hard time believing that 19-year-old Chris is the mastermind behind all of this. He comes off to me as a punk-ass bitch who likes to beat up women who are smaller and weaker than him. My guess is, he is getting some very strategic advice from his PR flacks and his lawyer, Mark Geragos. If you recall, Geragos was the attorney who represented Winona Ryder during her shoplifting trial (she was convicted but served no jail time) and Michael Jackson in his child molestation trial (acquitted). He's skilled at getting celebs out of trouble. He even represented wife killer Scott Peterson – which shows that the guy has no problems representing the scum of the earth.
If this story is true, I hope Diddy comes out publicly and says he had no part in it. It would be nice to hear more male celebrities come out and say that what Chris Brown did was wrong. So far, only Nick Cannon has had the balls to voice his opinion that it's wrong to hit a woman, no matter what.
Photo credits: WENN.