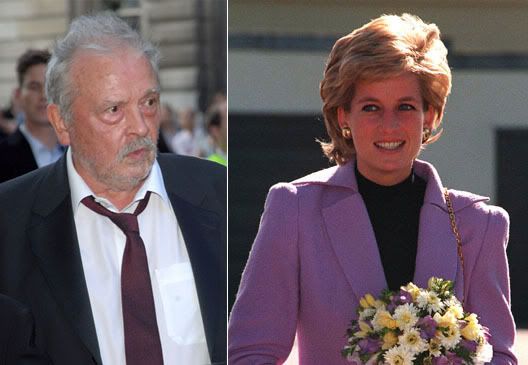 Photographer David Bailey would like the Queen to know he couldn't care less about a knighthood, thank you very much. The 71-year-old Brit, famous for his decades-long career photographing many of the most beautiful women in the world, is claiming that he would never include the late Princess Diana on any "Most Beautiful" list.
Bailey said Diana is "a pleasant enough woman, but a great beauty she wasn't". The Queen might not have a problem with that, but Bailey also chimed in about Prince Charles, saying that The Prince of Wales "looks like a banjo player in Appalachia." Yikes.
No wonder Patrick Dermarchelier was the late Diana, Princess of Wales's favourite photographer. David Bailey, his old rival, had no respect.

Appearing on Brush with Fame on Sky Arts this week, Bailey is still unrepentant about saying Diana was not the most beautiful woman in the world.

"I mean she was a nice girl, she came to my studio a few times and she was a pleasant enough woman, but a great beauty she wasn't," says the 71-year-old snapper.

As if that wasn't bad enough, he adds: "I remember when they used to use the word 'handsome' to describe Prince Charles, but God you got a stretched imagination – he looks like a banjo player in Appalachia. There goes my knighthood."
From The Daily Telegraph
The Prince Charles comment I can understand – it's rude, but I get it. But in my opinion, Princess Diana was one of the most luminous beauties of the twentieth century. The camera loved her, and though she didn't have an average beauty, what she had was extremely striking, a kind of beauty I prefer in women and men. And at the very least, why bash someone who is dead?
Bailey worked for Vogue Magazine, and got famous in the 1960s photographing many of the personalities of that era. Jean Shrimpton, The Beatles, The Rolling Stones and Marianne Faithfull were all photographed by Bailey. He won a CBE in 2001 and he's considered a living legend in his field. He was also married to Catherine Deneuve at one point. He may be moving into an era where he's considered a bitter old fart, though. He sure is acting like one.
David Bailey is shown on 9/2/08. Credit: WENN. Photos of Diana are circa 1996 and 1997. Credit: UPI/Newscom