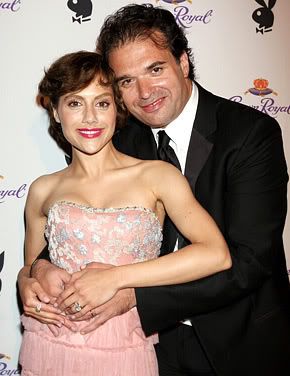 Brittany Murphy may have gotten more than she bargained for when she married Simon Monjack in April. Like something straight out of one of the con stories on Oprah, it seems that Monjack might actually be a two-bit conman using poor Murphy for his own ends.
Poor Brittany. She thought marrying this guy was going to turn out like that cheesy Gerard Depardieu movie Green Card, but it is in fact turning into like something akin the Steve Martin movie Dirty Rotten Scoundrels.
From US Weekly:
Brittany Murphy and Factory Girl executive producer and writer Simon Monjack shocked friends and family in April by marrying after only four months of dating. The couple skipped the proposal and honeymoon, exchanging Neil Lane rings in a private L.A. home with only their families present.

But now Murphy's inner circle is growing concerned about her new man's history before he swept Murphy, 29, off her feet.

Among his troubles: two warrants for his arrest in Virginia for alleged credit-card theft and fraud; an unpaid $6,087 legal bill, and a $502,910 judgment against him by a British investment firm.

And Us Weekly reports in its new issue that Monjack gave his former fiancée, British film producer Taira Rafiq, an engagement ring he had told her was a diamond but was, in fact, cubic zirconia. "Taira tried to get in touch with Brittany to warn her," a Rafiq pal tells Us.

He also was jailed earlier this year for overstaying his tourist visa, and Murphy, 29, had to bail him out. "Simon began pushing for marriage, since he was going to be deported," says a source, adding that Murphy paid for her own engagement ring.

Monjack tells Us, "It is a real tragedy that success, greed, envy and celebrity are the motivation for attacking my family and character."
I just have to get this out of the way before I proceed: What kind of woman can't tell the difference between Cubic Zirconia and a real diamond when it's handed it to her? My mom taught me how to do check for authenticity when she started her Home Shopping Network habit in '93! Am I the only one who checked the cut on my engagement ring when I first got it, or am I a tad bit cynical for doing that?
I feel bad for Brittany, I really do, especially if she had to pay for her own ring. That's the first sign a marriage is going to to turn out as you planned, when the bride pays for her own engagement ring (Britney and K-Fed, anyone?). She should have cut her losses right then and there when she found out that little fact. Since her new man is now being deported to the UK, I hope she kept the receipt.