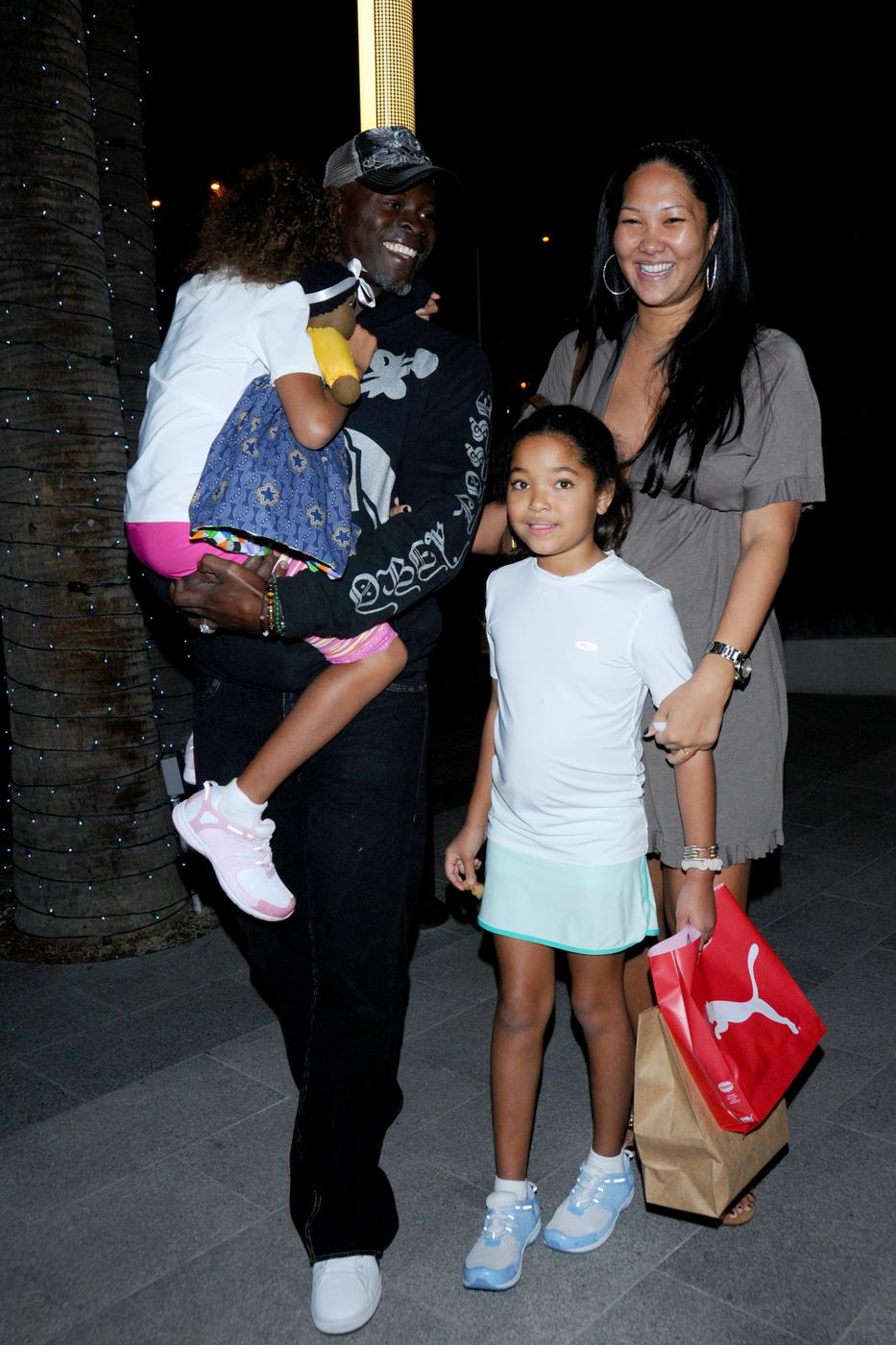 Kimora Lee Simmons' divorce from Russell Simmons was finalized in January, with Russell paying $20,000 a month per child and getting next to no custody. Meanwhile, Kimora Lee has been dating actor and model Djimon Hounsou, who got her knocked up with a child due this year. Getting pregnant with your new boyfriend before your divorce is finalized might seem a bit hasty, but the couple may have been eager to start their life together, as it has been reported that they were married in a traditional African ceremony last summer when they visited Djimon's home in Benin, Africa.
According to a source close to the pair, Kimora and her man were married over the summer on a transcontinental trip to Hounsou's native Benin, Africa − but they couldn't make it official in the U.S. because Kimora was still technically married to mogul Russell Simmons; that divorce was finalized on Jan 28, 2009.

Kimora's faux African wedding was apparently as wild as her Baby Phat fashion shows. "Both Kimora and Djimon wore traditional dashikis," says our insider. "She went whole hog with the African theme − there were African drums, a traditional ceremony with dancers . . . they even had a hut!"

Present for the festivities were Kimora's girls Aoki and Ming, as well as a nanny and photographer. "Aoki slept through the entire ceremony, and Ming cried. They were pretty confused as to what was going on," says our source. As for Djimon, although he isn't quite up to the level of daddy Russell, "They like him," our source says simply.

Afterwards, the motley crew departed for the less rustic pastures of Paris. Under the guise of celebrating Aoki's 6th birthday, the newly "married" couple enjoyed a romantic honeymoon.

These days, the fashion designer is careful about how she refers to Djimon, but to friends she is quick to call him "my husband."
[From NY Daily News]
Though their marriage isn't official in the US, Djimon was seen out buying a ring for Kimora in Beverley Hills at Martin Katz jeweler recently, so they are probably planning a wedding in the States now that Kimora is no longer legally attached.
Kimora is by all accounts a self-centered diva, so the whole African-themed marriage before her divorce is finalized seems right up her alley. If this story is true, particularly the part about her daughters' reactions to the ceremony, then I don't give this marriage very long at all. Maybe a year or two, for the baby's sake. It always seemed, in public at least, that Russell loved his daughters immensely, and Kimora treated them like little spoiled Barbie dolls. Home life won't be pretty if her daughters only "like" their new dad.
Here's Djimon and Kimora taking her kids, Ming Lee (blue skirt) and Aoki Lee (pink shorts) to the Westfield Mall in Century City for some shopping fun on February 24th. Images thanks to BauerGriffinOnline.