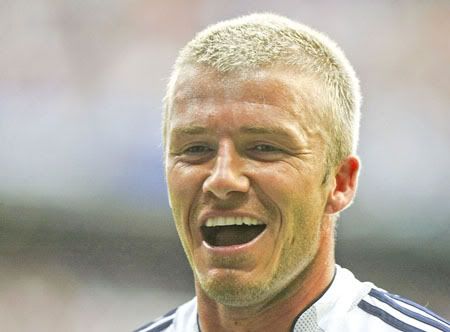 English civil servants have been asked to consider David Beckham for the honour of receiving a knighthood.
Sir David Beckham has a nice ring to it…but Lady Victoria Beckham leaves a sour taste in my mouth.
From The Daily Mail:
There are concerns about Beckham's move to play in the United States, where he will effectively be a tax exile, and also questions about whether his wife should become Lady Beckham.

Two lists are being prepared – the Queen's Birthday Honours and Tony Blair's resignation honours.

A source said: "His name has been put forward but there is a view among some officials that it should not be approved while there is a conflict between his future as an England player and his contract with an American club.

"Some officials feel that there is nothing wrong with honouring a player who is based in Europe and free to represent his country if required, but feel there is a big difference if the same player is earning his main income and paying tax in the United States and unable to play for England."

Beckham, 32, is still a Real Madrid player but has signed a £25million five-year contract with LA Galaxy starting this summer. There is concern that the move means he is putting club above country.

He was dramatically recalled by England this weekend after being dropped at the end of last year's World Cup.
Hmm…this is a bit of tricky thing for me to figure out, so I am going to do a Pro and Con list to help me come to a decision (my Magic 8 Ball is on the blink after I asked it one too many Lindsay Lohan questions):
Reasons why David should become a knight:
1) The man is gorgeous, rich, has an English accent. I would want to marry him for those reasons alone were it not for the fact that I am attached and he is already married to a stick figure with no soul.
2) He can play football well.
3) He loves kids and gives a lot of time and money to charity.
4) He dresses reasonably well.
5) He is an international icon.
Reasons why David shouldn't become a knight:
1) He is married to annoying stick figure with no soul who hates celebrity bloggers (BOO! HISS!), is attention seeking, and is allergic to the following: food, reasonably priced shops, a day's work.
2) He has a girly voice (when I think of David Beckham, I just replace his voice with George Clooney's and everything is OK after that, much manlier).
3) He has one too many tattoos.
4) His wife will never ever let anyone live it down if she become Lady Beckham, and she doesn't deserve to have a title by association, like Heather Mills did with Paul McCartney.
Tough one. I think there is only one solution for this. David Beckham needs to leave Victoria and run away with me. I am cute, dress (reasonably) well, cost a fraction of the cost in shopping expenses, and I have a little girl and he is always going on about how he likes little girls. Lady Jessie Beckham…it could work, right?