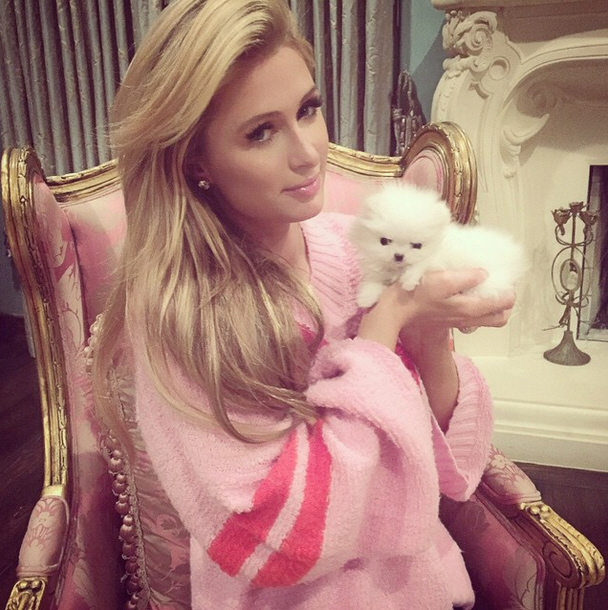 Don't hate us, but CB & I were chatting about this Paris Hilton story and CB used the word "menagerie" and now all I can think about is how we're all so classy. Anyway, Paris Hilton is still around. And she's still buying animals. Ugh. Back in September 2014, Paris bought a $13,000 Pomeranian puppy. The puppy was some kind of specialty miniaturized Pomeranian, like he's never going to weight more than 2 pounds. Which is basically just a fluffy rat. That puppy – Paris eventually named him Prince Hilton the Pom – has gotten a little bit older and a little bit bigger, so obviously Paris had to get some new puppies. Now Paris has purchased two more multi-thousand-dollar dogs:
Paris Hilton goes big when she goes small, dropping $25K on 2 dogs. Paris just nabbed 2 perky Pomeranians and accompanying bling at Betty's Teacup Yorkies in Canada … then presented one to mommy Kathy Hilton as a 35th Anniversary gift.

How much dog does 25K get you? We're told Paris' 3-months-old pooch weighs in at 6 oz. while Kathy's 6-month-old pom weighs 12 oz.

You may recall … Paris dropped $13K for another pom in September. $40K for less than 2 pounds of dog. Jeez.
Well, at least one of them is going to Kathy Hilton, although I'm not sure if that makes it better. As for the girl puppy Paris has kept for herself, Paris told The Daily Mail last night: "I love her. Her name's Princess Paris Jr." That poor dog. And good lord, Paris is horrible at naming animals. She should ask Sarah Palin to help her.
As I've said before, I don't necessarily have a problem with people seeking out and buying a certain breed for a certain reason (like, allergies or wanting a guard dog or something). But when you're spending $40,000 on three dogs just because "they're little," something is wrong. There are thousands of pound puppies that need a good home.
PS… LaineyGossip has photos – go here to see – of Paris Hilton in the back of Henry Cavill's car last night, leaving a pre-Globes event. Paris and Cavill? UGH.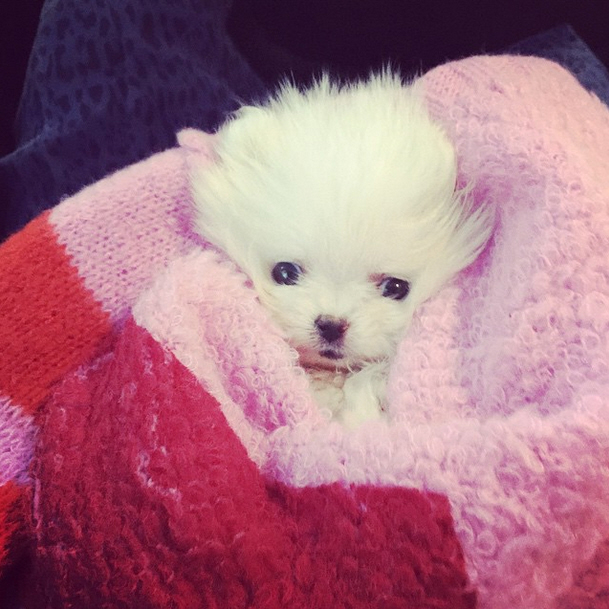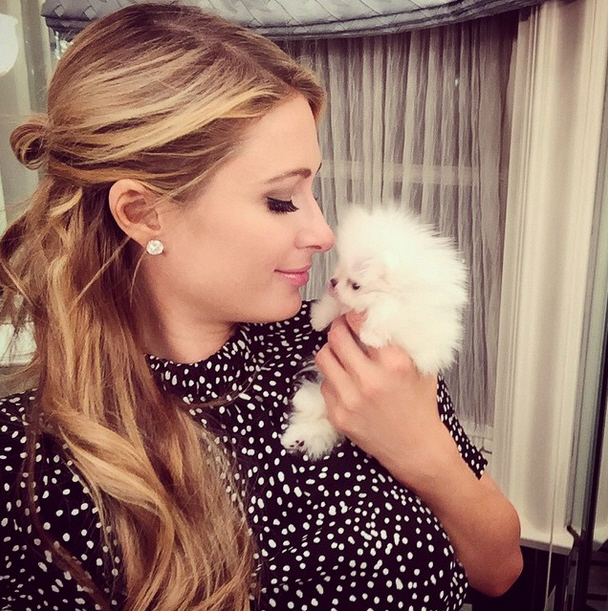 Photos courtesy of Paris Hilton's Instagram.