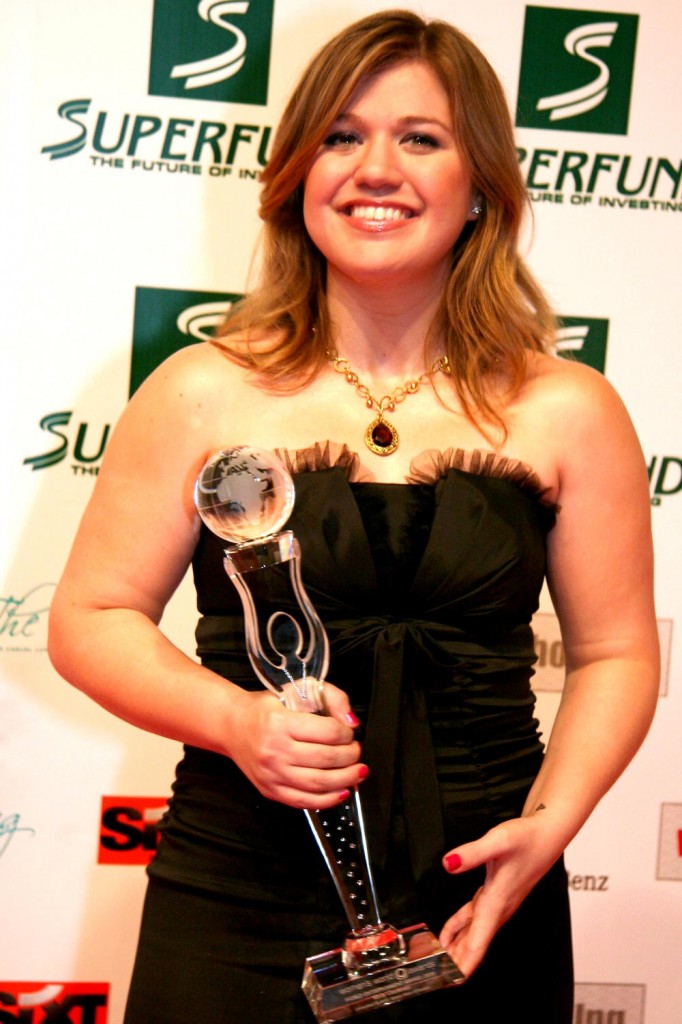 Kelly Clarkson is not sure about kids. Having them, that is. She's okay with kids in general. The singer claims that she "would not be a good mother" and that her job is "too selfish". I applaud Kelly's honesty. She also says that she recently went to see He's Just Not That Into You, and walked out of the theatre happy she was single. US Magazine (via Gossip Rocks) has more:
Don't expect to see Kelly Clarkson with a baby bump any time soon.

"Oh, my God, I have no desire," the American Idol winner, 26, tells USA Today. "I would not be a good mother."

"I mean, I love being an aunt to my niece and nephew," she continues. "And I used to want to, like, adopt 10 kids — because I had friends who were adopted, and I thought that was the coolest thing, to be chosen. But…my job is too selfish."

Clarkson (whose next album, All I Ever Wanted) is currently single — and happy about it.

"I went to see He's Just Not That Into You the other night, and honestly, you walk away from that movie feeling so glad that you're single," she says.

"I went with friends who are my backup singers on the road, and have their own group, and we were like, where do we even meet people when you're working so much?" she goes on. "I mean, we travel with a bunch of married men! And I love working; I can't see myself not doing this."

Although if she met the right person, she would consider saying "I Do." (A change of heart since a 2007 Elle interview in which she proclaimed she's "not keen on marriage.")

"I'm not against it. If I found a guy who could handle my job, that would be cool," she says. "But I've dated a couple of guys who were awesome, and the celebrity part of my life and the traveling part are hard to get around."

"You never get to see each other, especially if you're both musicians," adds Clarkson, who once dated singer/songwriter — and touring partner– Graham Colton. Clarkson also tells the newspaper she hasn't let fame change her.

"It would be easy for me to go, 'Whatever, I'll be a fembot.' But I have a big fear of change, or negative change, anyway," she says. "I'm basically the same person I was when I won Idol, or when I was 10."

"Maybe it sounds cheesy, but in a world that is not normal, my goal is to continue doing what I love and feeling good about it. That's it."
From US Magazine (via Gossip Rocks)
I think it's perfectly normal for a young woman who is still in the first flush of a career to be ambivalent about settling down. It seems that too often young women in the spotlight feel they have to pay lip-service to this idea that all they really want to do is settle down and have babies. I'm not mocking the whole settling down thing, it just seems like some celebrities are just saying it to appease what they think their fanbase wants to hear.
Kelly Clarkson seems really happy with her career, and she's worked hard for it. She should enjoy it. In a few years, she'll most likely feel differently about the babies.
Kelly Clarkson is shown at the Woman's World Awards on 3/5/09. Credit: WENN.com