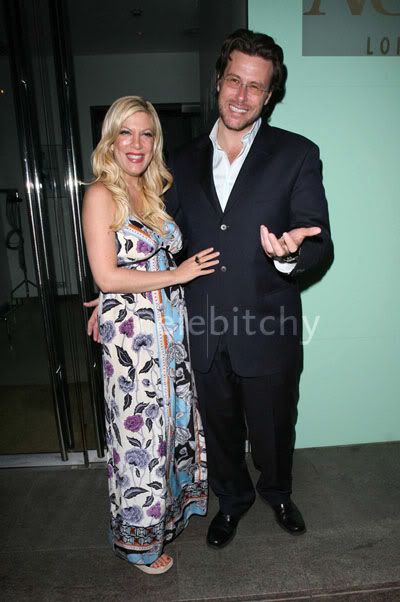 Tori Spelling and her husband Dean what's his name are in the UK with their new two and half month-old baby son to promote their fraudulent "Inn Love" reality show. They must also be trying to counter the negative publicity they received late last week when a new report came out about how callously Tori's husband dumped his ex after falling hard for the miniseries queen.
Dean's ex, Mary Jo Eustace, says they had just adopted a baby daughter when Dean broke the news that he was "soul mates" with his costar Tori, having known her a whole three weeks. Eustace has contributed a chapter to a book called The Other Woman, which contains stories by 21 wives whose husbands cheated on them:
We're on vacation and I'm wearing my bikini with saggy faded bottoms. I know something is wrong. "Have you met someone?" I ask. He nods yes. "Is it Tori Spelling?" He nods. "We're soulmates," he says. "She loves me unconditionally."

"What conditions?" I scream. "You've only known each other three weeks."

I look down at my baby daughter. "We just adopted a baby." The phrase single mother pops up in my brain. I start to feel weightless as I cross the divide between together and alone.

"I'm not leaving the kids," he says. "I'm leaving you." I begin to sob. I actually begin to worry that maybe it's all because I look fat. Maybe he was undecided, and this dreadful bikini sealed the deal.
[From People.com]
A few weeks ago the news came out that Tori and Dean's Inn was rented, not bought with Tori's relatively meager inheritance, as the faux-reality show portrayed in its first season.
Tori and Dean posed for pictures last night outside paparazzi hotspot Nobu in London. They brought their son Liam along with them, and were seen rolling the stroller out of the restaurant. There were no cute pictures of Liam or I would have published them here.
Thanks to WENN for these photos.