I dig Margaret Cho. One of my favorite parts of her standup routine is where she pokes fun (in a loving way) at her Asian mother, which reminds me of the Asian women in my family. There's some familiarity there, and it's comforting. Cho has always used her Asian-American experience as an element of her comedy. I was disappointed by her short-lived 1990s sitcom, All-American Girl, but I blame that on network producers. Long story.
Anyway. Cho ruffled some feathers when she showed up on the Globes stage as Cho Young-ja, an unsmiling North Korean general & the "newest HFPA member." This character wasn't the best part of the Globes (not even close); but Cho's performance was topical, thanks to the Sony hack that ate Hollywood last month. The jokes were also a throwback to Cho's 2012 appearance on 30 Rock as Kim Jong Il. Unsurprisingly, some Golden Globes watchers called Margaret's jokes racist. She defended herself on Twitter:
(1) I'm of mixed North/South Korean descent – you imprison, starve and brainwash my people you get made fun of by me #hatersgonhate #FreeSpeech

(2) I'm not playing the race card. I'm playing the rice card. #hatersgonwait #winnersgonpun
[From Margaret Cho on Twitter]
Margaret also did an interview with Buzzfeed, in which she talks about stereotypes against Asian-Americans:
Cho was asked to participate in the ceremony several weeks ago, and worked on the jokes with Fey and Poehler. "It was just a lovely opportunity to spend a couple of days with my friends," she said. As for the reactions, she said: "I feel if there's negativity, it's other people's judgments about what they feel that Asian-Americans are allowed to do, really. You're putting expectations on us that we have to remain Asian-American, that we can't actually play people from Asia.

"When we have British people playing American icons, there's no backlash. But for Asian-Americans, it's a very particular set of expectations that we are set to maintain, and that in itself is racist."

She added, "If it's Asian-Americans making fun of Asians, we're claiming our own voice, we're claiming our heritage. We're claiming all of the aspects of our own culture, and we're allowed to. Even though it may get us put in a labor camp."
[From Buzzfeed]
I think Cho defended herself adequately. Some people believe she doesn't have the right to make these jokes because she was born in San Francisco, not North Korea. She grew up as a 2nd generation American. But … Americans tend to be PC to the max. It's hard to accept how a lot of Asian-Americans (my own relatives included) are laid back about poking fun at aspects of their heritage that they find troublesome. Cho was using humor as a form of criticism against the North Korean government, but I can see where it would make people uncomfortable.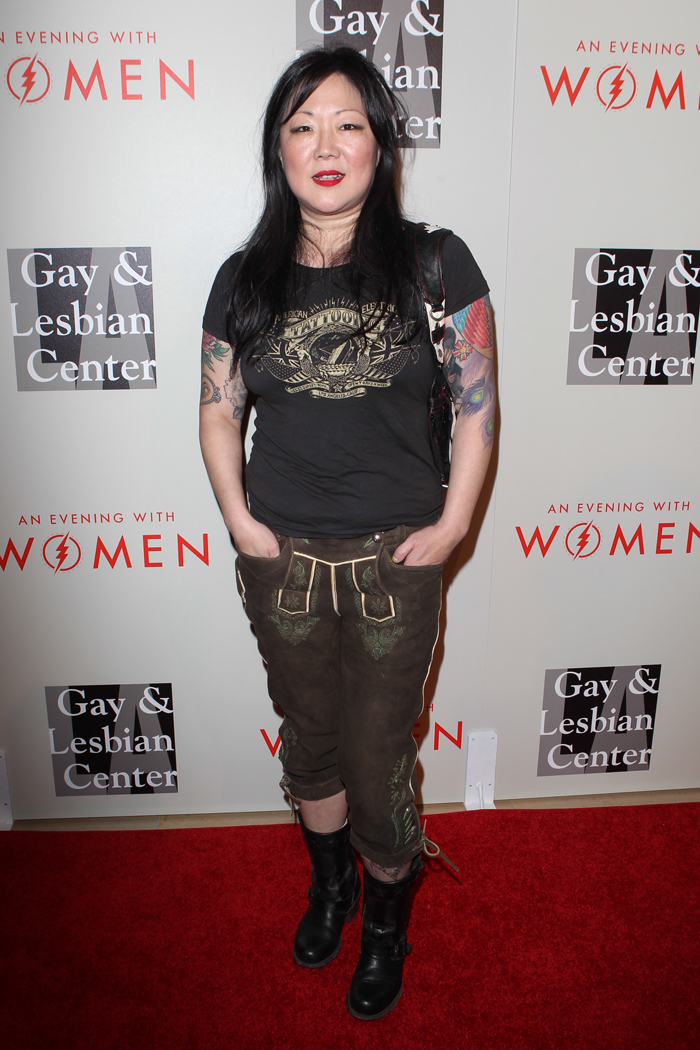 Photos courtesy of Getty & WENN