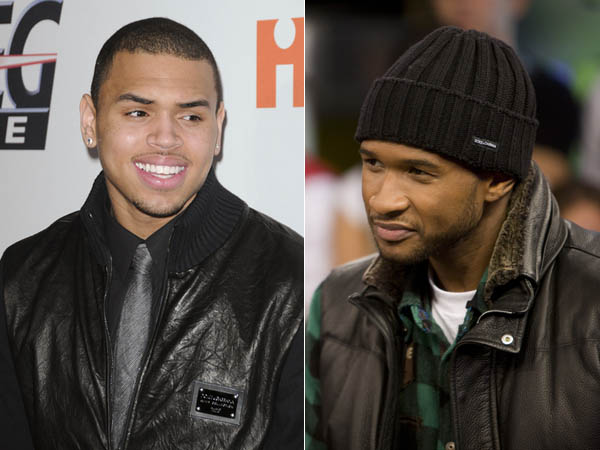 For the last month I've been puzzling over why so many celebrities are being so careful with what they say about Chris Brown. I understand not wanting to rush to condemn someone, but in this case it seems utterly ridiculous. Well, it looks like we now have a clue, and it sounds like it has a lot to do with Chris himself. It seems he's issued at least one phone call threatening someone who said something barely negative about him. Usher, in fact. And considering how relatively benign Usher's comment was, it makes me wonder what other calls Chris Brown's been making.
Usher may have retracted his recent statement slamming Chris Brown, but we hear he may have been forced to do so.

"Have a little bit of remorse, man. The man's on Jet Skis? Like, just relaxing in Miami?" Usher (r.) questioned indignantly after seeing photos of Brown cavorting in Florida following Brown's alleged battering of Rihanna. But just days later, the R&B star took back his statements, which he made in a video for Jermaine Dupri's "Living the Life" series.

"Usher was basically forced to issue a retraction," an insider tells us. "After all of his comments came out, Usher got a call from Chris, who said 'I'm going to see you b—es' — meaning 'I will eventually see you out, and this is going to be a problem.'"

But Brown's beef wasn't just with Usher. "Chris (r.) got tough with everyone present in that video," our source says. "He wanted silence from all parties involved."

Brown's rep called the story "completely untrue," while Usher's flack said, "He was not asked or forced [to apologize]. Usher issued an apology for the comments made towards all parties mentioned in the clip."

Indeed, Usher told the media: "The comments made during a recent recording session amongst friends were taken out of context and blown out of proportion. I apologize on behalf of myself and my friends, if anyone was offended. The intentions were not to pass judgment, and we meant no harm. I respect and wish the best for all parties involved."

His regrets were even personally extended to Brown. Says our insider: "To Chris, he was like 'My bad. We were just clowning around and it went a little too far.'"
[From Gatecrasher]
Usher's comments were so benign, and definitely not an outright criticism – though I would like to have heard direct condemnation from more celebrities. A lot of celebs have also flip-flopped. At first Kanye West said how horrible the assault was, and noted that Rihanna was like a sister to him. Then he changed his tune and said we should give Brown a break. Did Chris give him a call too?
Obviously we can't know who all Chris Brown might have contacted to request and/or demand their silence. But let's take the case of Usher, since that's what this article is about. Since when is Chris Brown bigger than Usher? Brown is just 19 and relatively new to the business. I remember getting my first advertisement for an Usher single in a TLC cassette tape I bought in 1994. It took him a while to break out, but he's been in the music industry for 15 years. No way does Brown hold more clout, and I cannot for the life of me figure out why Usher acquiesced to the wishes of some piss ant woman beater.
I hope whoever else gets a call chooses to slam down the phone and stand up for what's right instead.