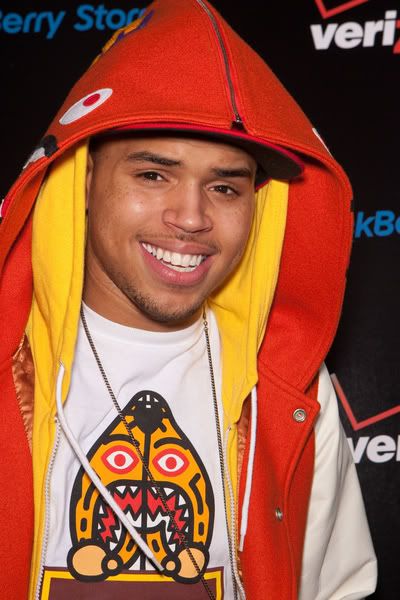 Chris Brown is trying to revamp his image after beating his girlfriend black, blue and bloody last month right before the Grammy Awards. The fight was allegedly sparked by a long sexy text message Rihanna found on Chris' phone from his 40 year-old manager, Tina Davis, with whom the 19 year-old is rumored to have had an inappropriate intimate relationship with in the past. Davis denies sending any sexy text messages or having more than a professional relationship with Brown, and says she'll sue if she finds out who started that rumor.
It almost doesn't matter how Rihanna and Chris got in the fight when his response was so brutal and out of proportion. Chris is reportedly blaming his management team for the resulting PR fallout, and supposedly wanted to issue a public apology much sooner. He is also said to be upset at the late non-apology that was finally produced:
CHRIS Brown is said to be through with his manager, whose sexy text-messages supposedly sparked the fight that ended with his alleged beating of Rihanna.

Brown is "looking for a whole new team" to replace his current crew, "starting with his manager, Tina Davis," said our source.

Davis was cited as the "other woman" who sent texts to Brown the night before the Grammys, causing the fight in the Lamborghini. Police reports stated Brown had a "previous sexual relationship" with Davis, who's managed him since he was 16. Davis blasted "rumors" of any texts or sex, saying she and Brown were strictly "manager and client."

But it isn't just Davis – Brown is said to be "upset with his whole team," including publicity-loving lawyer Mark Geragos and p.r. man Mike Sitrick.

The insider added: "Chris wanted to apologize [for the alleged beat-down] much earlier . . . and he was upset when the apology was finally released because it sounded so insincere." Brown's business attorney, Kenny Meiselas, said, "We are very happy with Chris' team and there are no changes."

Meanwhile, don't believe reports that Rihanna is recording a song with Brown. Our insider says, "She hasn't seen him since they got back from Miami." However, "she hasn't made up her mind yet . . . she's not completely sure she's done with him yet."

Rihanna's people, including her management and label, are pressuring her to drop him, says the insider. "They want her to stand her ground. If she goes back to him, it would be a classic abuse case and impact her ability to be the strong, independent woman that her fans think she is and that her songs say she is."

One sign is Rihanna celebrated her 21st birthday with friends Tuesday night, and Brown was nowhere to be found. A rep for Rihanna didn't return calls.
[From The NY Post]
Let's hope that Page Six is right and that Rihanna is finally listening to her friends, family and professional advisors and trying to cut Chris loose. That's ripe that Chris is blaming everyone around him for their response instead of taking responsibility for his disgusting inexcusable behavior. He should never have raised a hand to Rihanna in the first place and the extent and severity of her injuries suggest a long, unrelenting attack.
After he committed that horrific act Brown could have taken the initiative to write an apology himself. If he doesn't have the skill to do it, there are multiple people he could have called for help. He asked Diddy for a place to stay, he could have also asked him to recommend a good PR person to help release a contrite apology immediately. Instead he waited and supposedly wanted everyone else to clean up the terrible mess he made. When they didn't fix it for him, he threw a tantrum and decided to fire his team. That's ok, he won't have the cash to pay anyone's fees in a few weeks anyway.
Chris Brown is shown on 2/6/09. Credit: PRPhotos