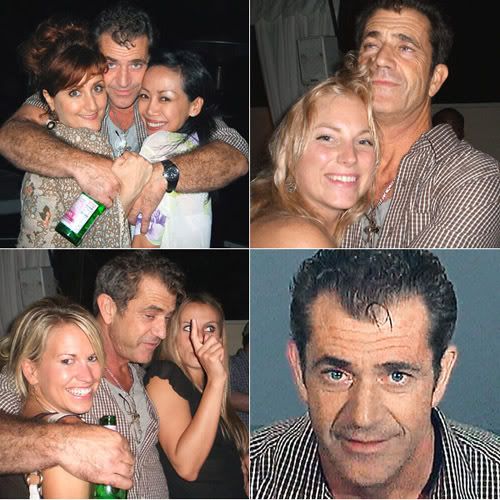 Mel Gibson showed up wasted at an AA meeting in Malibu. He was falling all over the place and even knocked a woman over. He was so drunk he didn't bother to apologize:
Eyebrows shot up when Mel Gibson walked into an AA meeting near his Malibu home, stumbled over a row of seats and crash-landed atop them. "He was falling, tripping and clearly off balance," said a source. "It was an embarrassing moment." Later that evening, Mel stumbled into a petite woman, knocking her off balance. "And he didn't even apologize!" said the source. "He looked so out of it."
[From The National Enquirer print edition, Mike Walker's column, June 11, 2007]
It's too bad that he hasn't kicked it yet, though. At least Gibson is going to AA meetings, but I thought they asked people not to drink before they show up. I know they're supposed to keep meetings secret, but it's Mel Gibson and his problems with booze are pretty well known.
Meanwhile Gibson has an unlikely ally in bigmouth hip hop star Kanye West. West says Gibson's gorefest Apocalypto was his favorite movie of the year, and predicted that it would not be nominated for an MTV Movie Award because of Gibson's reputation. West said that he feels like Gibson, and is passed up for music awards because of who he is:
"My favorite movie this year was 'Apocalypto,' and I love Mel Gibson," West said. "Sometimes I feel a little like Mel Gibson. [People say to him,] 'OK, Mel Gibson, we know [your movie is] the best, but if you shut up, maybe we can give you an award.' I think that's how people feel about me sometimes: 'OK, [your album] was the best.'

" 'Apocalypto' was the best movie," West continued. "It's probably some complete bullsh– that got nominated over it. Around the time of the awards, if you want to ask me what's the bullsh– that got nominated, I will tell you. It's my opinion; it doesn't mean it's good or bad. I'm a movie buff."
West bounded on stage after losing a best video award to Justice vs. Simian at the MTV Europe Music Awards last November. "[My video] cost a million dollars!" he exclaimed, "Pamela Anderson was in it! I was jumping across canyons and shit."
I guess you could see why he would think Apocalypto was the best film of 2006.
Header image is a composite of images from the night Gibson was arrested for DUI in August of last year and is from the Daily Mail.