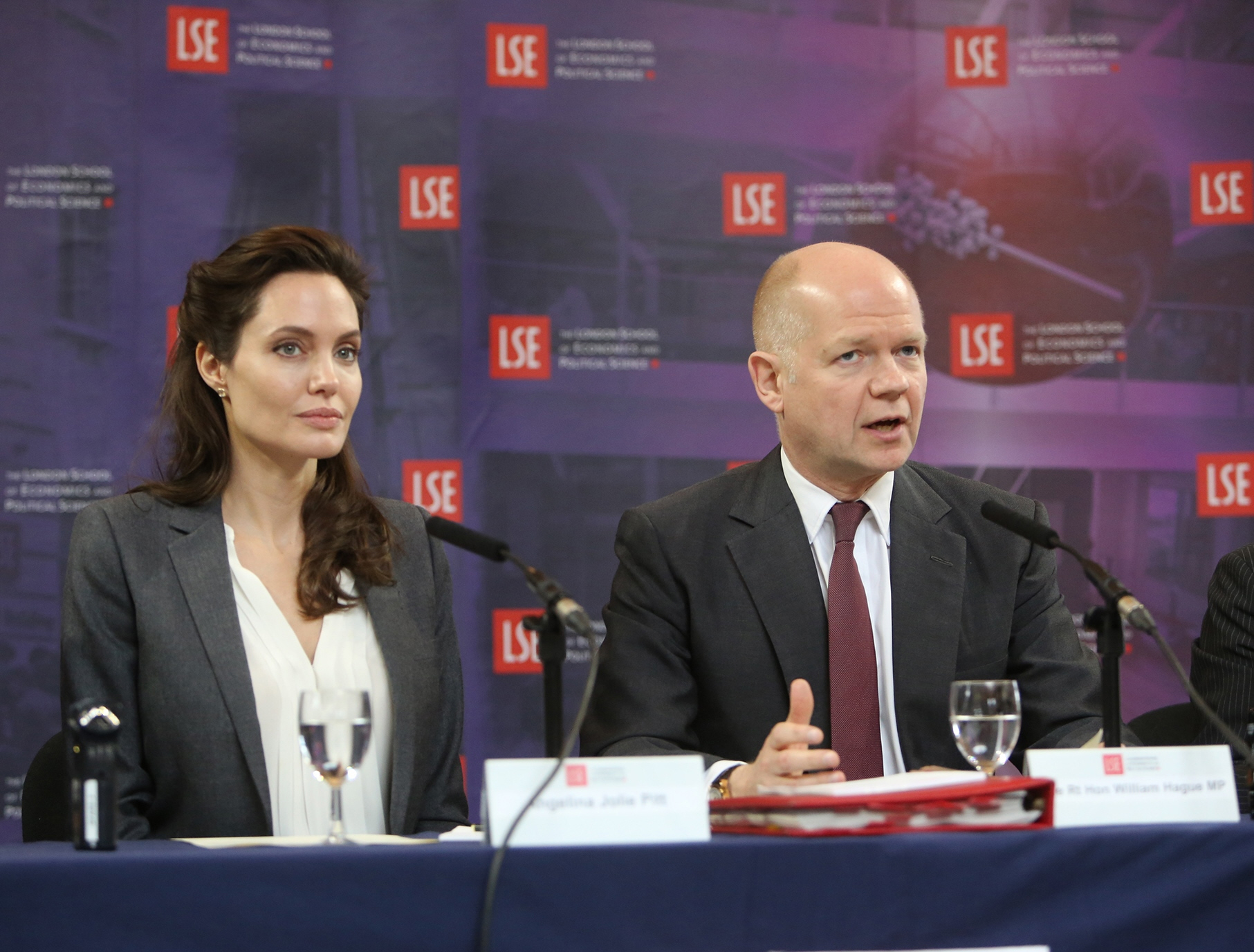 Angelina Jolie has been in England this week, doing work on behalf of her program with William Hague, Preventing Sexual Violence in Conflict. Hague and Jolie already did a two-day interfaith discussion, and then on Tuesday, Angelina was at the London School of Economics to announce the creation of the Centre on Women, Peace and Security. LSE's Twitter account had the photos, and the press release.
Angelina Jolie expanded on her humanitarian efforts Tuesday in London, announcing the creation of the Centre on Women, Peace and Security at the London School of Economics. Jolie, 39, a special envoy of the United Nations High Commission for Refugees, attended the event alongside William Hague, Britain's First Secretary of State and leader of the House of Commons, PEOPLE confirms.

The new center will aim to educate students about the participation of women in "conflict-related processes" and "on enhancing accountability and ending impunity for rape and sexual violence in war," according to a press release from the renowned London School of Economics.

"I am excited at the thought of all the students in years to come who will study in this new Centre," Jolie said in a statement. "There is no stable future for a world in which crimes committed against women go unpunished. We need the next generation of educated youth with inquisitive minds and fresh energy, who are willing not only to sit in the classroom but to go out into the field and the courtrooms and to make a decisive difference."

The new center will support the goals of the Preventing Sexual Violence Initiative (PSVI), which Jolie and Hague co-founded in 2012. Next year, the newly announced center will begin offering post-graduate degrees. The center is also supported by former U.S. Secretaries of State Hillary Clinton and John Kerry.
This is so interesting! Is anyone else slightly surprised that Angelina has been launching this initiative exclusively in England though? I know she's close with Hague and he's probably the most high-profile ally for Jolie (even though America's former and current Secretaries of State seem to be on board as well). And on a superficial level, look at the branding of this: Jolie's initiative is so significant, important and well-regarded that the London School of Economics has agreed to host the center.
Also on a superficial level? Angelina is referred to "Jolie Pitt" throughout the press release. Like, that's her name now. She's Angelina Jolie Pitt. But is Brad now Brad Jolie Pitt?
Angelina Jolie Pitt, @WilliamJHague @craigjcalhoun and Christine Chinkin open Women, Peace and Security Centre at LSE pic.twitter.com/vMAUgj7KJk

— LSE news (@LSEnews) February 10, 2015
Photos courtesy of the London School of Economics.