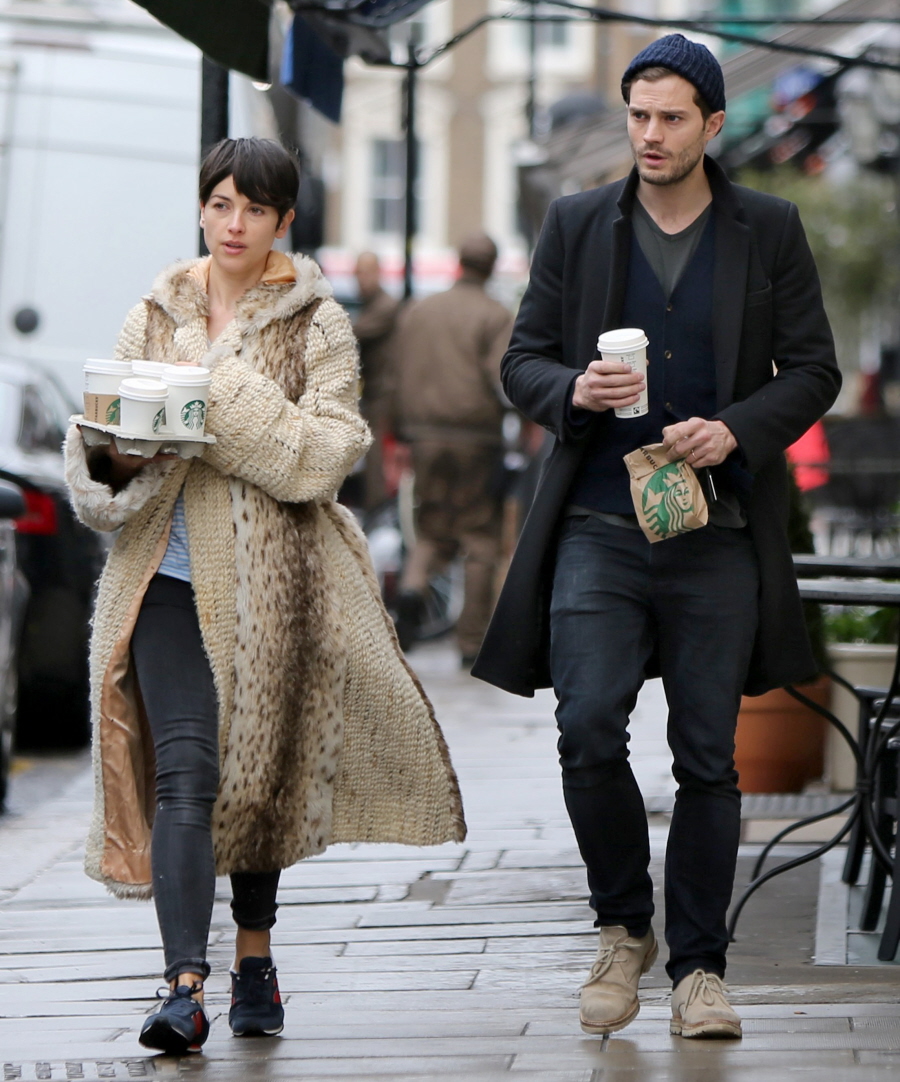 For days, there were rumors that Jamie Dornan was feeling a lot of angst about the success of Fifty Shades of Grey, and that his wife Amelia Warner wasn't feeling the whole "international sex symbol" thing. An Aussie tabloid claimed – and it was picked up by so many legit outlets – that Jamie had decided not to return for the sequel, Fifty Shades Darker. As I said on Tuesday, that's not really a call Jamie gets to make. Both Jamie and Dakota Johnson signed contracts for three films and they will be held to it (now the studio just needs to get E.L. James in line). In any case, Jamie needed to do some damage control. So he stepped out with his wife in London on Wednesday, in what can only be described as the most paparazzi-friendly outing I've ever seen from Jamie (usually he's really surly and grumpy about being pap'd). I wonder if Starbucks paid for this?! Plus, Jamie's rep denied the Aussie tabloid rumors to People:
Fifty Shades of Grey will not be losing its original Christian Grey, despite recent rumors that Jamie Dornan would be leaving the blockbuster franchise.

"Jamie is delighted that the film is breaking box office records worldwide and whilst the studio has not made any formal announcements about sequels, he is looking forward to making the next film," Dornan's rep confirmed to PEOPLE Wednesday, adding that the actor will not be making further statements for the time being.

The Australian magazine NW had reported that the 32-year-old actor and model was walking away from future films because Dornan's wife, Amelia Warner, was uncomfortable with the racy sex scenes he shares with 25-year-old costar Dakota Johnson. Dornan had hinted at his wife's unease with the film at its U.K. premiere, saying his wife hadn't seen the film, adding, "And I don't think she will, to be honest."
I think the trouble has been handled. If the studio was worried, Jamie just eased their mind. He's a team player. He will be back for the sequel. And he will convince his wife to play along too. Now the studio can concentrate on the biggest headache: E.L. James and her insane idea that she's some kind of "auteur" who should adapt the next screenplay.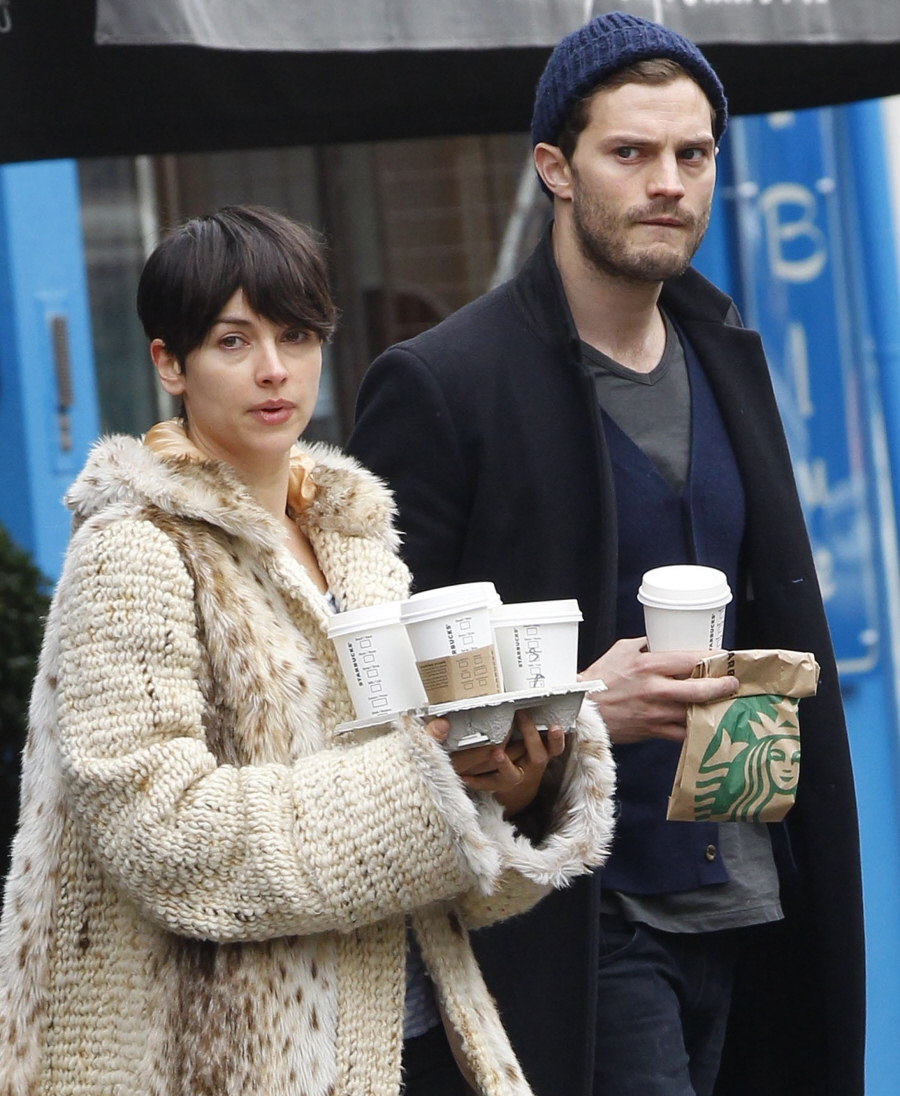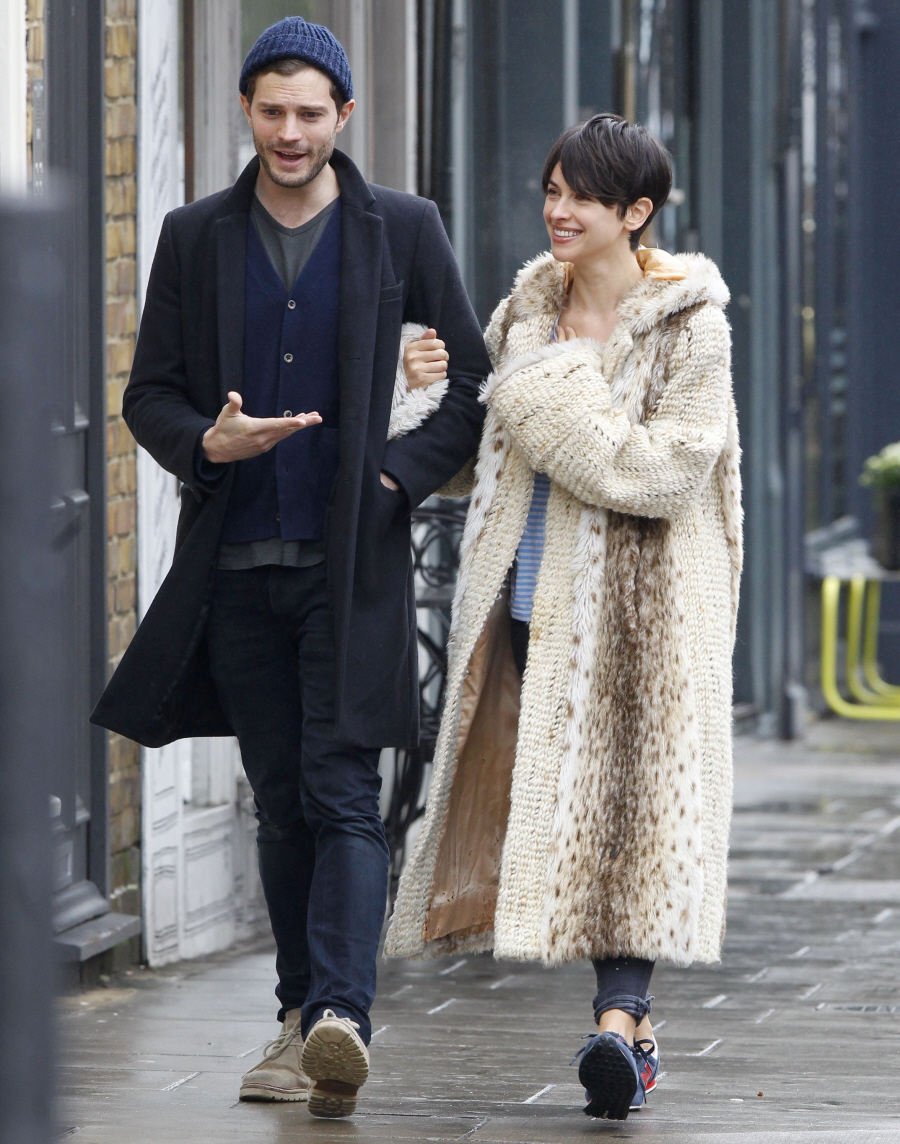 Photos courtesy of Fame/Flynet.