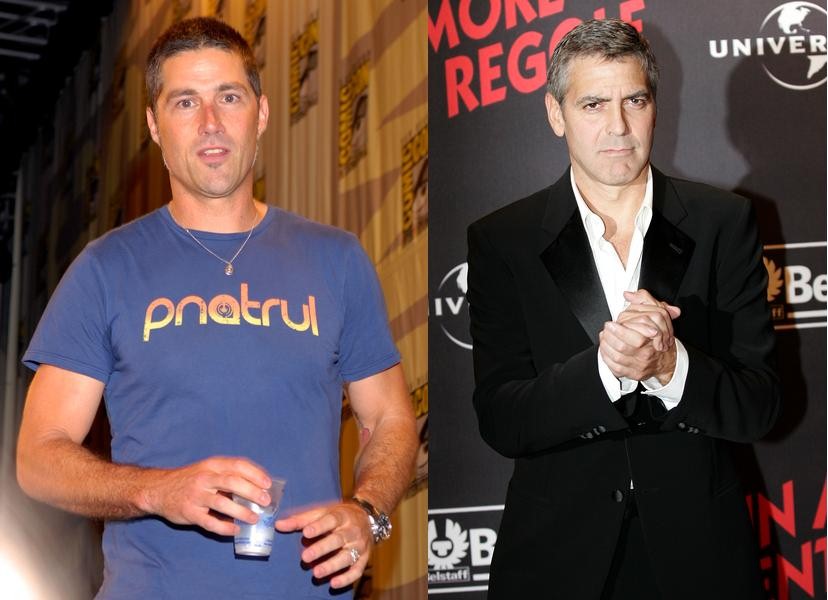 Cop shows are my thing, but I occasionally find a medical show that I get invested in. E.R. failed me years ago, but then I found House, and I was happy. My cop shows (anything Law & Order related, or The Closer) are like a warm blanket to me, probably because I enjoy formulaic dramas with surprisingly good writing.
I don't really watch House because I think Hugh Laurie is hot (though I do have a thing for bitter curmudgeons), I watch it because I like the mystery of it, the "detective story" aspect. But if I was watching shows based on how hot the fictional doctors were, who would win? George Clooney's Dr. Ross? Hugh Laurie's Dr. House? Or Zack Braff's Dr. Dorian? The question was posed by a British company called Yakult, and considering the names on the list, I think only British women were polled. Surprise, surprise, Hugh Laurie's Dr. House beat out Clooney. But both of them lost out to "Doctor Jack Shepherd" on Lost. The horror!
Hollywood heart-throb George Clooney has lost out to Hugh Laurie in a poll of favourite TV doctors.

Clooney's character Dr Doug Ross came out fourth behind Hugh's Dr Gregory House in third, in a top 10 of the most fancied on-screen medics, despite delighting fans with a welcome return to hospital drama ER, the show which shot him to global fame.

First place went to Matthew Fox's character Dr Jack Shepherd in the hit series Lost, followed by Dr Sam Strachan of Holby City, who was played by Strictly Come Dancing champ Tom Chambers.

The survey of 1,000 women was carried out by probiotic drinks company Yakult.

Here are the top 10 favourite TV doctors: Dr Jack Shepherd (Lost); Dr Sam Strachan (Holby City); Dr Gregory House (House); Dr Doug Ross (ER); Dr Adam Truman (Casualty); Dr John "JD" Dorian (Scrubs); Dr Mark Sloane (Diagnosis Murder); Dr Derek Shepherd (Grey's Anatomy); Dr Karl Kennedy (Neighbours) and Dr Christian Troy (Nip/Tuck).
[From The Press Association Hosted by Google]
Oh, yeah. I have a thing for Dr. Christian Troy of Nip/Tuck too… but not for the "doctor" aspect – because Dr. Troy is a freak and not a very good doctor. I love the actor Julian McMahon. And Dylan Walsh, for that matter.
As far as Matthew Fox's Dr. Jack Shepherd beating out everyone, what were they smoking? Dr. Shepherd's not really a great doctor, and the character is incredibly weak. I like Matthew Fox and everything, but there's no way he beats my favorite bitter curmudgeon Dr. House.