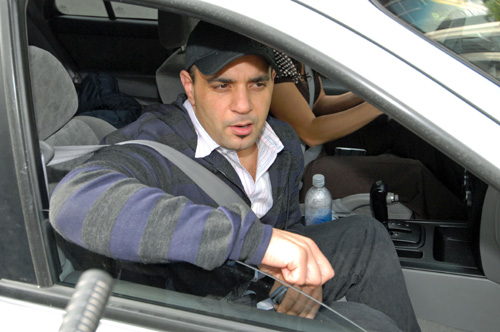 Here's Sam Lutfi addressing the media in January 2008 outside the courtroom where Britney Spears (driving) was supposed to appear during her custody case with K-Fed. She didn't make it inside the building- and many feel that Lutfi was responsible. Photo credits: WENN.
The problem with bottom-feeding slimeballs is that once they get their hooks into you, it's very hard to get rid of them. That's what's happening right now with one-time "manager" to Britney Spears, Sam Lutfi. The only thing Lutfi was managing was Britney's frightening descent into drug addiction and mental illness. Ever since Britney's parents came back into her life – pushing Sam out – the guy just can't let it go. Lutfi had the balls to file a huge lawsuit against the Spears family. Now, the family is looking to have the suit thrown out of court. Go, Daddy Spears!
The Spears family is looking to strip Sam Lutfi's suit to threads.

As part of a motion to have portions of the libel lawsuit Lutfi filed against them last month dismissed, attorneys for Jamie, Lynne and Britney Spears called the first seven pages of Lutfi's complaint "a calculated attempt to exploit the court system by turning a legal pleading into a fanciful public relations press release with no factual or legal moorings."

Documents filed March 11 in Los Angeles Superior Court state call Lutfi's version of events a "broad, fictional account of matters."

Tops on the Spearses' list of Lutfi's objectionable claims—that Britney has been under her parents' thumb since becoming famous.

The passage in Lutfi's complaint states that since Britney "burst onto the scene as a pop superstar, every aspect of her life and more importantly, her fortune, has been controlled by her parents."

Some of the claims the Spearses seek to quash are allegations that they failed to offer Britney guidance when her life was "spiraling out of control," made her annul her marriage to pal Jason Alexander and consorted with Kevin Federline during Brit and K-Fed's divorce and custody battle.

The Spearses would like that section excised from Lutfi's suit, as well as the claim that after Jamie and Lynne divorced, their "stranglehold on Britney's life and career began to loosen. This posed a serious threat to Jamie and Lynne, who had become accustomed to the fame and fortune afforded to them as the parents of Britney Spears."

Such statements are "irrelevant, false or improper," states the Spearses' filing.

Britney's father has had legal control over his daughter's finances, career and medical care since Feb. 1, 2008, when a judge signed off on a conservatorship arrangement following the pop star's admittance to Cedars-Sinai Medical Center for psychological evaluation.

The legal wrangling at the time also resulted in a restraining order against Lutfi, which Jamie Spears is looking to make as permanent as possible, also obtaining orders against Brit's ex, Adnan Ghalib, and Jon Eardley, an attorney who fruitlessly tried to fight the conservatorship on Britney's behalf when it was first in place.
Lutfi sued the family Feb. 3 for libel, defamation, battery (claiming Jamie shoved him at one point), intentional infliction of emotional distress and breach of contract.
This guy has some serious screws loose if he thinks he has a chance with this suit. His claim that the Spears' family controlled every aspect of Britney's life in her early days is completely irrelevant. She was a minor! Of course they controlled her. In fact, if they'd done a better job of controlling her, she might not have been such a mess as a grown-up. While the Spears are hardly saints in this whole mess, they are definitely less dangerous than Lutfi. The guy's a menace and a leach and if Britney's parents had not intervened, she was heading for the same fate as Anna Nicole Smith.
But all that aside: Sam Lutfi is the one who was drugging and controlling Britney, pushed Britney to perform at the 2007 VMAs (arguably the worst performance of her entire career), intentionally made Britney miss court dates during her custody battle, and opened her home to the paparazzi – and he's suing her family for "emotional distress?" He's lucky that Jamie Spears only "shoved" him. Back where Daddy Spears comes from, it's customary to unload a shotgun on your ass for that stuff. It's hard to file lawsuits when you're pushing up daisies. Maybe Sam should just crawl back under his rock before things get really ugly.