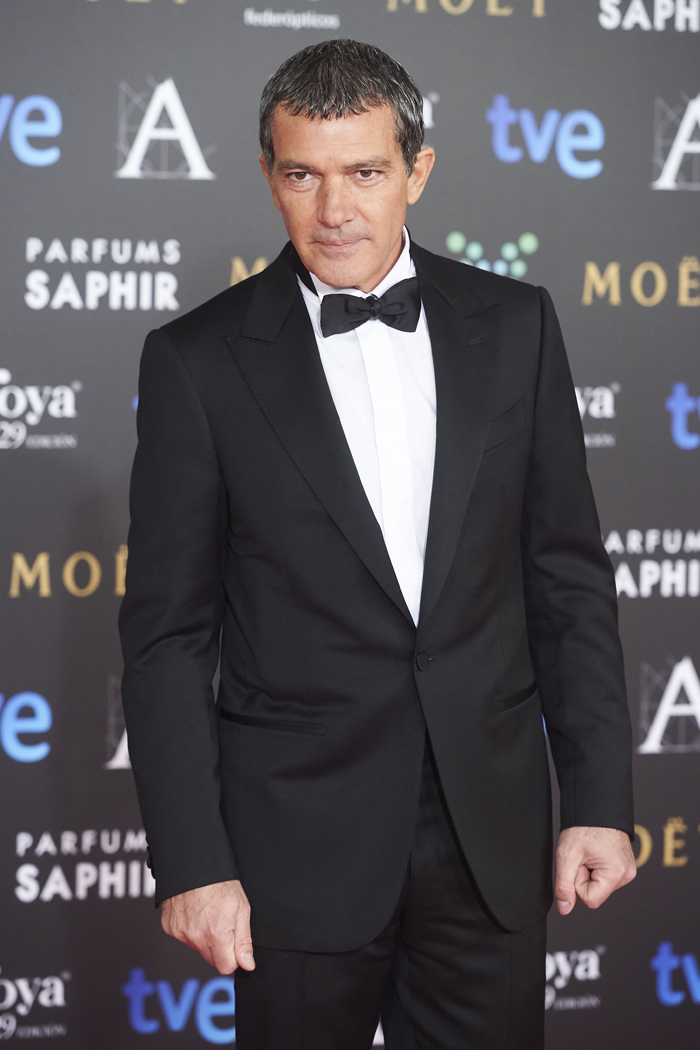 Antonio Banderas is 54 years old now, which is hard for me to believe. It seems like only yesterday that he was hitting the sheets with Angelina Jolie in Original Sin. I don't mean to discount his many other mythical roles, and he's a talented voice actor too. He made a fantastic Puss in Boots, and he's reverting back to kiddie fare for a bit. Antonio's promoting his role as the only live-action character in The SpongeBob Movie. He played his pirate role part across from brooms and tennis balls, and then the special effects guys added his co-stars after the fact.
Antonio sat down for an interview. He reveals himself to be a closet SpongeBob fan, which is cute. Dakota Johnson comes up in conversation, and then Anthony talks about aging in Hollywood. He admits things are much harder for women than men, who can go the silver fox route. All of this dovetails nicely with Kristen Scott Thomas' recent discussion on aging and takes the opposite view of clueless Russell Crowe.
Why he did this movie "My daughter [Stella, Banderas and Griffith's 18-year-old] and I love SpongeBob, and I'd be a fool to turn down the chance to share the screen with such an iconic presence."

On stepdaughter Dakota Johnson: "We all knew in the family that she's a great actress, and surprisingly not only a good dramatic actress, she's very good with comedy," notes Banderas, who says he hasn't watched Fifty Shades yet. "We're very confident that she is driving her career properly."

On aging gracefully: "If you take life in a natural way and you accept the passage of time, which is impossible to stop – never pretend to fight the impossible and the certainties that come with existence. I try to be as natural as possible. I understand though, especially [for] women, the tremendous pressure that they receive in a place like Hollywood, where thousands of new girls arrive every year all fresh and new, and when you're getting to a certain age, they can feel the push of these things … It's more cruel unfortunately for women than men. There's a social convention that allows men to grow older and not be so criticised and pushed about beauty, and for women it's different. It's ridiculous, but that's the way that we created image around ourselves."
[From Nottingham Post]
This is a solid analysis from an actor who's witnessed the effects of aging — upon himself and in the Hollywood workplace — firsthand. Antonio's also paid close attention to what his ex-wife, Melanie Griffith, went through during various stages of her career. They couldn't make it work as a married couple, but he's said he'll always love her. Antonio's correct about how aging is "more cruel" for women, and this isn't just a Hollywood issue. It's a societal construct. Women are expected to stay wrinkle free with lovely hair, but men are allowed to go grey. It sucks.
Here's something different. Antonio's preparing to start fashion school. For real! Antonio will attend London's Central Saint Martins, where Alexander McQueen, Zac Posen and Stella McCartney all learned the ropes. Antonio says that fashion school is "something that has been on my mind for a long time, and I need knowledge to take steps in that territory in the future. It makes me feel actually very young to put the elbows on the table again and try to understand another reality." He plans to continue acting but wants to eventually launch his own line. To think, a celebrity who wants to learn a new trade instead of simply placing his name upon a line. Antonio's no Yeezus.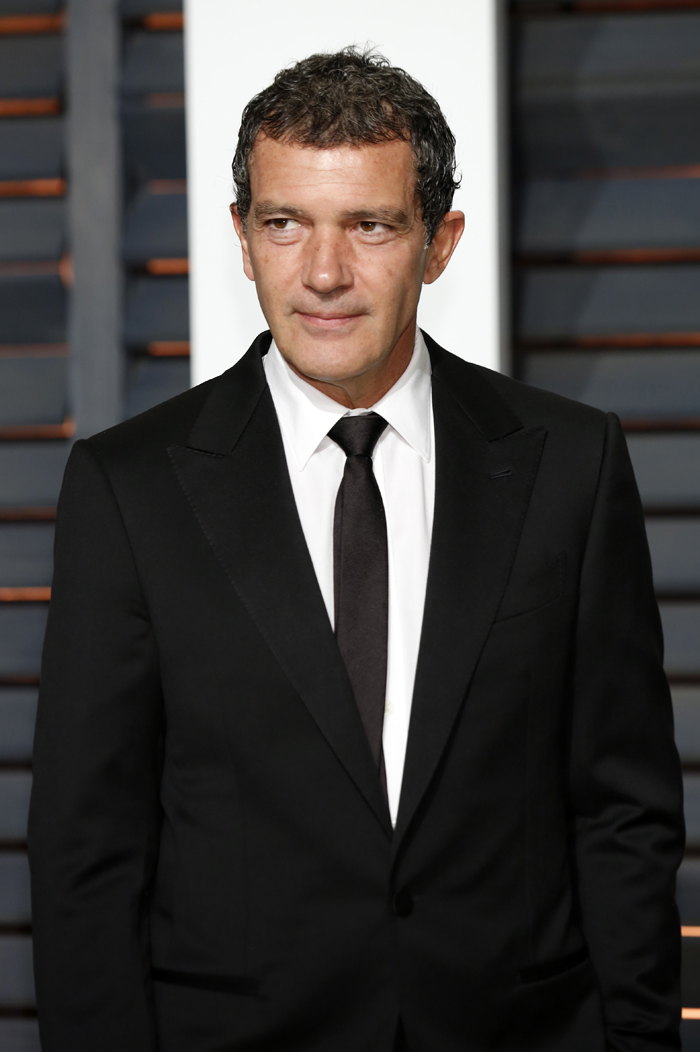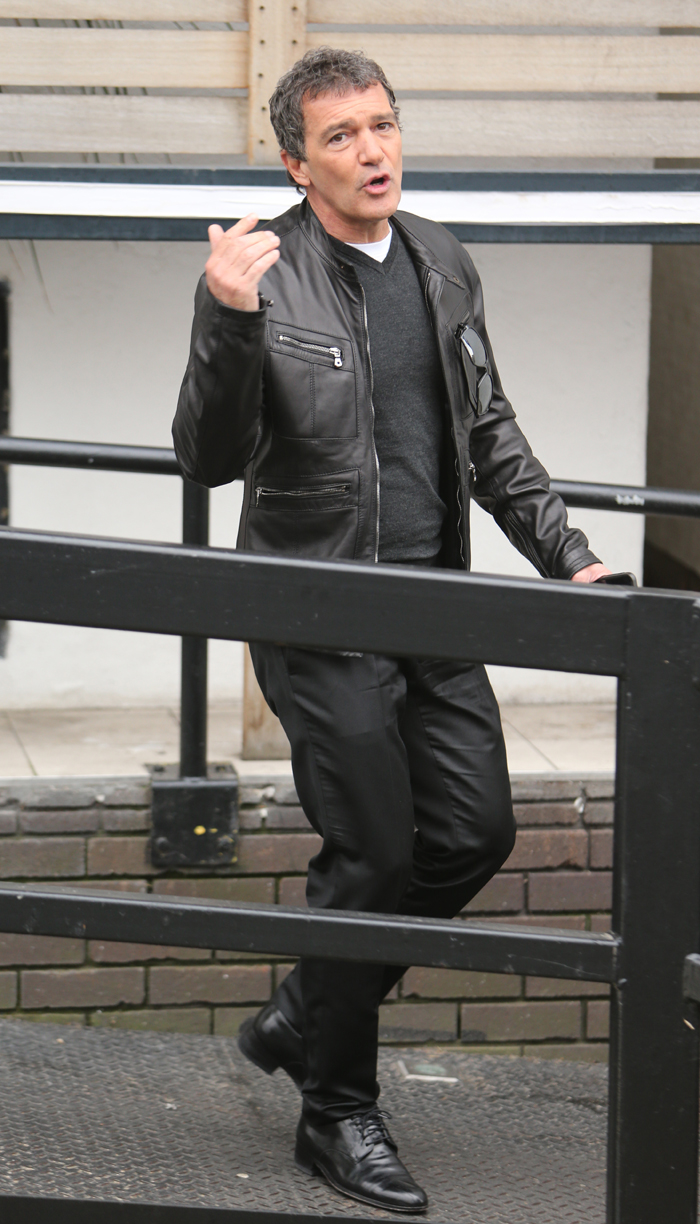 Photos courtesy of Fame/Flynet & WENN