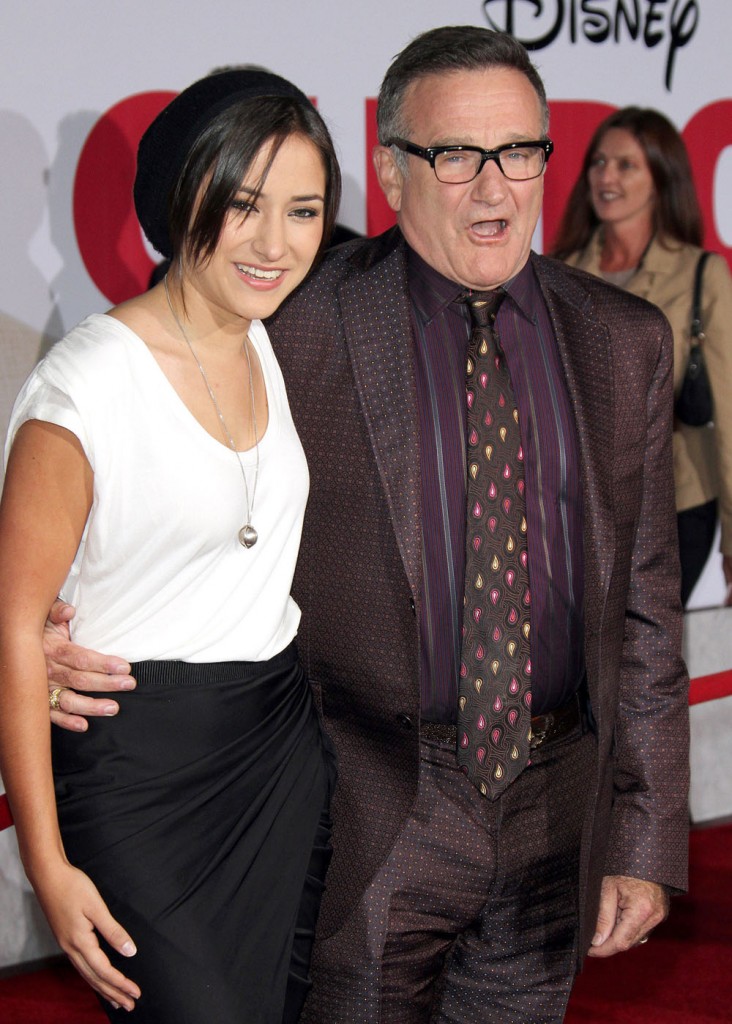 We've heard that Robin Williams' children and his widow are feuding in court over his personal items, including a pricey watch collection, and other effects that were reportedly removed from the home he shared with his wife of three years, Susan Schneider. In February TMZ reported that Susan had filed legal documents "complaining someone came into the house days after Robin's death and took some of the actor's belongings." According to TMZ, Robin's three children countered that they were barred from the home by Susan and had not removed anything. Robin's will left his personal items including movie memorabilia to his children, who are presumably legally entitled to them.
The good news is that lawyers for Schneider and for Williams's children have agreed to settle this matter privately through mediation. They reached the agreement in a court hearing yesterday in San Francisco. Lawyers for both sides told People that they didn't want this matter to become public at all. In a new post to Tumblr, Robin's daughter Zelda attempted to set the record straight. She stated that nothing had been taken from her father's home and that reporters have gotten the story wrong:
While I have not had, and will continue not to have any comment on my family's current legal proceedings (as their private nature has already been violated enough), there is one bit of misinformation being proliferated by the media that I have been made aware of and strongly feel the need to correct. My brothers and I have not at any point since dad's death been invited to or visited his and Susan's house in Tiburon, nor have we removed anything from it. For reporters to twist Susan's court petition to imply that she believes my siblings and I did otherwise is to attempt to create drama where there is none and spread outright falsehoods, sadly a more and more common occurrence on the 'news' these days.

At least in this instance, it is gossip I can disprove with actual fact.

Anywho, that's all for now. So long, and thanks for all the fish!
You may assume that Zelda is refuting reports by outlets like TMZ or Radar claiming that Susan's court petition stated that she and/or her siblings took some of their father's belongings. In fact this story seems to have originated in the New York Times, which cited lines in Susan's court documents claiming that "property was 'unilaterally removed' from their home 'days after Mr. Williams's untimely death.'" In response at the time, a representative for the children refuted that, stating "Notwithstanding Ms. Schneider Williams's insinuations, the fact is that neither the Williams children nor any representative of theirs has been in the house or had anything taken from it since Robin Williams's tragic death."
Just to clarify, it was Susan's legal documents that seemed to claim that the children took some of their father's things, which they denied and blamed Susan for insinuating. Zelda is again denying that and stating that reporters twisted the story. Zelda's statement is well put and she has impressed me so much in her very brief public appearance supporting her father's charity work. It's just that there's more to this story than reporters gossiping and getting it wrong. There's a rift here that played out in court, and Zelda seems to acknowledge this by stating that she and her siblings haven't been in her father's house since he passed. For the family's sake, I hope they can work it out peacefully. It looks like they're doing that and it's surely what Robin would have wanted.
Now let's look at some puppies from Zelda's Instagram.
Photos of Robin are from 2009 (header) and 2011. Photo with just Zelda is from February, 2015. Credit: WENN.com Other photos credit: Zelda Williams/Instagram.