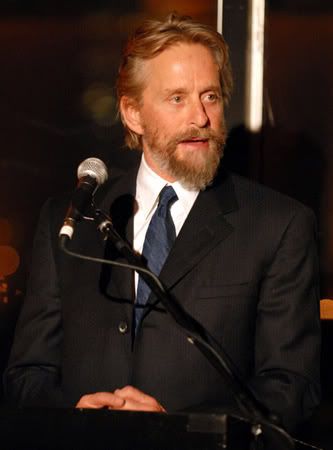 Now that Michael Douglas is wearing a beard to hide his surgery scars, he's trying to make it the fashion by badgering other men about their grooming habits:
He says,
"Young guys are somewhat androgynous and use cosmetics.
The lines (between men and women) seem to be getting much closer."
Although he doesn't understand the young male's psyche, Douglas insists he's not jealous of younger men. He adds, "A lot of these guys use me as an example of who they'd like to have a career like – which is flattering – but I'm getting tired of this sort of respectfulness they give me. When they start calling me Mr. Douglas, I'm like, 'Hey! Shut the f**k up!'"
No, Douglas, you shut up. Just because you're getting old doesn't mean you have to complain about younger men. You've surely used some cosmetics in your day.
Douglas was in NY last night to lend his support to the UN's fight against landmines at a lavish fundraising dinner. He presented the Adopt-A-Minefield's humanitarian award to UN Secretary-General Kofi Annan.
Douglas' wife, Catherine Zeta Jones, must be getting sick of the crap he says because she wasn't at the dinner with him. Jones is filming "Mostly Martha" in NY and is presumably in the same town. Both Jones and her husband were said to be attending the dinner in earlier reports.
Here is Douglas at the UN dinner last night. He is pictured with Kofi Annan and musician Moby.