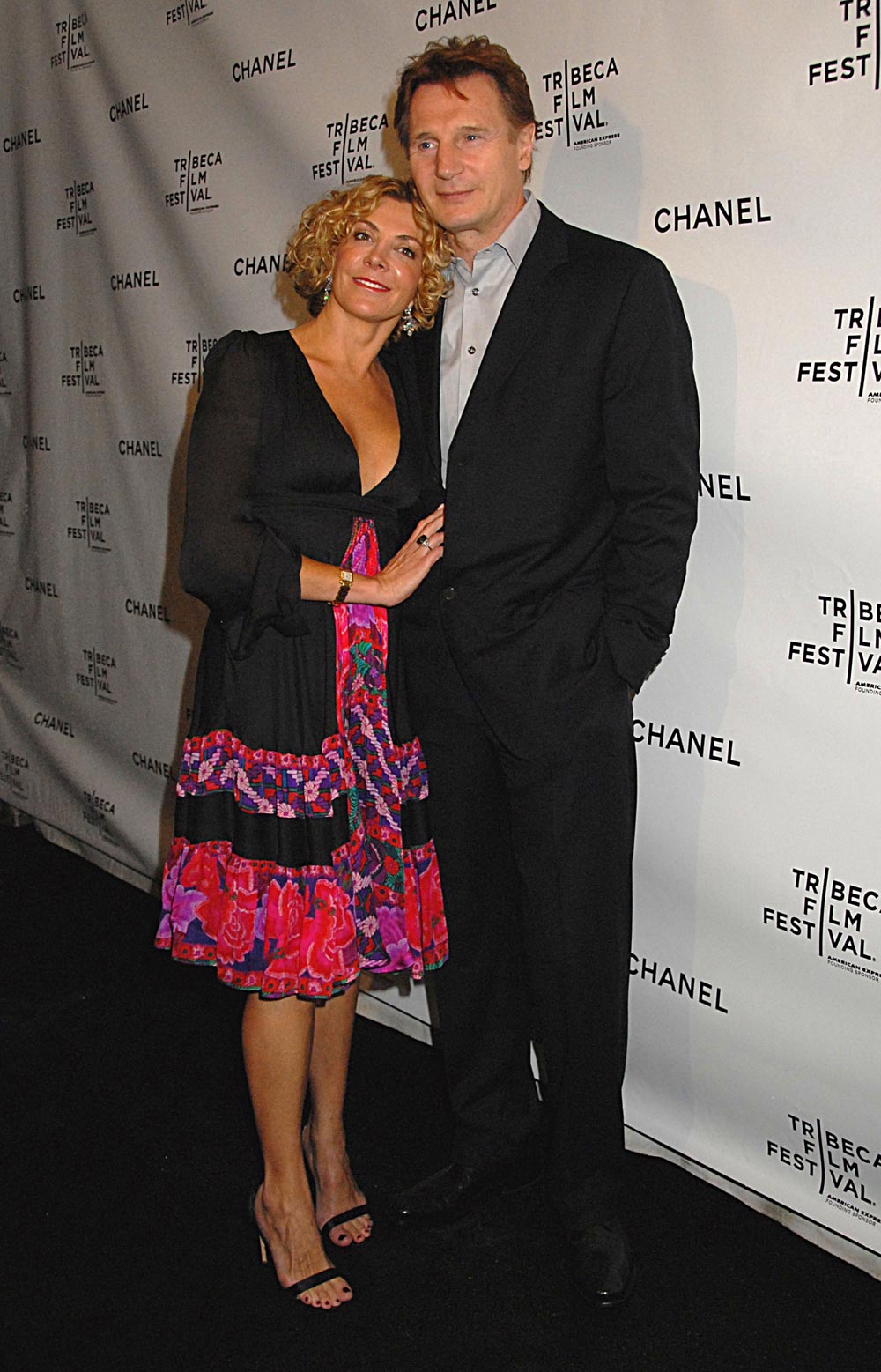 With the news that 45-year-old actress Natasha Richardson had succumbed to a brain injury sustained during a fall on a Montreal ski slope, Broadway decided to pay tribute by dimming the lights on the Great White Way last night to commemorate Richardson's accomplished stage career. Her husband, Liam Neeson, attended the touching ceremony and was seen being hugged by fellow Broadway vets Sarah Jessica Parker and Matthew Broderick. It's becoming clear that Natasha Richardson touched a lot of lives during her short time here, evidenced by an outpouring of grief and support for her family that we haven't seen since Heath Ledger died over a year ago.
Grieving Liam Neeson was held in a comforting embrace by actress Sarah Jessica Parker as the actor attended a touching tribute by New York's theatreland to his late wife Natasha Richardson.

The Sex And The City star was among the luminaries of stage and screen who lined Broadway as theatres dimmed their lights in a minute long tribute to Neeson's actress wife.

The star was hugged by SJP, and husband Matthew Broderick who both came out to show their support to one of theatreland's own.

And despite Natasha's strong British roots, the location of the tribute proved all the more fitting, as it was on Broadway that Neeson, 56, first met his wife of 15 years, when they appeared on stage together in 1992.

Liam and his wife's family, including mother Vanessa Redgrave, arrived to witness the moving tribute to the actress.

At 8pm the lights of New York's Broadway theatre district were dimmed for a minute in her honour.

The solemn crowd applauded as Broadway's theatres dimmed their lights one by one.

The 45-year-old actress and mother of two died died two days after a fall on Monday on a beginners' ski slope at the Mont Tremblant resort in Canada where she was holidaying with her two sons.

Neeson seen leaving his New York apartment last night to the tribute

The tribute to the British actress, who made her home in New York with her film star husband was a fitting reflection of the affection and the respect both she – and the theatrical dynasty she was a part of – was held in.

Miss Richardson appeared in more than 30 films but was best known for her stage work, winning a Tony Award for her performance in the musical Cabaret in New York.

She had been due to appear with her mother in a Broadway revival of Stephen Sondheim's A Little Night Music.

Miss Richardson's uncle, Corin Redgrave, led the tributes to his ­'adorable' and 'generous' niece.

'I've been very, very sad all day and all night,' he said.

'She was adorable, Natasha, she really was, besides being, as we know, a marvellous actress. We shall miss her terribly.'

Stars of stage and screen paid tribute to Miss Richardson following her untimely death.

Sam Mendes, whose 1998 Broadway production of Cabaret saw Natasha win a Tony award for her portrayal of Sally Bowles said: 'Natasha combined the best of Redgrave and Richardson: the enormous depth and emotional force of a great actor on the one hand, and the intelligence and objectivity of a great director on the other.

'She was one of a kind, a magnificent actress.'
Actor Jeremy Irons was asked about the tragedy while appearing on The Today Show yesterday, and seemed to be blindsided by the question. Irons knew both Richardson and Neeson well and broke down in tears on the broadcast.
Jeremy Irons struggled to hold back the tears as he paid tribute to actress Natasha Richardson last night.

The veteran actor could not hide his pain as he spoke of the death of his friend following a skiing accident.

Asked about the tragedy, Irons – who knew Richardson after twice working with her husband Liam Neeson – initially just stared into the camera, seemingly at a loss for words.

He then said: 'It's … it's… absolutely terrible.

'It just reminds us how fragile life is. As a father and as a husband I feel for him [Neeson] – for the family – so, so much.

'I suppose what I have to remember is that could happen to any of us at any time – so make the most of it.'
Good advice for all of us.