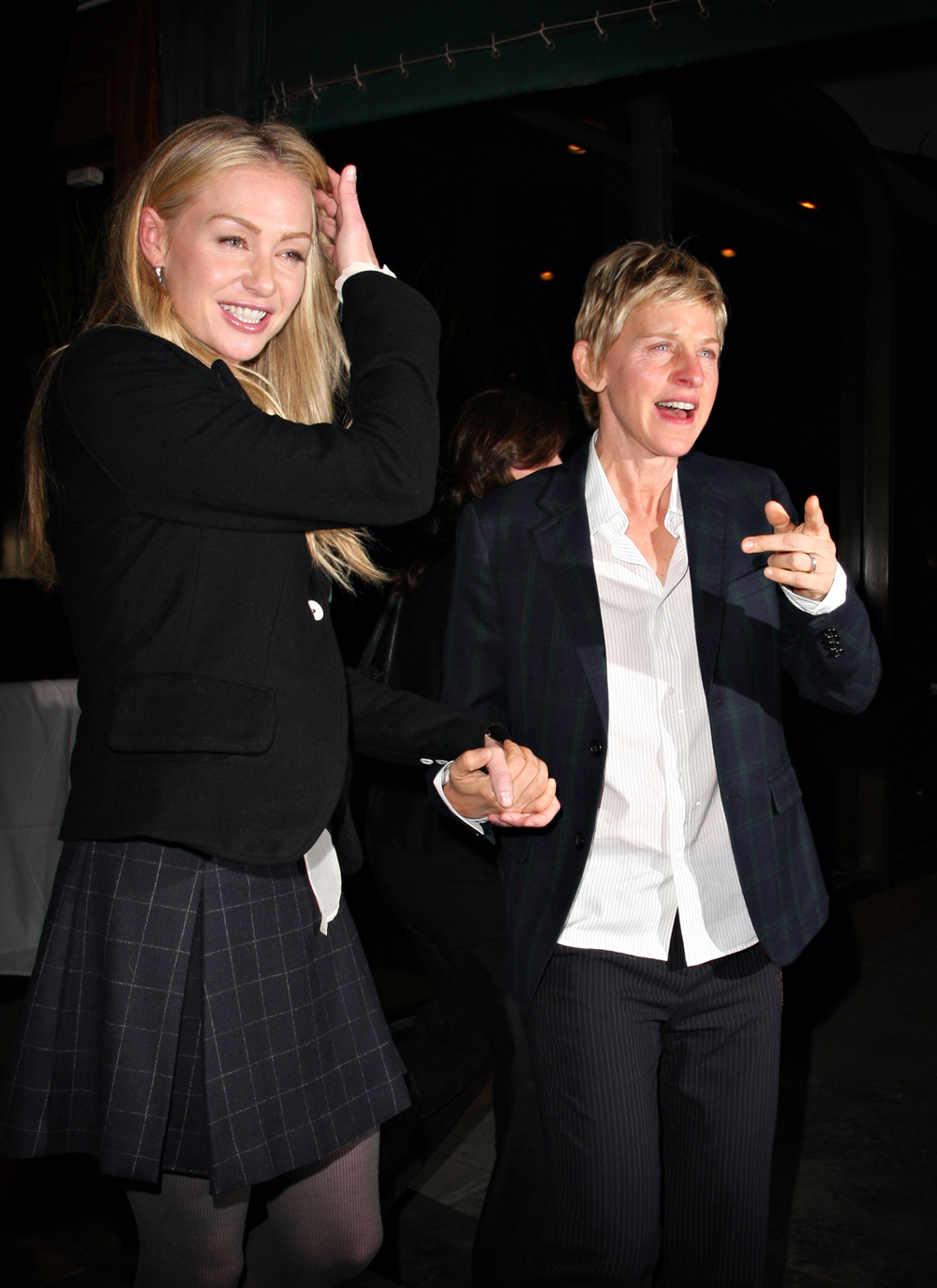 Ellen DeGeneres is finally getting her wish! Oprah has agreed to fulfill her dream of appearing on the cover of O Magazine. Ellen twittered the news Thursday night and Oprah confirmed via satellite on Ellen's show today. The two daytime divas are already talking wardrobe choices – Oprah is thinking about wearing pants, to honor Ellen's constant pants-wearing fashion statement. OK! has more:
Ellen DeGeneres has plenty to smile about these days. The newlywed slash comedienne slash talk show host slash Cover Girl model has had her latest dream come true – to be on the cover or Oprah Winfrey's magazine!

Last night, Ellen announced the news via her Twitter feed: "Oprah just asked me to be on the cover of O magazine!"

To make things official, while taping the Friday edition of the Ellen DeGeneres Show Oprah made a guest appearance via satellite.

"I have to tell you when I first heard it about this… I thought it was such a fantastic idea," Oprah said. "I was only sorry that I did not think of it myself. So I am calling to officially invite you on the cover of O."

Ellen, who has gone to great lengths to get the attention of the rival host, including phoning HARPO studios on air and putting herself on mock covers, was excited by the offer.

"I can't believe you're serious. I am freaking out right now," said Ellen. "My goal is going to be for this to be the biggest selling issue you've ever had. I want that to happen."

The two even joked about their wardrobe for the upcoming shoot.

"Maybe I'll wear pants, too," Oprah offered.

"All right," Ellen joked. "They're comfortable, Oprah."

Ellen will be only the second person to grace the cover alongside Oprah. The first, was Michelle Obama on this April's issue. One can only wonder, what will Ellen take on next?
[From OK! Magazine]
Oprah very rarely puts anyone but herself on O covers – April's issue with Michelle Obama and Oprah pictured together was a special one. I really like how friendly Oprah and Ellen are. In another world, they would see each other as rivals and try to out-diva each other. I don't think Ellen plays that game, and Oprah has always shown Ellen a lot of respect. Call me crazy, but I think the two women actually enjoy each other's company. Shocking, but not every girl-on-girl interaction in the entertainment world has to be a catfight.
Here's Ellen and wife Portia de Rossi at Madeo Restaurant in West Los Angeles on March 6th. Images thanks to Fame Pictures .