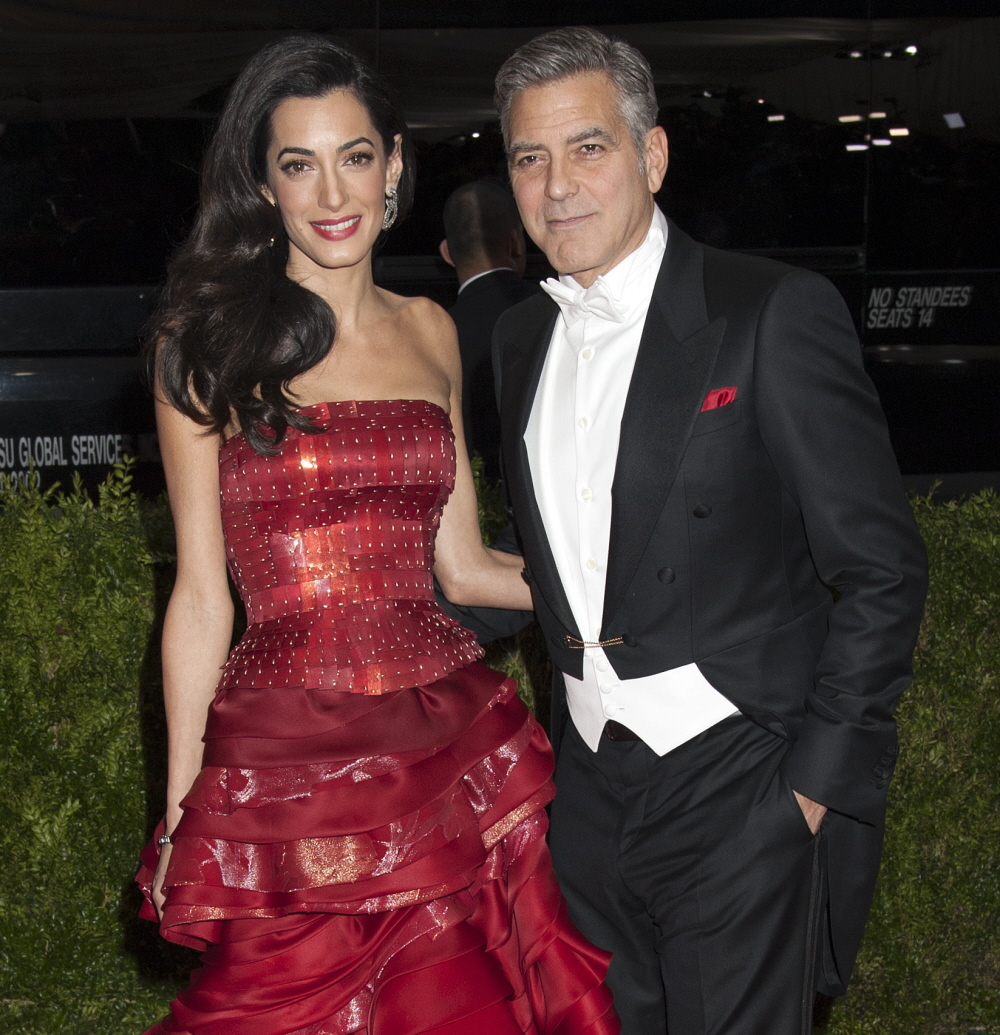 I'm starting to worry about George Clooney a little bit. He's promoting Tomorrowland, but nearly every quote coming out of his mouth is about his marriage and how special and amazing and different everything is now that he's found the love of his life…? Maybe I should just sit back and let the Alamooney wash over me. I don't need to question it. I don't need to analyze it. I don't need to wonder if the Body Snatchers got him and turned him into a Stepford Husband. I will not be asking "what's the deal, Cloons?" anymore. Behold, George talks to an Aussie outlet about never being apart from Amal for longer than a week, and whether they'll have Alamooney babies.
There's nothing tough about his marriage: "There was nothing tough about it. Our only adjustments are figuring out our schedules. Our deal is that we can't be more than a week apart. So far, that's worked out pretty well."

Babies: "Ah. I have actually no idea about that."

Their new English country mansion: "The town has the greatest pub in the world which is something like 200 years old. Amal and I walk from our house over a bridge, through a graveyard and into the pub. It's fine going there but coming back is a little, eh…Now we're in the middle of updating the house, and we're bringing it back to the Georgian style. I have a boat and we ride around and there's an unbelievably great restaurant nearby called The French Horn. I love it there."

Amal does not cook: "Well, I cook a little bit. My wife makes reservations. And her mother makes reservations, so it's a generational thing… [Now I'm] a bit of a connoisseur of Lebanese food. I didn't know much about it before, but I find it to be fantastic. We eat a lot of tabbouleh. And listen, I was a single guy for a long time, I'm a decent chef, I know how to cook. I make a nice pasta because I spend time in Italy. I can also make good breakfast food, and I'm great at Thanksgiving dinner."

Amal is not a celebrity & she pays for most of her clothes: "Well, that's part of the world that comes with us getting married but she doesn't think of herself as a celebrity. She's found a wonderful way of balancing the idea of what she does for a living. She's very well groomed to handle a lot of pressure. Sometimes people will give her a dress because they want their name to be out there, but she's a grown person and she pays for a lot of her own stuff."

Amal does not have a stylist: "The funny thing is, from the first day I met Amal, you could see that she has her own sense of style. She doesn't have a stylist, she has clothes that she loves to wear and she knows exactly what they are."

The Met Gala: "Let me tell you something, that's the only time in my life I've ever worn the tie and tails thing. And I don't think I'm going to do it again. That took a long time to put it on and take it off…Sometimes Amal looks at me confused about my sense of style. There are times when she says, 'Are you going to wear a Tequila T-shirt again?'"

He & Amal don't disagree: "We don't disagree on many things so far. We will see. And since she's smarter than me, the only way we resolve anything is by arm wrestling. That is my only chance of winning anything with her because if it's an intellectual battle, I would lose. She's the smart one in the family."
[From People & News.com.au]
"My wife makes reservations. And her mother makes reservations, so it's a generational thing…" This is going to sound so middle-class, but I really don't understand Amal's insistence on never cooking anything, ever. It makes her sound like such a princess, like she can't function unless people are waiting on her hand and foot. I'm not a world class cook by any means, but I know how to make some basic dishes and I can certainly follow a recipe. Now I'm starting to wonder if it's more about the way upper-class households are organized in a country like Lebanon. The Alamuddins are a wealthier, upper class family in Lebanon, so I'm guessing they probably have a house full of staff. Amal and her mother never learned to cook because they always had someone cooking for them. And even when Amal went off on her own and lived by herself in New York and London, she just never learned how to… what? Throw a bowl of soup in the microwave? Make a sandwich?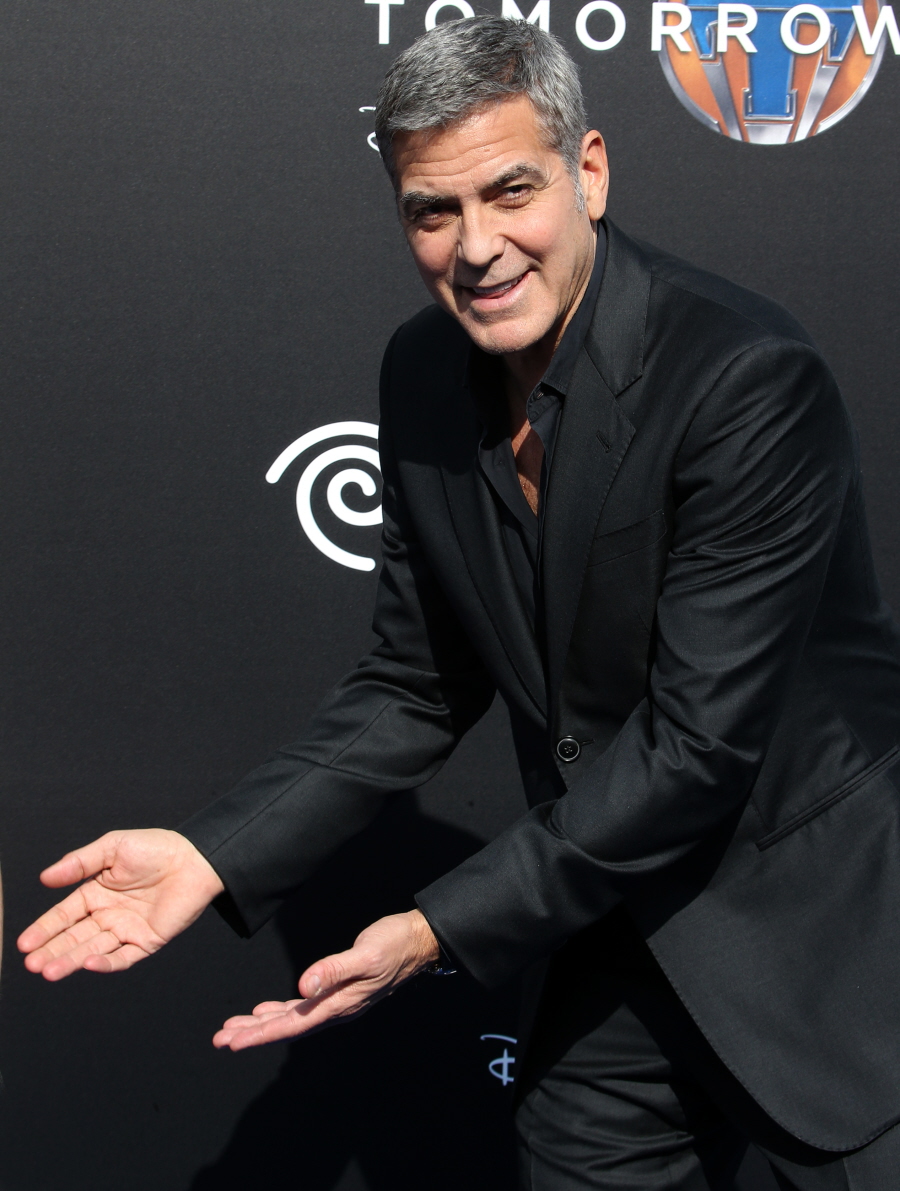 Photos courtesy of WENN.