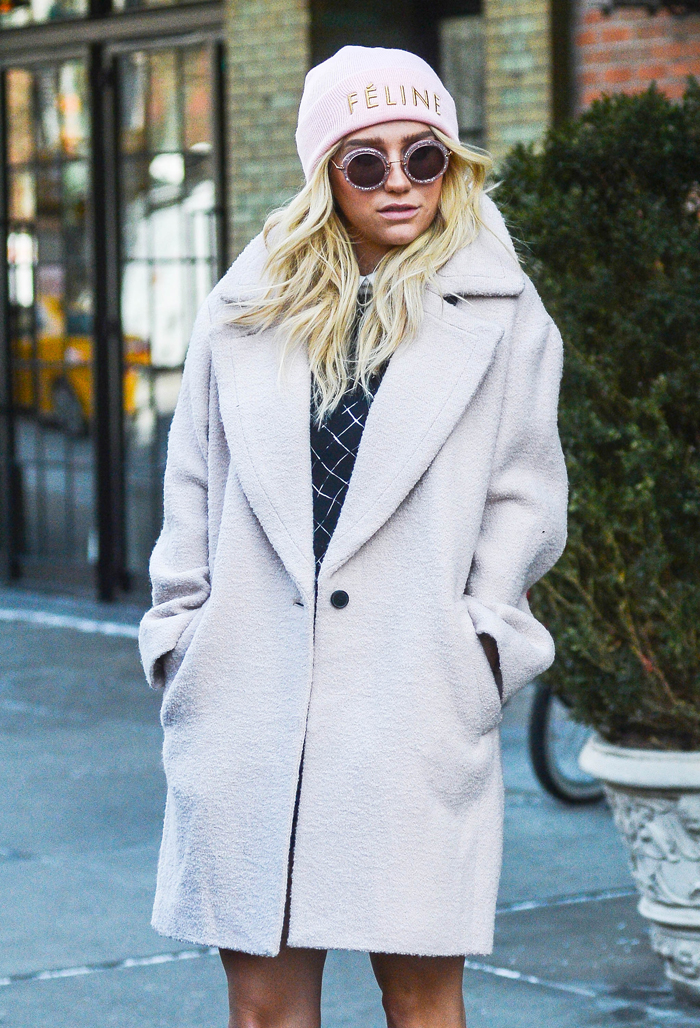 Kesha has a new profile in Vogue, and she shows off her freckles in a lovely photo that you can see here (it's actually a reprint of her recent Teen Vogue cover). I believe Kesha's ramping up to release new music soon. She promised as much in January, but doesn't have a release date for her third album yet. She's undoubtedly preoccupied with Dr. Luke's legal shenanigans. He filed a countersuit after she sued him for sexual assault and abuse.
For over a year, Kesha has been rebuilding her life following an early 2014 rehab stint after Dr. Luke fat-shamed her and she developed an eating disorder. She has been hinting at a softer image for her future, instead of the party-girl persona she once embraced. Here are some excerpts from Vogue:
Freckles now win over makeup: "I really wanted to make a change–be more raw and real. I wanted to be more confident in myself–embrace every inch of my body–not try to cover up with makeup."

The effect of sudden fame: "All of a sudden I had all of these fans, but also [just as many] critics." Her swaggering artist persona, glam rock hair, and "Alice Cooper"–inspired makeup, all designed to celebrate personal freedom, were polarizing. The backlash came from every direction–hackers, bloggers, even a colleague–and their daggers cut deep. "Slowly but surely my self esteem [started to] deteriorate."

Her eating disorder: "I've had a lot of ups and downs. It's been quite a journey. I went to a dark place. There was a lot of not eating–and I started to think being hungry to the point of feeling almost faint was a positive thing. The worse it got, the more positive feedback I was getting. Inside I was really unhappy, but outside, people were like, 'Wow, you look great.'"

She stays off the internet now: "Part of being healthy is being positive. I don't pay attention to the Internet or bloggers. I surround myself with positive people. I run a few miles on the beach every day, and I got into Transcendental Meditation to try to find some peace in my crazy life. [It reminds me] to be grateful for where I am, for my body, and my face–as imperfect as any of it may be."

Her beauty regrets: Do you mean the gold tooth I had removed? No, I look back lovingly because I was having so much fun [with hair and makeup]. There was a time I went on the red carpet with a Mohawk, but I'll probably never do that again. And before I went on stage I used to pour beer on my body [as an adhesive] then roll in a bathtub full of glitter. I don't do that anymore because it irritated my skin."
[From Vogue]
I understand Kesha's reasons for wanting to avoid the internet and blogs after what she went through. She can avoid Dr. Luke without much of a problem, other than what's going on between their attorneys. But she's still in a fragile state, so it makes sense that she'd want to avoid any possible body shaming from strangers (or familiars). Eating disorders can be persistent, so anything that Kesha can do to stay healthy is a plus.
Here's a photo from last summer that shows Kesha's gold tooth. I'm glad she removed it!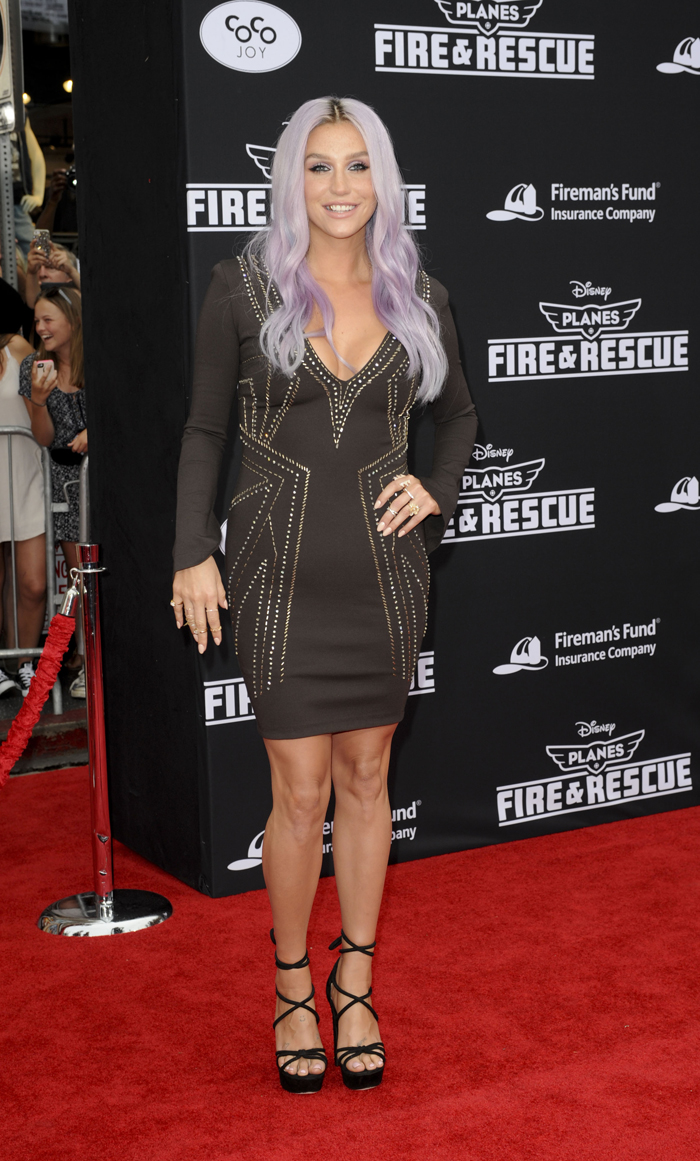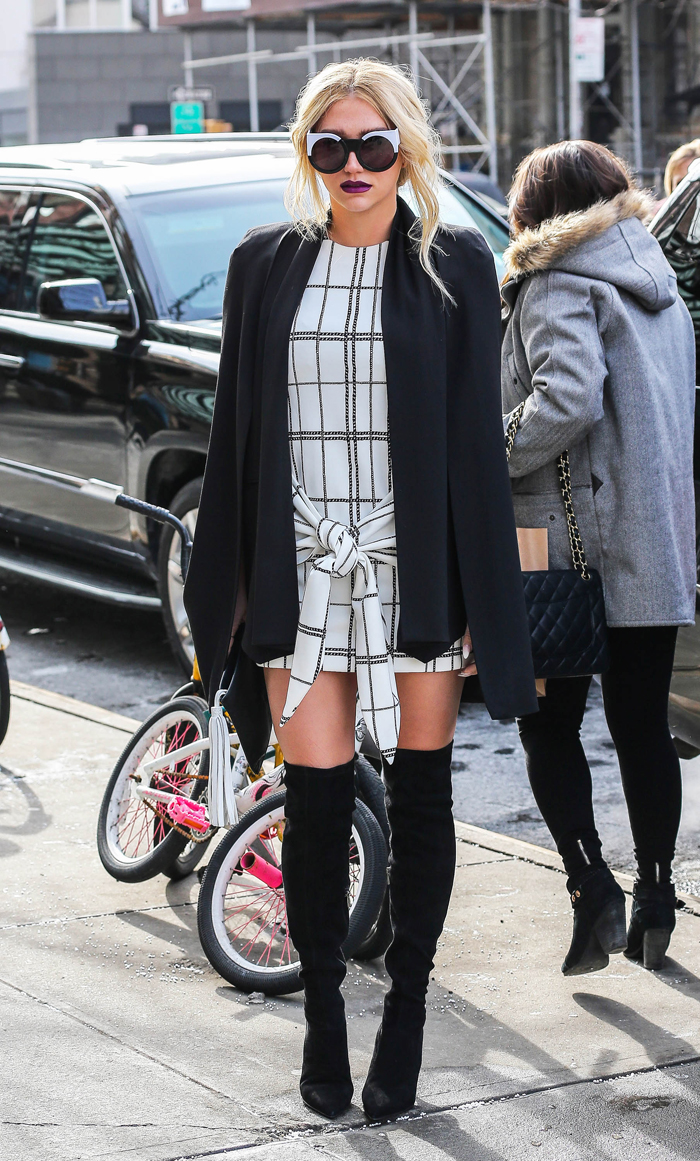 Photos courtesy of Fame/Flynet & WENN