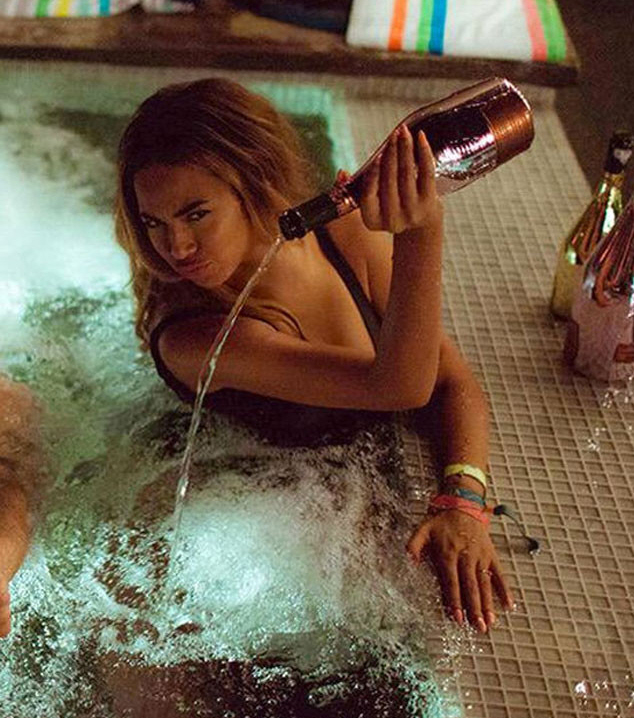 I was recently discussing my cheapness with someone, and suddenly I was struck by a simple fact: even if I had crazy money to spend on nonsense, I would probably still live much the way I live now. I would buy a bigger house with a big pool. I would eat out at nice restaurants more often than I do now. But otherwise? Eh. I'm a cheap person. I love looking at expensive stuff (clothes, purses, jewelry), but I don't really want or need to live that way.
Intellectually, I could see why someone – a wine aficionado, perhaps – would spend $20,000 on a bottle of wine. I would NEVER, but if you get your rocks off on $20,000 wine and you can afford it, that's your business. But I will never understand conspicuous consumption just for the sake of the "conspicuous" part and not for the "consumption" part. If you spend $20,000 on wine, you better DRINK THE WINE. And not pour into a hot tub. Which is exactly what Beyonce did in her new music video with Nicki Minaj, "Feeling Myself." The Beyhive noticed that in one scene, Bey pours a bottle of Armand de Brignac into a hot tub.
Beyoncé pouring my college tuition fees into a hot tub pic.twitter.com/iF0Wkqi7oX

— Shady Music Facts (@musicnews_shade) May 19, 2015
Apparently, Armand de Brignac wines can cost anywhere from $300 to "hundreds of thousands of dollars," and some of the Bey-stans believe that this particular bottle costs about $20,000. All of this is moot if Beyonce just had the empty bottles and they filled them with water or ginger ale or whatever. Which is what I hope actually happened. Because if Beyonce really poured a $20,000 bottle of wine into a hot tub for a music video, then there will be blood.
Update: Defamer says that these particular bottles of wine were probably closer to $300.
Photos courtesy of Twitter, Instagram, Fame/Flynet.