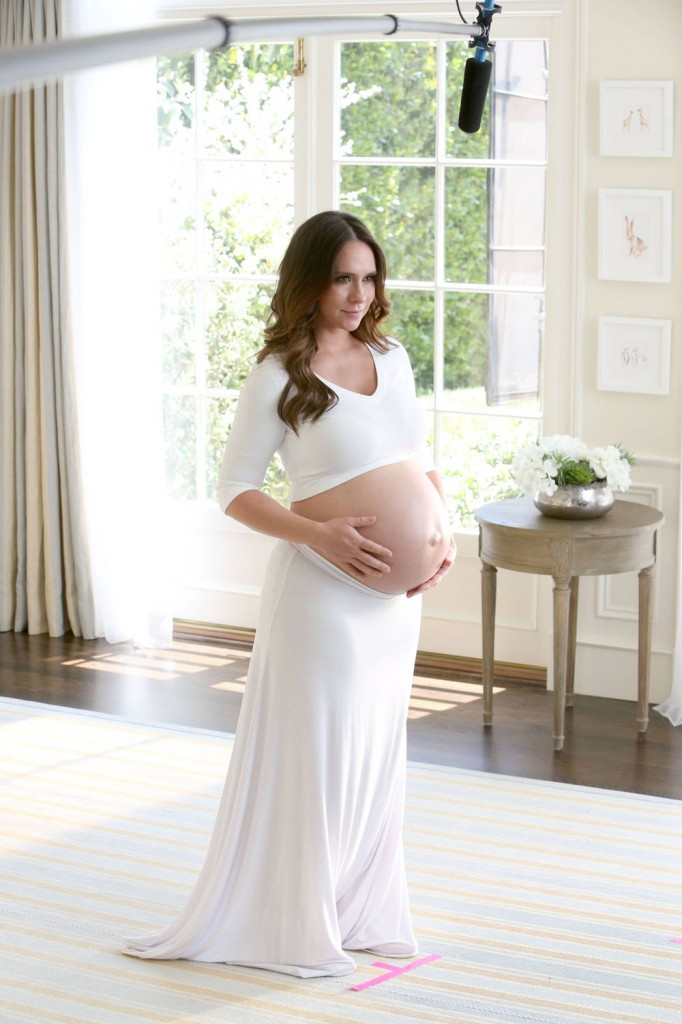 Jennifer Love Hewitt is currently 8 months pregnant with her second child. Hewitt and her husband of two years, Brian Hallisay, also have daughter Autumn James, 18 months. The last two times I've covered Hewitt I've mentioned this, but I don't think she gets enough credit for it so I'll say it again: as far as I can find, she's never released a photo of her daughter Autumn. She didn't give a baby photo to the press, she's never instagrammed a photo of her daughter (although she does take selfies), and she hasn't been caught out by the paps with her daughter except in a stroller where you can't see the baby's face. (There is one photo I found of her baby with an older lady, but it's a telephoto pic taken on set and only one agency has it.) This is a somewhat incredible turnaround for Hewitt, who used to tell the press when she caught boyfriends cheating, when she wanted another boyfriend to propose and how, and when she had crushes on celebrities. Kaiser and I were talking about this, and my theory is that Hewitt married a very private guy. Kaiser reminded me that Hewitt's mom sadly died in 2012 and that she's changed quite a bit since then.
Anyway that's relevant because Hewitt has this new interview with People in which she talks about her family. She's very rarely talked about her daughter or given personal information about her, so while some of her quotes may be eyeroll-inducing, I'm considering the source. She's not a high and mighty mom type, nor has she really been promoting her family up to now. As we heard last week, Hewitt is the spokesperson for Palmer's stretch mark cream, so that seems to be why she's doing this interview.
"We didn't have a night nurse, we didn't have a nanny," the mom of Autumn James, 18 months, with husband Brian Hallisay, 36, tells PEOPLE. "We haven't ever had any of that stuff. It's been really interesting to do it all ourselves."

It hasn't been smooth sailing every step of the way, but Hewitt, 36, says she's learned to prioritize.

"I think [as a mom] you just realize how unimportant stuff is," she says. "Everything before you have kids is oh-so important and then you have kids and you're like, 'That really doesn't mean anything. My kid is healthy, there's no sniffles, they're sleeping, life is good!' It really puts that into perspective."

"I'm really curious to see how similar [the two kids] will be," says Hewitt, who recently announced that she will not be returning to Criminal Minds, . "And I'm looking forward to having two little tiny people to snuggle with! It's just my favorite thing ever."

Although the couple have chosen to keep the sex a delivery surprise again — a decision that "drives family and friends crazy," Hewitt admits — Hallisay has his bets on another baby girl.

"He's of the mindset that he's going to have all girls. That's what he's preparing for and he's very close with his mom and sister so he's fine with that," the mom-to-be explains. "I think he would be more shocked if it was a boy, but he's prepared either way. He's excited."
I guess celebrities feel the need to specify that they don't have a nanny because everyone they know has one. It's kind of like celebrities saying they haven't had Botox (even when it's not true). It's like a badge of honor for them when the rest of us wouldn't consider it something to brag about. Good for Hewitt for caring for her baby on her own. I'm going to say something a little snarky, though, it's not like she or her husband has to go to a 9 to 5 job. She probably has other staff. Sometimes when I consider the amount of work I have to do around the house for one kid I wonder how anyone who works 8 hours outside the home manages it.
As for everything else Hewitt said, it's cute. She hasn't opened up like this in a while and I bet the anticipation of a second baby is making her more chatty.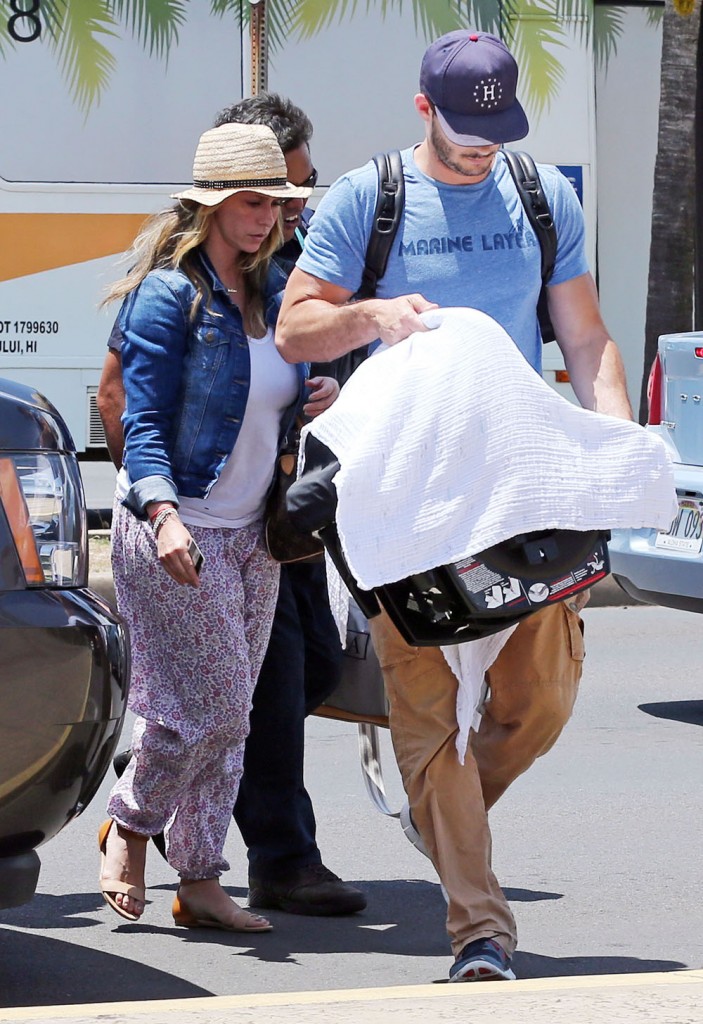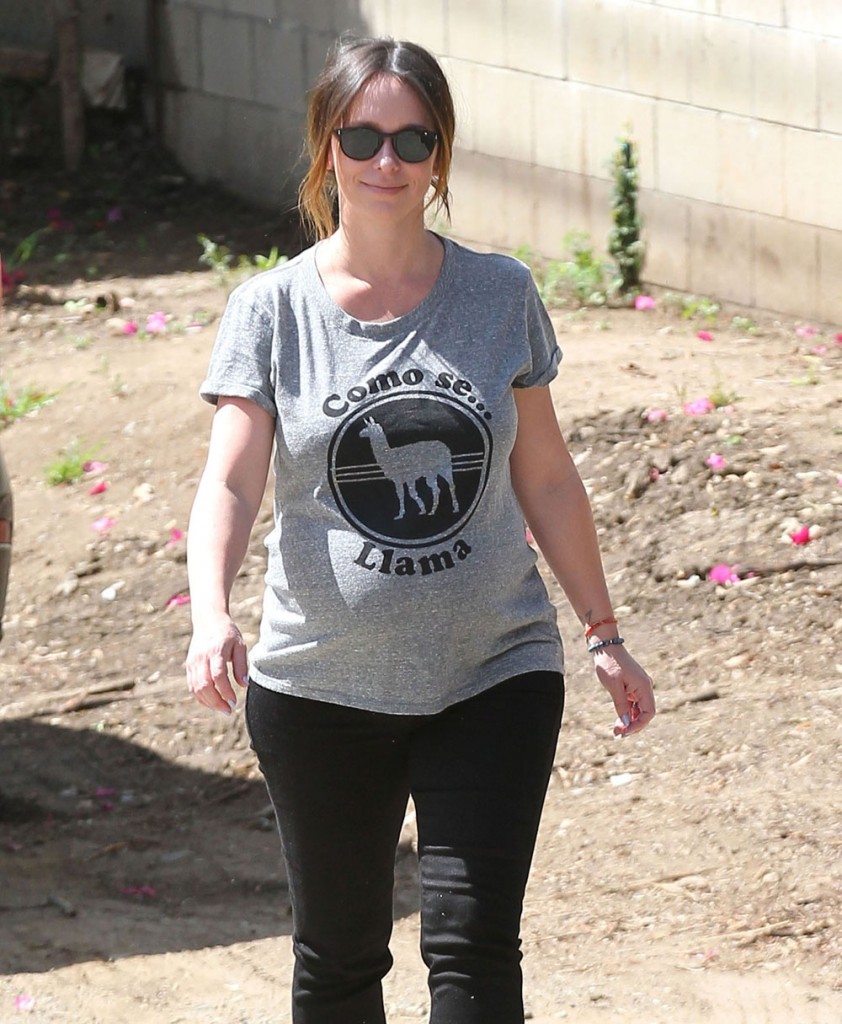 Photos of Hewitt baring her bump are courtesy of Palmer's, used by permission. Photos of Hewitt out with Hallisay are from May, 2014. She's also shown in a Como Say Llama t-shirt last month. Credit: FameFlynet