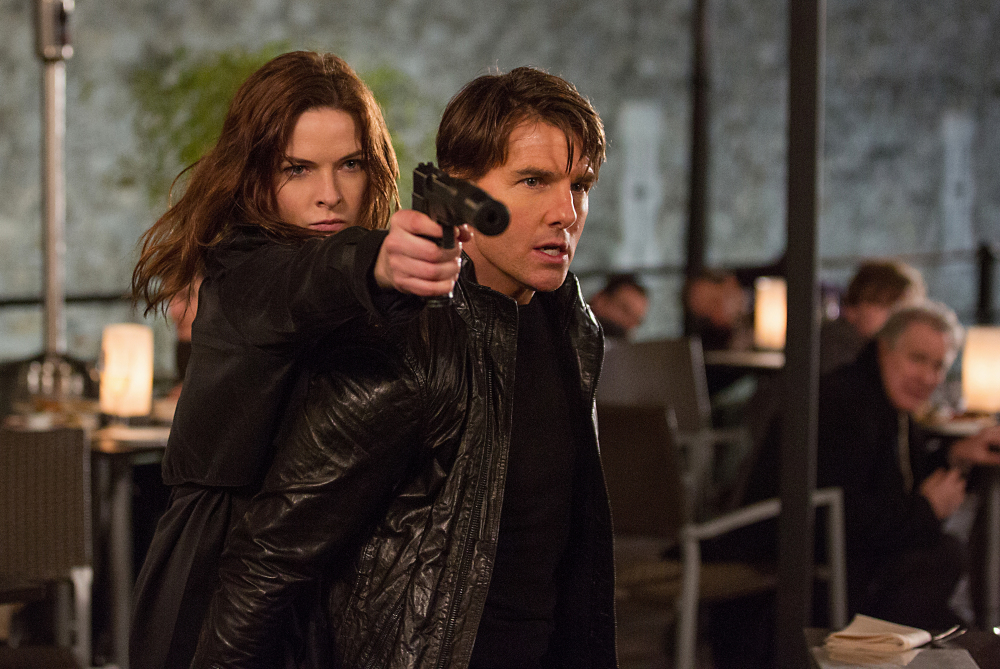 The newest trailer for Mission: Impossible Rogue Nation has arrived. This is the fifth installment in the franchise, and Paramount Pictures is already developing part six. Of course they are! In this trailer, Tom Cruise risks his life several times (including the creepy plane-hanging stunt) as super spy Ethan Hunt, who almost dies seven times in a few minutes. The movie co-stars Simon Pegg, Rebecca Ferguson, Alec Baldwin, and Jeremy Renner (ugh) is back. Here's the trailer. Warning: Contains a shirtless and running Tommy.
Tom has a new interview with USA Today where he talks about the film's daring underwater scene. Tom claims to have held his breath for over six minutes to preserve a long shot:
"It's something I have always wanted to do. [Director Christopher McQuarrie] and I have been thinking about it since working on Edge of Tomorrow. I have done a lot of underwater sequences. But we wanted to create a suspense underwater sequence without cuts. So doing that sequence was really interesting. We're underwater and we're doing breath-holds of 6 to 61/2 minutes. So I was doing all my training with the other stuff (on-set). It was very taxing stuff."
[From USA Today]
At first, I didn't believe Tom because tis sounds like an impossible amount of time to go without oxygen. The National Institutes of Health says brain damage can occur after 4 minutes without oxygen, but that's usually when someone is unconscious. Also, the Guinness world record for underwater breath holding is actually 22 minutes. That diver did hyperventilate with oxygen before the stunt, which made a huge difference. Tom probably did the same thing. He has something to prove to the world. Tom must be the best actor-stunt-guy ever, which is an odd legacy to pursue.
A new story in this week's Life & Style (via Jezebel) says Tom recently splashed out $50,000 for plumping fillers to make his 52-year-old self look young. Maybe so, but the story is based upon Tom's slightly rounder face on the Mena set (he plays an overweight pilot). Tom has certainly gone in for fillers for many years. But I think the Mena makeup artists worked some magic to make his face look puffy. Tom is too vain to purposely make his face look chubby.
Here are some photos of Tom in April. His face looks chiseled as always.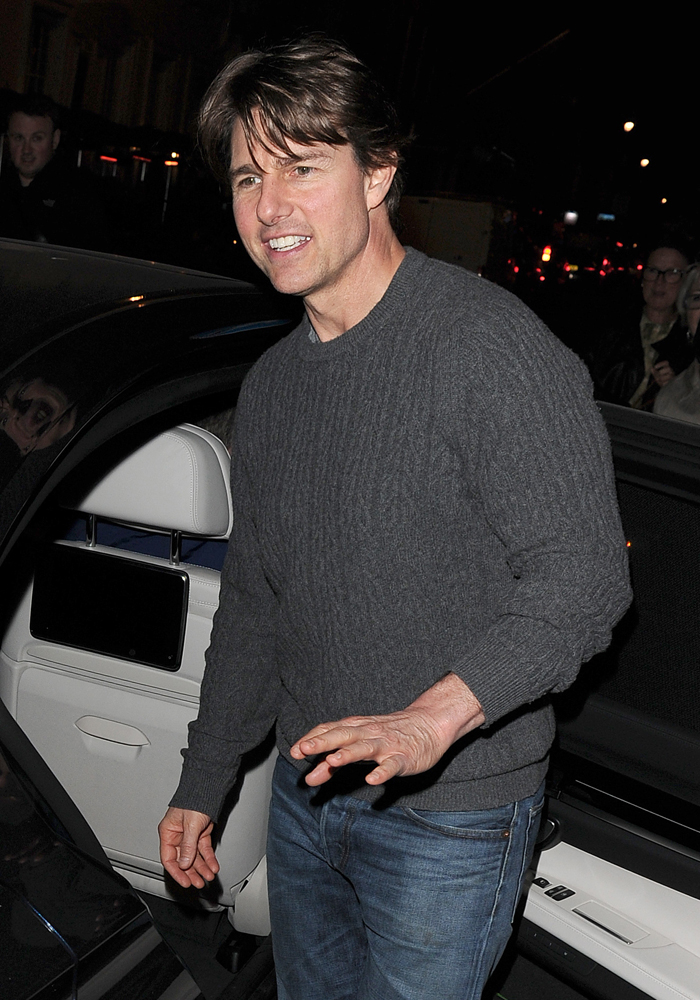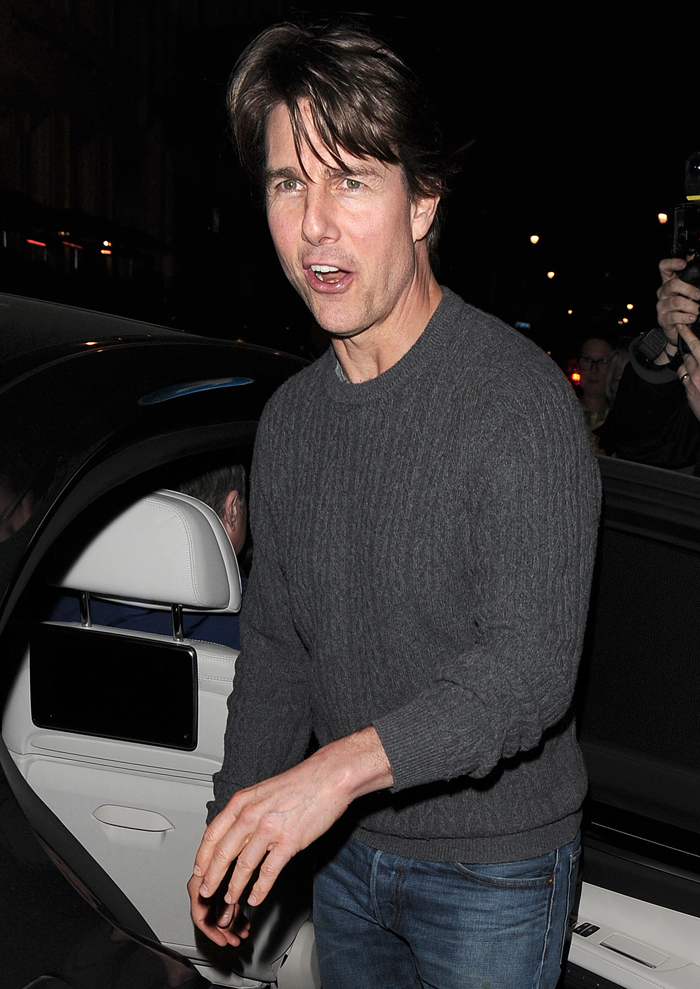 Here's Tom on the set of Mena, which also stars Jesse Plemons. I don't think Tom gained much weight for this film.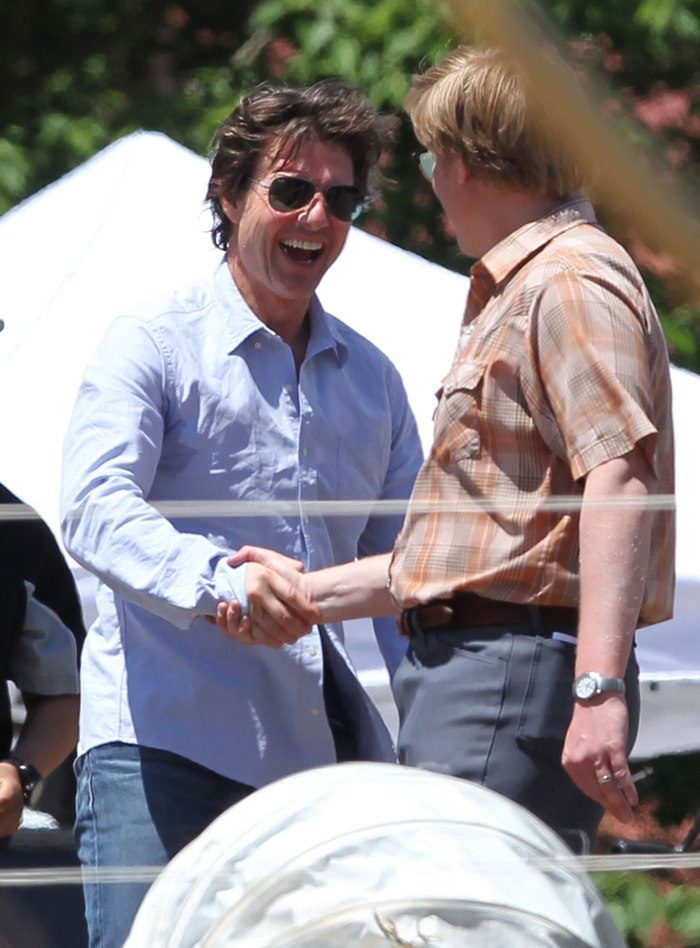 Movie stills courtesy of Paramount Pictures; photos courtesy of Fame/Flynet & WENN