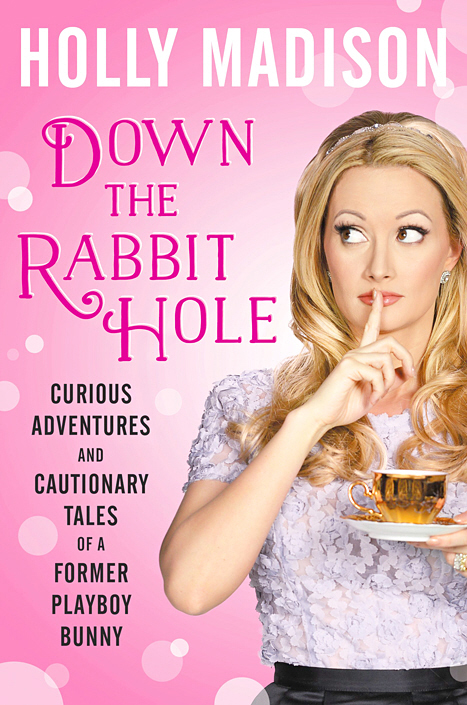 Here is the cover of Holly Madison's new memoir, Down the Rabbit Hole: Curious Adventures and Cautionary Tales of a Former Playboy Bunny. This isn't a cutesy tail (get it?) of fun Playboy mansion adventures though. Holly gets surprising dark about her time as one of Hugh Hefner's "girlfriends," including some pretty candid revelations about suicidal thoughts, drugs, body image and money. Oh, and she says she never signed a nondisclosure agreement, so I guess she doesn't have to worry about getting sued? Sure. We'll see. Some highlights (the book is being excerpted all over the place):
The first time she met Hef in 2001: "'Would you like a Quaalude?' Hef asked, leaning toward me with a bunch of large horse pills in his hands, held together by a crumpled tissue," Madison wrote in her memoir. After she declined the drugs, "Hef did not miss a beat: 'Okay, that's good,' he said, nonchalantly. 'Usually, I don't approve of drugs, but you know, in the '70s they used to call these pills thigh openers.' I want to scream 'PAUSE!' and freeze-frame that moment of my life. I want to grab that young girl, shake her back into reality and scream, 'What the hell are you thinking?'"

Becoming one of Hef's girlfriends: "I learned Hef was the manipulator and that he pitted us against one another. I realized I wasn't treated well. I'm done being afraid of people. I don't have any loyalty to Hef. I haven't talked to him in four years, so there's no reason to reach out now. Besides, it's the truth."

When she wanted to leave, Hef tried to get her to stay by putting her in his will: "It was there, in black and white. The will stated that $3,000,000 would be bestowed to Holly Madison at the time of his death (provided I still lived in the Mansion). At the time, it was more money than I'd ever know what to do with… But I didn't want it. I actually pitied him for stooping to that level. I couldn't help but be offended. Did he really think he could buy me? I put the folder back on the bed just as I had found it and never breathed a word of it."

She thought about suicide in 2002: Her "misery" became so all-encompassing that in the tell-all, Madison, 35, recalls lying in a bath in 2002 and pondering: "If I just put my head under water and take a deep breath in, it would all be over…Would anyone even miss me?" She tells how the "depths of my own depression" had led her down a dark path and there was no light at the end of the tunnel. "Maybe it was the pot and the alcohol, but drowning myself seemed like the logical way to escape the ridiculous life I was leading."

Life at the mansion: "Everyone thinks that the infamous metal gate was meant to keep people out. But I grew to feel it was meant to lock me in."

She and Hef discussed having a child together: "I know how absolutely insane it sounds to want to have kids with someone in their 70s. You are basically robbing a child of his or her father before it is even born. Now that I am a mom myself, the idea seems even more unpalatable. But I suppose I thought of it as a ticket out – in more ways than one. The last time the mansion had been multiple-girlfriend-free was when Hef was married and had two children." She reveals that Hefner had even submitted semen samples to a fertility doctor – only to discover that nothing was viable. "This was concrete proof slapping me in the face that there was no future for me at the mansion and it was either sit in there and rot or take the plunge and face the world."
If you want some gross details about what it's like to one of Hef's multiple girlfriends when it's time to get down with him in his bedroom, go here. She says there was no intimacy, no kissing and everything was over pretty quickly. Probably just in time to bring the old guy some post-coital SOUP. What else? Let's see… Holly says she hasn't spoken to Hef in four years. She says that every one of his girlfriends had body image issues while they lived at the mansion. Holly admits to getting a nose job while she was with Hef. Ugh.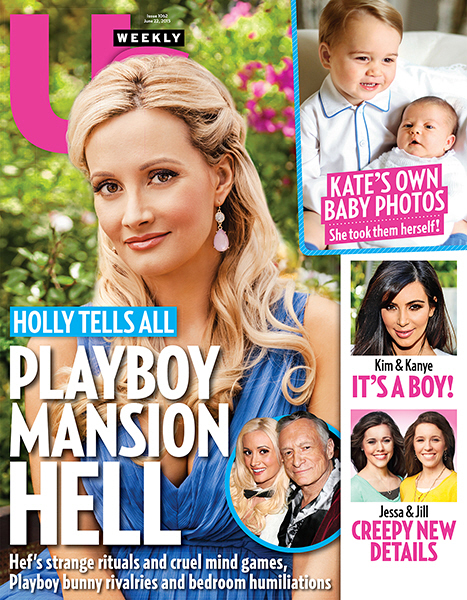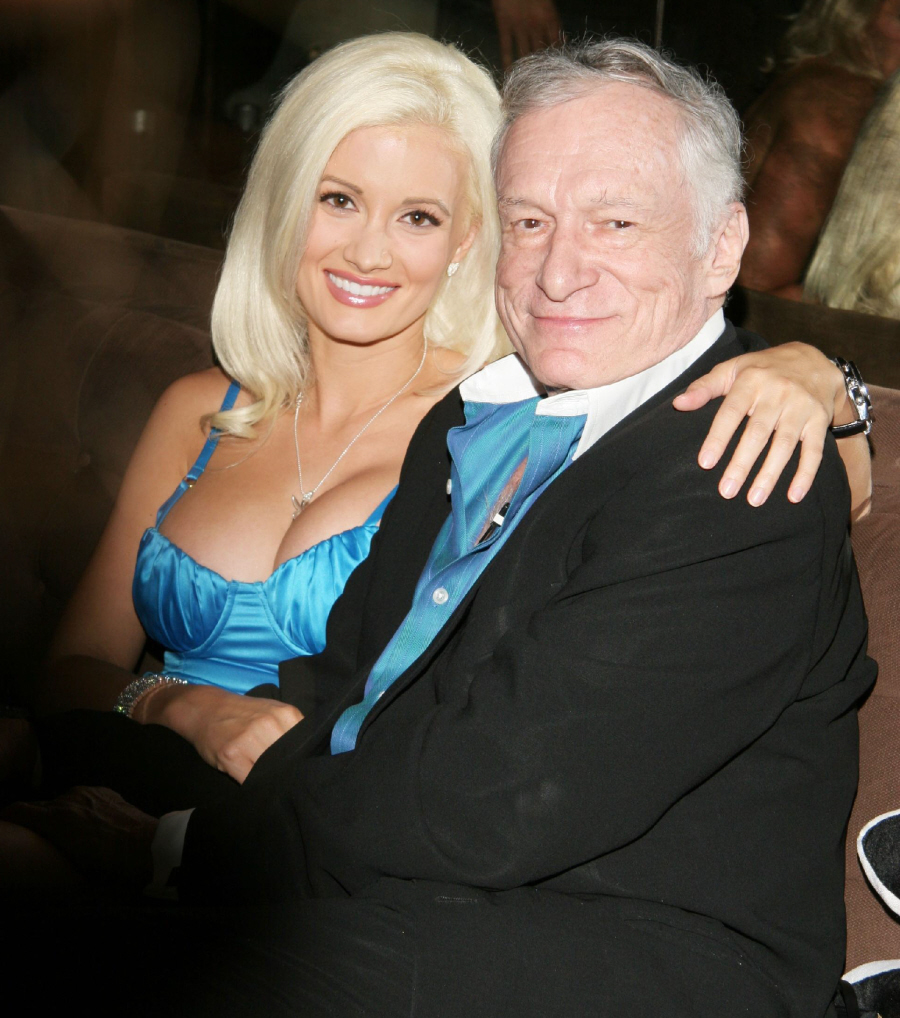 Photos courtesy of WENN.