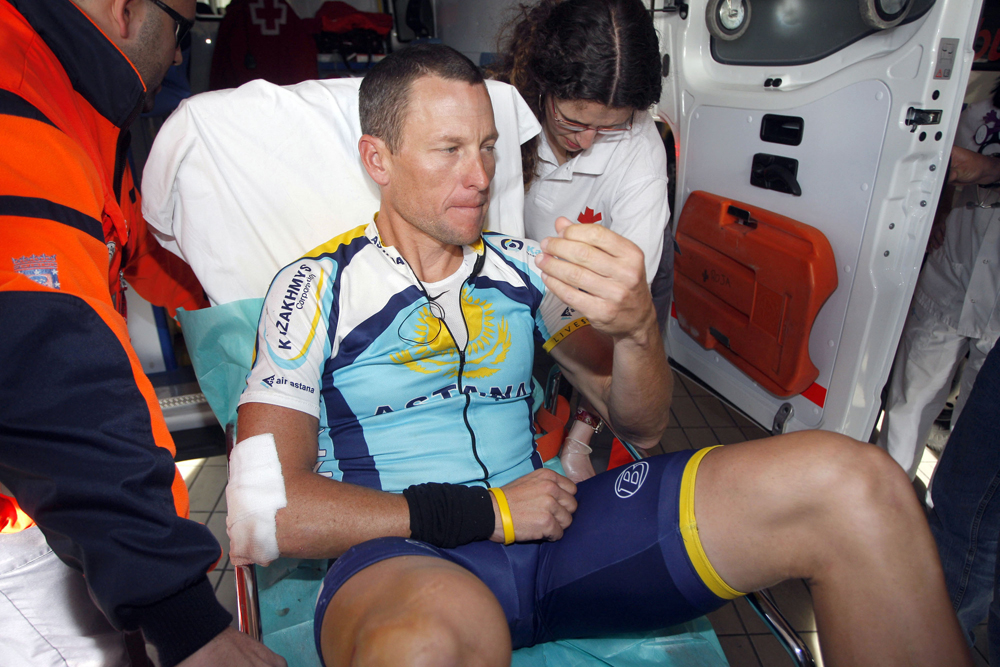 Lance Armstrong, 36, fell in a bike pile-up earlier this week and was rushed to the hospital. He then flew to Atlanta to get surgery on his collarbone so that he can hopefully race in his eighth Tour de France later this year. On the flight back to the US, Lance was hopped up on painkillers and downing in-flight drinks. He turned into what one passenger described as "an assh*le." Lance was even cut off by one of the flight attendants who thought he had drunk one too many.
After crashing during the run-up to his stunningly ambitious eighth Tour de France, Lance was on a flight from Madrid to Atlanta. And apparently the sometimes-womanizer took his self-pity out on the other passengers. Perhaps he knew how bad surgery was going to be, what with that steel plate and those 12 screws he'd just had implanted in his collarbone, which was busted in four spots?

Regardless, an A.T. reader on the flight with L.A. contacted us and described how unpleasant the 36-year-old cancer-surviving cyclist was:

"He was such an assh*le," ranted our onboard babe. "He was so wasted on painkillers, and he drank a lot. It was just obnoxious."

So how much did he chug exactly? "Enough to be cut off," the witness told us. And that was in first class, where the booze flows freely until passengers usually cut themselves off, honeys.

After bitchin' for a while, Lancey, who had his arm in a sling, finally went to sleep, much to the flight attendants' and other passengers' joy.
[From E! Online]
Lance's publicist later contacted the writer of the article and denied the story, saying that "the only thing your source has right is that he was in a sling." However, the story's source actually contacted E! herself to dish the story. I'm tempted to believe the fellow flight mate over Lance's PR machine. He is a notorious control freak, womanizer, and generally a jerk – sad, considering what an amazing athlete he is.
Still, you have to give the guy a break. The race in Madrid was, in his words, a test to see where he was in regards to his training and to the other bikers, some of whom are 15 years his junior. The last time he competed in the Tour de France was in 2005, and only time will tell if his shoulders will get better for training for the race.
Here's Lance racing in the Milan-San Remo annual cycle race in Italy on March 21st. Images thanks to WENN .