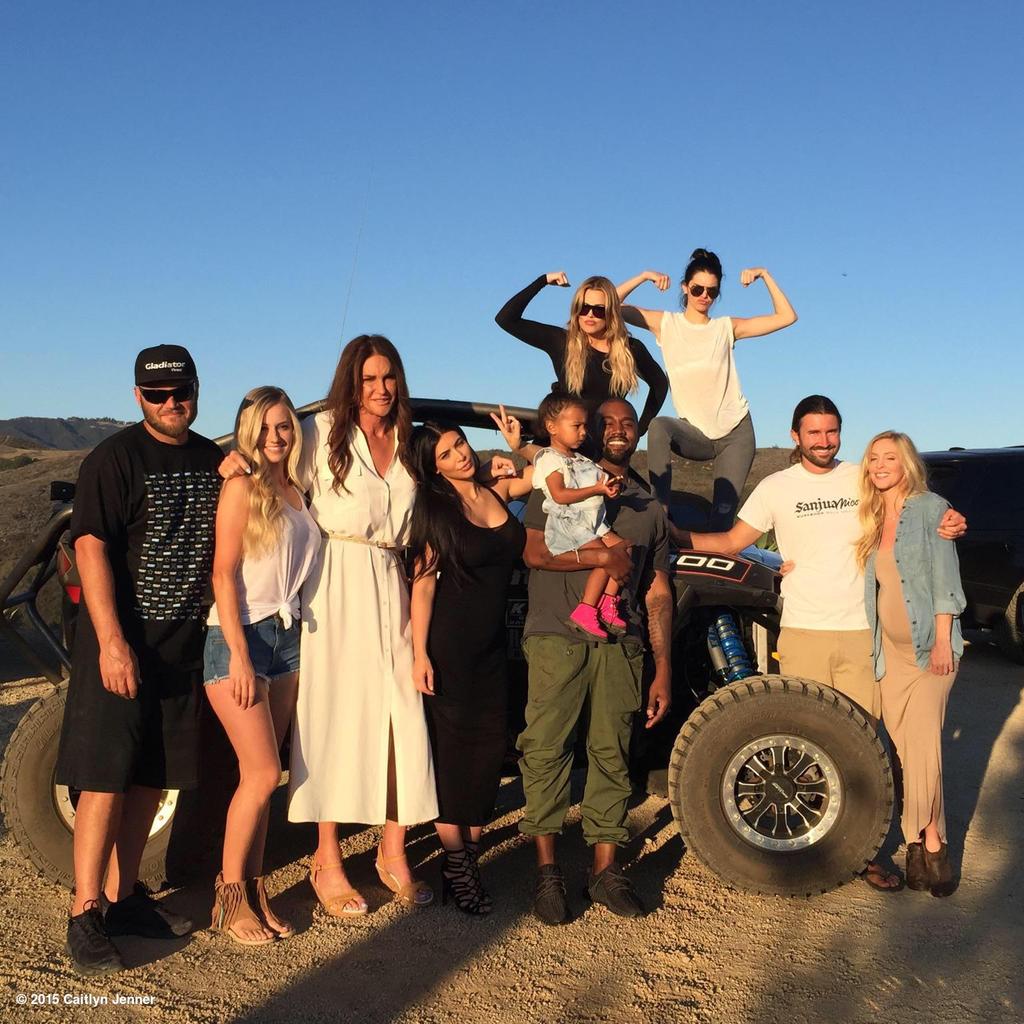 Above is a photo that Caitlyn Jenner tweeted of her family together on Father's Day. She wrote "Great day yesterday for Father's Day. We had so much fun off-roading. So much love and support! Love my family!"
Pictured above are Burt Jenner, Burt's girlfriend Valerie Pitalo, Kim and Khloe Kardashian, Kendall Jenner, Kanye West with North, and Brandon and Leah Jenner. Kanye is smiling! Look at North's little pink boots!
Many outlets are pointing out that this day is significant because it marks Caitlyn's first Father's Day after transitioning. Others have mentioned that only five of Caitlyn's ten kids were there and that Kylie, Kourtney, Cassandra, Brody and Rob were noticeably absent. Of course Rob wouldn't come, he's been in hiding forever and is estranged from his family. Kylie reportedly spent the day with her inappropriately older boyfriend, Tyga, and Tyga's son, King Cairo, 2. (King Cairo, really?! I've heard that name before but it still surprises me.)
Radar reports that Caitlyn understands why Kylie didn't make it, but adds that Caitlyn "does not like Tyga and does not approve of this relationship." Good. At least someone has some sense in that family. Plus Kylie tweeted and instagrammed messages to her dad.
Gotta make it home in time for Father's Day 🎉

— Kylie Jenner (@KylieJenner) June 20, 2015
That photo is precious! Kylie is especially adorable with her little pigtails in red bows and gingham dress.
Kendall posted this sweet message.
Supposedly Kourtney didn't come because she's still shielding her kids from Caitlyn and is afraid that Caitlyn will confuse them. Kourtney said as much on KUWTK, but her partner and children's father, Scott Disick, was surprisingly cool with Caitlyn and didn't agree with Kourtney about keeping the kids away from her. I hope it's not true that Kourtney still thinks that way, but it's hard to tell. Kourtney has enough time to post stomach selfies and recaps of KUWTK clips but she didn't have one message on social media for her dad or for Scott on Father's Day and that's telling. (Update: TMZ reports that Kourtney had the flu. They also state that Brody had a DJ gig out of town.)
Khloe instagrammed this nice message to both her dads.
Kim tweeted messages to her late father, Robert Kardashian, and to Kanye. And of course that's how she announced that she's having a boy.
Also, Caitlyn recent tweeted Laverne Cox thanking her for her advocacy for the trans community. Laverne has been nothing but positive and thoughtful when speaking about Caitlyn, and you can tell Caitlyn appreciates it. I wish Caitlyn would have retweeted some of the awesome #WheresMyVanityFairCover posts but she seems to be very careful with her public image and maybe she didn't want to wade into that debate. It doesn't mean she's not aware of or concerned about it.
.@LaverneCox, you are fierce and fabulous! Your support means the world. Thank you for all that you do for the community. #TransIsBeautiful

— Caitlyn Jenner (@Caitlyn_Jenner) June 18, 2015