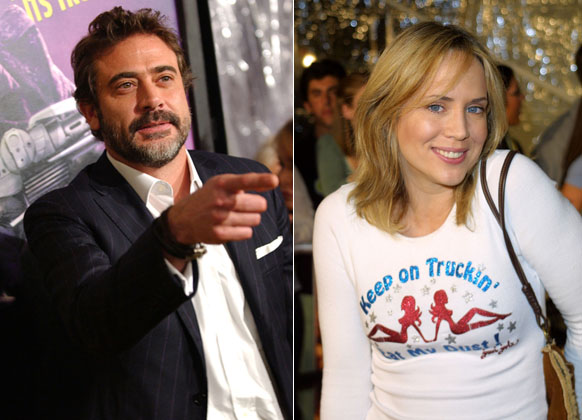 Jeffrey Dean Morgan, of Grey's Anatomy, Weeds and Watchmen, has been a father for four years. Here's the kicker: he had no idea. Allegedly, he fathered a four-year-old son with actress/producer Sherrie Rose. Morgan is said to be "shocked" at the revelation. I suppose this means that when he breaks up with a girlfriend, he never, ever contacts her again. Us Magazine has more:
Denny Duquette is suddenly a daddy!

Former Grey's Anatomy star Jeffrey Dean Morgan, 42, recently found out that he has a child with actress/producer Sherrie Rose, Us Weekly reveals in its newest issue.

"Yes, I have a 4-year-old son with Jeffrey," Rose tells Usmagazine.com.

A source adds that the Watchmen star learned of the boy a few weeks ago and has since met him.

"He's shocked and surprised, but he wants to be in the child's life," the source tells Us.

Rose is an ex-girlfriend of Morgan's. The actor is also known for his relationship with his former fiancee, Mary Louise Parker. They began dating in 2006 after meeting on the set of her Showtime series, Weeds, but she called off their engagement in April 2008.
From Us Magazine
It sounds like this woman was trying to keep their son a secret. I wonder why. Did she think that Jeffrey wouldn't step up to his obligations and responsibilities? Did he have some idea all this time, but never really acknowledged it? Or is this son not really Jeffrey Dean Morgan's?
As far as the theory that Sherri Rose didn't want anyone to know… how can that be? If I had sex with Jeffrey Dean Morgan, I would be shouting it from the rooftops. It is unknown if Morgan or Sherri Rose will want a blood test to prove paternity, and I feel skeezy for even suggesting it, but it might not be a bad idea.
Sherri Rose is shown at the premiere of Old School on 2/13/03. Jeffrey Dean Morgan is shown at the premiere of Watchmen on 3/2/09. Credit: PRPhotos.